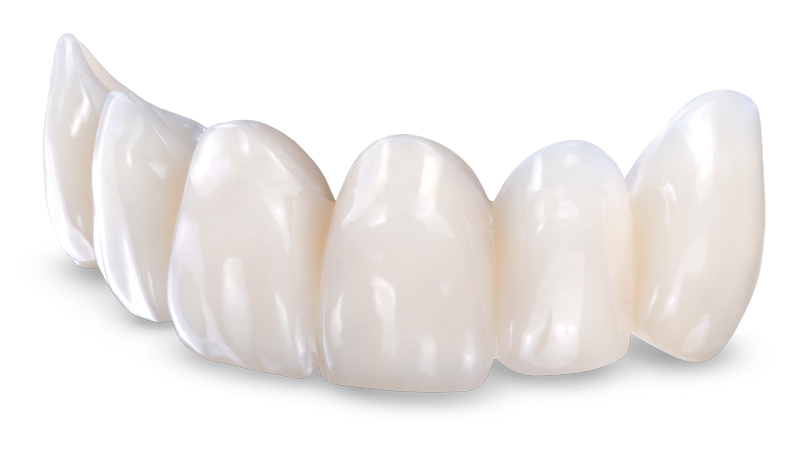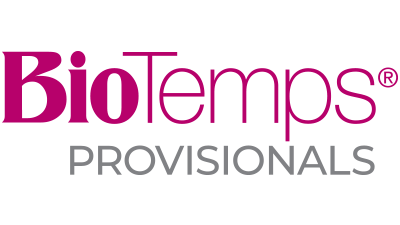 $29*
*Price is per unit and does not include shipping or applicable taxes.
Please note pricing is only available to dental professionals.
BioTemps® Provisionals provide your patients with a beautiful smile as soon as you prepare their teeth. BioTemps is a short-term provisional that serves as a template for the final restoration.
Esthetically pleasing look that resembles natural teeth
Manages tissue and ensures a comfortable fit for the permanent restoration
Designed to improve the healing process of gum tissue
Helps confirm phonetics
We'll Have Them There Before You Even Prepare
With BioTemps Provisionals, you can provide your patients with a beautiful smile as soon as you prepare their teeth. These splinted crowns and bridges restore lost vertical dimension and promote contoured healing for ovate pontics or anterior extractions. They are also recommended for patients who will undergo tissue therapy. BioTemps can be used for veneer cases as well. BioTemps retain the position of the gingiva, so there are no surprises on the patient's final visit, making them ideally suited for obtaining patient acceptance prior to prescribing the final restoration.
There is now one more reason to prescribe BioTemps: We can scan your case while creating BioTemps with CAD/CAM technology. Your design file is then automatically stored and remains accessible for the final CAD/CAM restorations. Whether you prescribe BruxZir® Zirconia, IPS e.max® or even PFMs, we can duplicate the BioTemps contours using CAD/CAM processing.
BioTemps can be manufactured with metal reinforcement when indicated on your prescription.
IPS e.max is a registered trademark of Ivoclar Vivadent.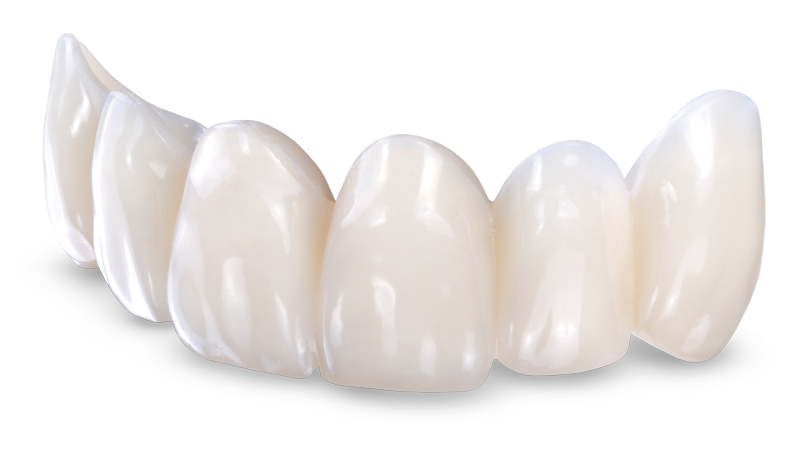 Restore Collapsed Vertical Dimension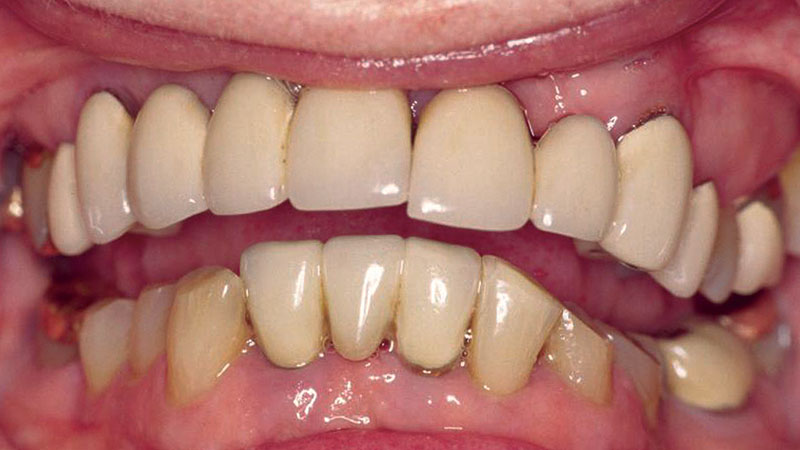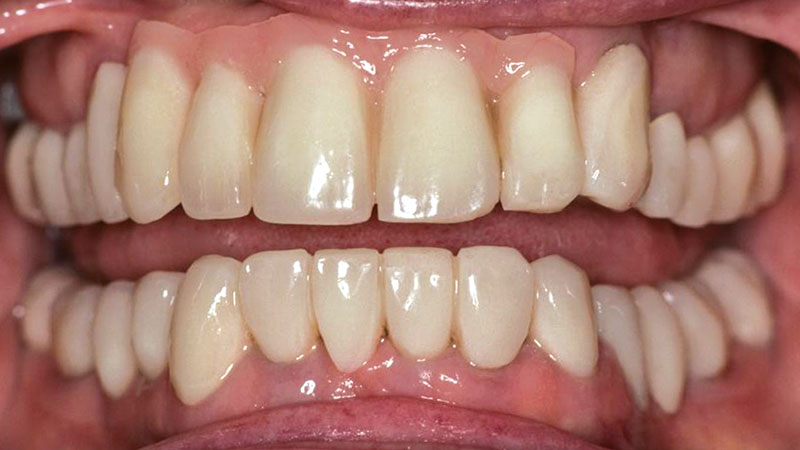 This 59-year-old patient had an anterior bridge that did not show her teeth when she smiled. The lack of supporting bone made implants an unfeasible solution. BioTemps Provisionals were placed to overcome resorption and restore a normal vertical dimension. Pink acrylic was used to mask the resorbed area and permit a smile that would show her teeth.
Treat Severe Parafunctional Habits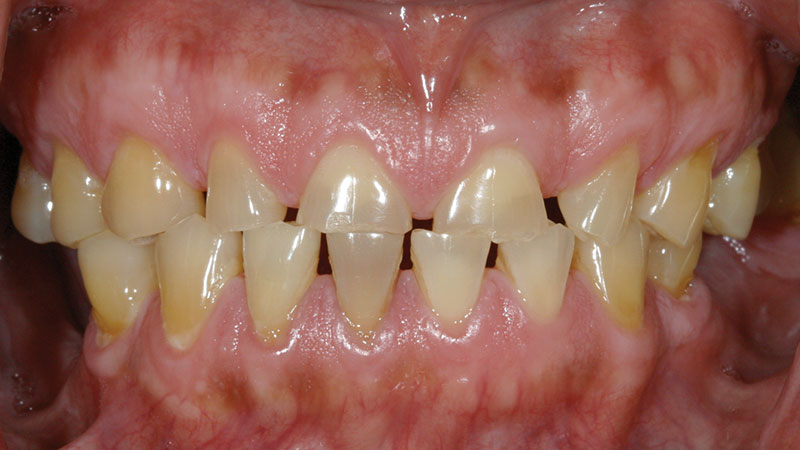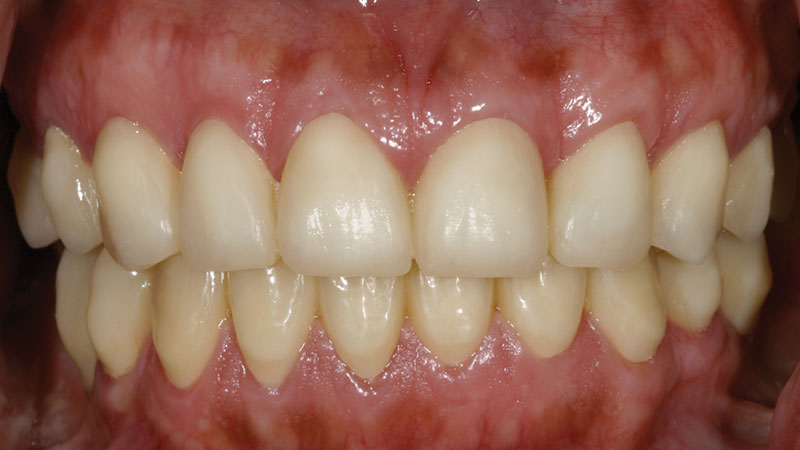 This 45-year-old patient had a severe parafunctional habit his entire adult life. Due to an edge-to-edge bite, he had lost several millimeters of vertical dimension over the decades. Full upper and lower BioTemps Provisionals were placed to restore vertical dimension and establish proper overjet and overbite.
Slide 1
Slide 2
"BioTemps worked perfectly for my patient. Her temporary bridge looked just as natural as the final restorations. BioTemps gave her such an accurate preview of her final smile that she was excited to move forward with her permanent restorations. Needless to say, when her final restorations arrived she was elated!"
BioTemps Provisionals are ideal for single crowns, splinted crowns, and bridges.
PMMA – Poly(methyl methacrylate)
A1, A2, A3, A3.5, A4, B1, B2, B3, B4, C1, C2, C3, C4, D2, D3, D4, Bleach
BioTemps Provisionals

(per unit) (5 days in lab)

Design files are stored for final ceramic work for 2 years.

$29.00

BioTemps rush case - 3 days in lab

(per unit)

(Must call 800-944-7874 to preschedule. Subject to availability.)

$39.00

$44.00

$54.00

BioTemps cement over implant

(per unit)

$39.00

BioTemps with cast-metal substructure

(per unit)

$49.00

BioTemps with cast-metal substructure over implant

(per unit)

$59.00

BioTemps screw-retained over implant

(per unit) (parts not included)

$69.00
Pricing is subject to change and does not include shipping or applicable taxes.
NO-FAULT REMAKE POLICY: Glidewell is pleased to process all remakes or adjustments at no additional charge if requested within the warranty period and accompanied by the return of the original appliance.
LIMITED WARRANTY/LIMITATION OF LIABILITY. Glidewell ("the lab") warrants that all dental devices (a "device") are made according to your specification and approval in the belief that the device will be useful and MAKES NO OTHER WARRANTIES INCLUDING, BUT NOT LIMITED TO, ANY IMPLIED WARRANTY OF MERCHANTABILITY OR FITNESS FOR A PARTICULAR PURPOSE. Subject to the return of a device that is placed and then fails, the lab will repair or replace the device without charge for the cost of materials and workmanship or refund the original price paid, at the lab's option, for up to 6 months for BioTemps Provisionals.