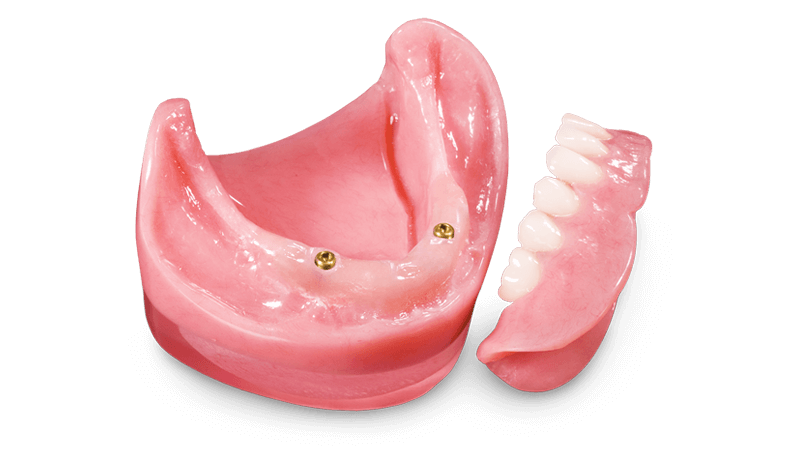 $688*
*Pricing is per Locator Overdenture and does not include shipping or applicable taxes. Pricing does not include multi-unit abutments and may vary when original equipment manufacturer (OEM) components are requested or required for the chosen implant system.
Please note pricing is only available to dental professionals.
Fabricated by our experienced lab technicians to ensure an optimal fit and beautiful esthetics, Glidewell implant overdentures offer a cost-effective means of stabilizing your patients' dentures, improving prosthetic retention, function and speech.
Implant-retention stabilizes denture
Customized prosthetic design ensures precise fit
Improved functionality with lifelike esthetics
Predictable implant lab fees and no hidden costs
A Stable, More Functional Denture
Implant overdentures from Glidewell are recommended for patients who desire a more stable removable prosthesis that improves retention, function and speech. Locator Overdentures are delivered over at least two implants, are most common in the mandible, are supported by the soft tissue and can be removed by the patient for cleaning. This removable implant solution is recommended when the patient doesn't have enough bone volume to support the number of implants in the correct positions needed to provide adequate anterior-posterior (A-P) spread for a fixed restoration.
Glidewell's Locator Overdentures are fabricated through a simple, predictable clinical workflow, and are an excellent option for patients looking for a low-cost implant solution for a poorly fitting, unstable denture. The Locator Overdenture provides for improved retention via retentive caps that seat over Locator Abutments connected to the implants. For patients who desire a palateless maxillary denture, upper implant overdentures can be fabricated in the shape of a horseshoe, addressing patient issues with comfort, speech and taste.
At Glidewell, we employ a dedicated full-service team of specially trained implant technicians to restore your case with the utmost care. Our all-inclusive pricing eliminates fear of hidden costs. When you prescribe removable implant solutions from Glidewell, you will discover an easy, predictable and profitable approach to dentistry.
Our other standard overdenture options include the Locator CAD/CAM-Milled Bar Overdenture and the Mini Implant Overdenture.
Locator is a registered trademark of Zest Anchors. Kenson is a registered trademark of Myerson, LLC.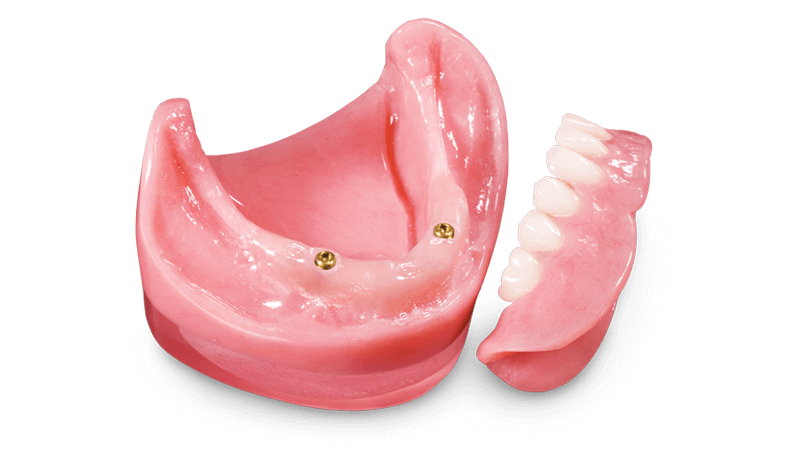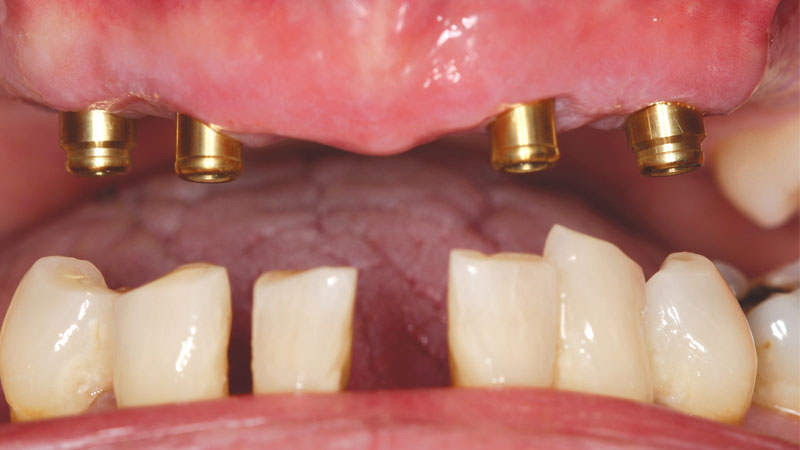 Locator attachments were connected to the implants. Note how the attachments are nearly parallel along the axial plane, allowing for a passive fit of the prothesis.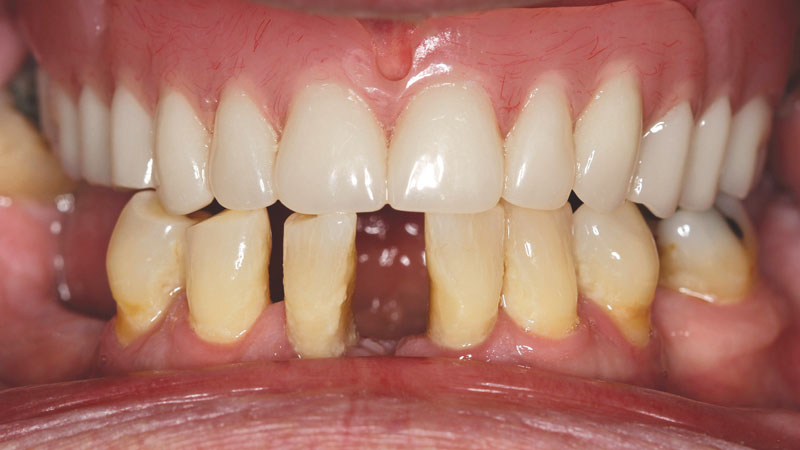 The maxillary implant overdenture was created with a palateless design for improved patient comfort and taste. At the final delivery appointment, the overdenture was seated over the Locator attachments, providing the patient with enhanced prosthetic stability and function.
— Clinical dentistry by Timothy F. Kosinksi, DDS, MAGD
"The Locator implant overdenture from Glidewell is an affordable and effective option for restoring the edentulous arch, providing stability and function that are far superior to those offered by the traditional complete denture. This treatment option provides an economical means of enjoying the life-changing benefits of implant therapy, including improved bite force, chewing capability, comfort and phonetics."
"With the mini implant overdenture, patients receive a stable and retentive denture that provides immediate function, improving speech and chewing capabilities while addressing many of the esthetic issues brought about by edentulism."
Slide 1
Slide 2
The Locator overdenture is indicated as removable, implant-retained restorative solutions for the fully edentulous arch.
Acrylic base and denture teeth; optional horseshoe cast palate or cast mesh 360° wraparound
Number of Implant Restorations Produced
Bite block: 5 days
Wax setup: 5 days
Reset wax setup (if necessary): 4 days
Final overdenture: 6 days
Tooth shades: A1, A2, A3, A3.5, A4, B1, B2, B3, B4, C1, C2, C3, C4, D2, D3, D4
Gingival shades: G1 (Standard), G3 (Med), G4 (Dk)
Locator® Overdenture

Includes 2 Locator Abutments with complete Locator Attachments and final overdenture with Kenson® Teeth.

$688.00
Pricing is subject to change and does not include shipping or applicable taxes.
Implant System Compatibility
Glidewell implant overdentures are available at a flat-rate price for BIOMET 3i™ Certain®; DENTSPLY Implants ASTRA TECH Implant System® and DENTSPLY Implants ASTRA TECH Implant System® EV; Hahn™ Tapered Implant System; Inclusive® Tapered Implant System; Nobel Biocare Brånemark System® RP, NobelActive® and NobelReplace®; and Zimmer Dental Screw-Vent®. Prices may vary for other implant systems due to the need for original equipment manufacturer (OEM) components.
Inclusive is a registered trademark of Prismatik Dentalcraft, Inc. Hahn Tapered Implant is a trademark of Prismatik Dentalcraft, Inc. All other trademarks are the property of their respective owners.
NO-FAULT REMAKE POLICY: Glidewell is pleased to process all remakes or adjustments at no additional charge if requested within the warranty period and accompanied by the return of the original appliance.
LIMITED WARRANTY/LIMITATION OF LIABILITY. Glidewell ("the lab") warrants that all dental devices (a "device") are made according to your specification and approval in the belief that the device will be useful and MAKES NO OTHER WARRANTIES INCLUDING, BUT NOT LIMITED TO, ANY IMPLIED WARRANTY OF MERCHANTABILITY OR FITNESS FOR A PARTICULAR PURPOSE. Subject to the return of a device that is placed and then fails, the lab will repair or replace the device without charge for the cost of materials and workmanship or refund the original price paid, at the lab's option, for the Locator overdenture, the Locator bar overdenture and the mini implant overdenture as follows: up to 1 year for the acrylic base and denture teeth, and up to 7 years for the milled titanium bar of the Locator CAD/CAM-milled bar overdenture.