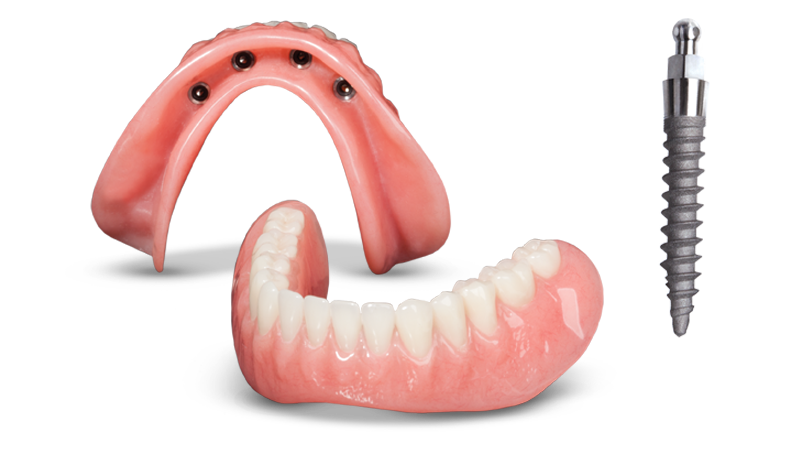 $630*
*Pricing is per arch and does not include shipping or applicable taxes.
Please note pricing is only available to dental professionals.
Ideal for patients with medical, anatomical or financial limitations, Mini Implant Overdentures from Glidewell offer patients improved stability and function — in as little as one appointment.
Straightforward restorative protocol
Simple and effective O-ring retention system
Improved functionality with lifelike esthetics
Predictable implant lab fees and no hidden costs
Stabilize Your Patient's Denture in a Single Appointment
When an edentulous patient desires a more stable, functional denture but is not a candidate for a restoration over conventional-diameter implants, the Mini Implant Overdenture offers a low-cost, effective solution. By anchoring to mini implants through a simple O-ring retention system, this restorative option allows clinicians to provide patients with a stable prosthesis in a single appointment.
The Mini Implant Overdenture offers immediate loading and long-term stabilization for patients with medical, anatomical or financial limitations. For ideal results, deliver in conjunction with Inclusive® Mini Implants, which are self-tapping, threaded titanium implants available in 2.2 mm, 2.5 mm and 3.0 mm diameters. Mini implants allow patients who have narrow ridges or aren't able to undergo bone grafting procedures to experience the benefits of implant treatment through a minimally invasive surgical protocol.
At Glidewell, we employ a dedicated full-service team of specially trained implant technicians to restore your case with the utmost care. Our all-inclusive pricing eliminates fear of hidden costs. When you prescribe removable implant solutions from Glidewell, you will discover an easy, predictable and profitable approach to dentistry.
Our other standard overdenture options include the Locator® Overdenture and the Locator CAD/CAM-Milled Bar Overdenture.
Locator is a registered trademark of Zest Anchors. Kenson is a registered trademark of Myerson, LLC.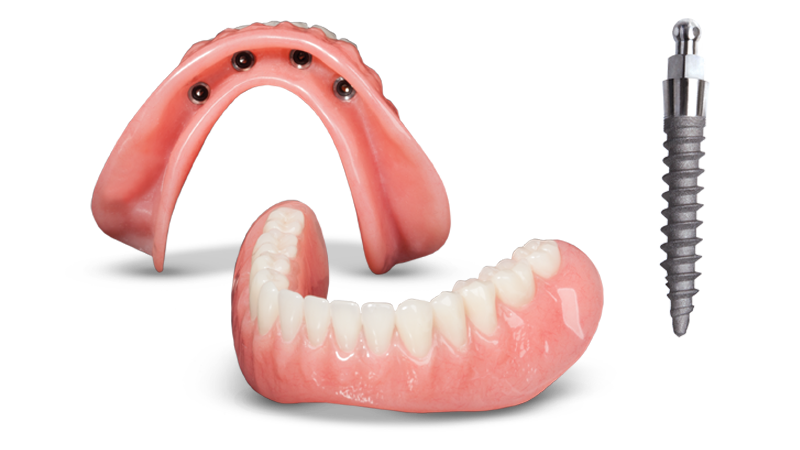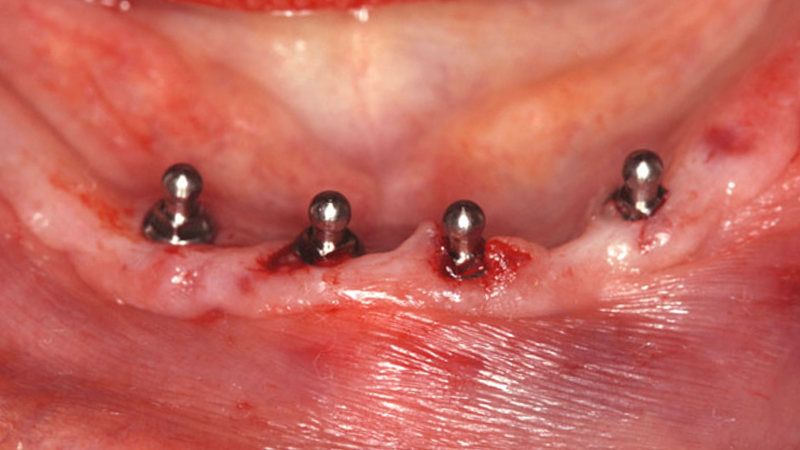 The patient's mandible consisted of atrophic bone that would have made placement of conventional-diameter implants difficult without invasive grafting procedures. Small-diameter implants, which could fit within the available bone, were placed to support a mini implant overdenture.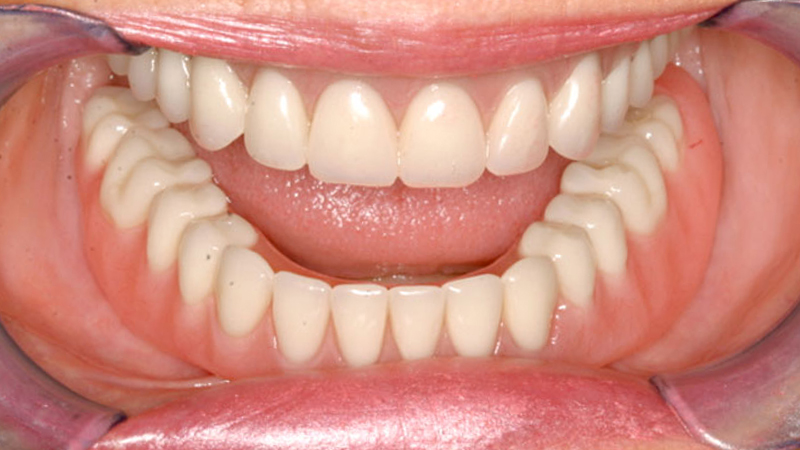 The mandibular mini implant overdenture was delivered, completing a simple, cost-effective means of providing the patient with a stabilized denture.
— Clinical dentistry by Timothy F. Kosinksi, DDS, MAGD
"With the mini implant overdenture, patients receive a stable and retentive denture that provides immediate function, improving speech and chewing capabilities while addressing many of the esthetic issues brought about by edentulism."
The Mini Implant Overdenture is indicated as a removable, implant-retained restorative solution for the fully edentulous arch.
Acrylic base and denture teeth; optional horseshoe cast palate or cast mesh 360° wraparound
Number of Implant Restorations Produced
Wax setup: 4 days
Final overdenture: 6 days
Tooth shades: A1, A2, A3, A3.5, A4, B1, B2, B3, B4, C1, C2, C3, C4, D2, D3, D4
Gingival shades: G1 (Standard), G3 (Med), G4 (Dk)
| | |
| --- | --- |
| Includes 4 O-ring housings (each with additional O-ring) and final overdenture with Kenson Teeth. | $630.00 |
Pricing is subject to change and does not include shipping or applicable taxes.
Implant System Compatibility
The Locator CAD/CAM-Milled Bar Overdenture from Glidewell is available at a flat-rate price for BIOMET 3i™ Certain®; DENTSPLY Implants ASTRA TECH Implant System®; Hahn™ Tapered Implant System; Inclusive® Tapered Implant System; Nobel Biocare Brånemark System® RP, NobelActive® and NobelReplace®; and Zimmer Dental Screw-Vent®. Prices may vary for other implant systems due to the need for original equipment manufacturer (OEM) components.
Inclusive is a registered trademark of Prismatik Dentalcraft, Inc. Hahn Tapered Implant is a trademark of Prismatik Dentalcraft, Inc. All other trademarks are the property of their respective owners.
NO-FAULT REMAKE POLICY: Glidewell is pleased to process all remakes or adjustments at no additional charge if requested within the warranty period and accompanied by the return of the original appliance.
LIMITED WARRANTY/LIMITATION OF LIABILITY. Glidewell ("the lab") warrants that all dental devices (a "device") are made according to your specification and approval in the belief that the device will be useful and MAKES NO OTHER WARRANTIES INCLUDING, BUT NOT LIMITED TO, ANY IMPLIED WARRANTY OF MERCHANTABILITY OR FITNESS FOR A PARTICULAR PURPOSE. Subject to the return of a device that is placed and then fails, the lab will repair or replace the device without charge for the cost of materials and workmanship or refund the original price paid, at the lab's option, for the Locator overdenture, the Locator bar overdenture and the mini implant overdenture as follows: up to 1 year for the acrylic base and denture teeth, and up to 7 years for the milled titanium bar of the Locator CAD/CAM-milled bar overdenture.