Same-Day Crowns Are Simple with Glidewell in Your Corner
See how the lab-backed glidewell.io™ simplifies the process of creating same-day crowns.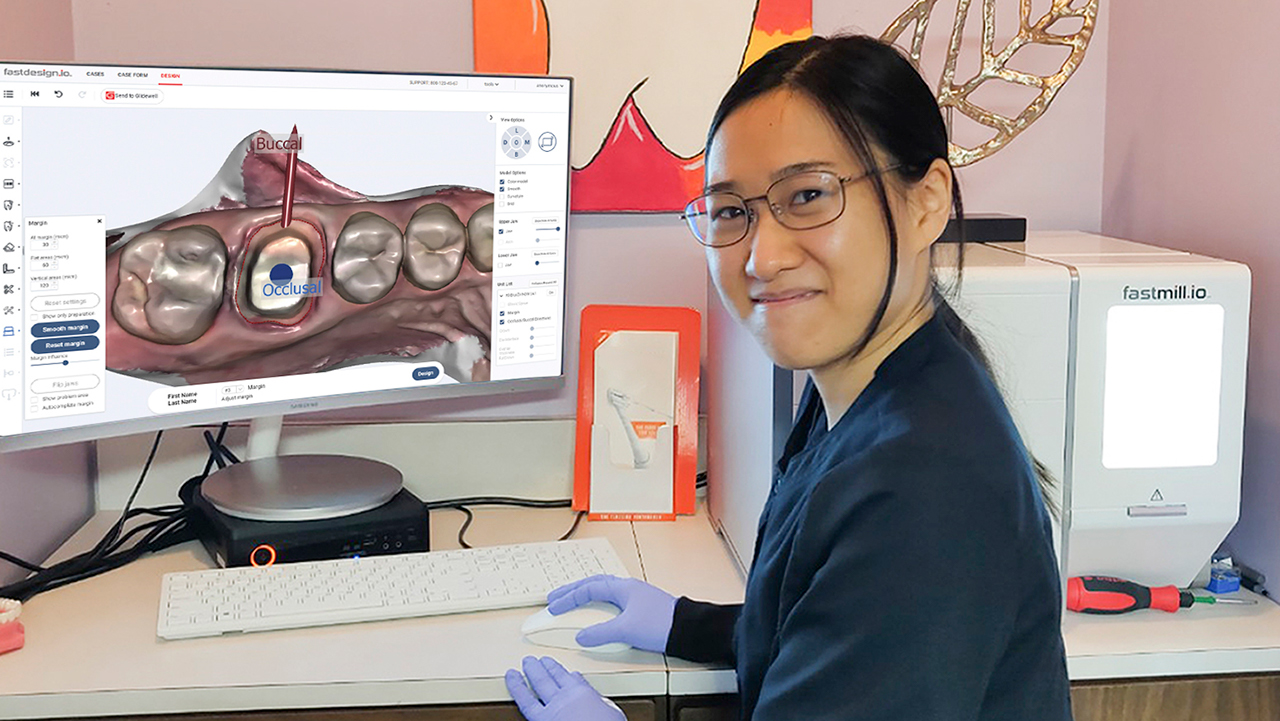 Dental treatment during the COVID-19 pandemic has required a constant eye cast on the need for safety and patient convenience. As a result, dentists have had to tailor their practices' operations to offer treatment and limit risks of exposure to the coronavirus — all without sacrificing other priorities like efficiency and financial stability. For dentists and their teams, practice recovery and growth are essential to business planning during this unprecedented time.
With that complex combination of goals in mind, doctors are increasingly turning to digital dentistry as a solution. In particular, CAD/CAM dental technology in the form of in-office systems — which give dentists the ability to design, mill and deliver single-unit restorations in a single appointment — provides an excellent way to accomplish safety goals without sacrificing the practice's objectives.
Same-day restoration technology allows doctors to increase safety — and peace of mind — for their patients by eliminating the need for multiple office visits. It also eliminates any risk of cross-contamination that might accompany the handling of physical materials outside your office. The increased efficiency of this one-visit process, and the flexibility it gives the dental team to delegate and control the workflow in ways that minimize risk while maximizing operations, is overwhelmingly appreciated by staff and doctors alike.
The glidewell.io™ In-Office Solution
Among CAD/CAM dentistry systems for same-day crown delivery, the glidewell.io™ In-Office Solution has been popular with many doctors due to several factors. Chief among those are not only its affordability, but also its ease of use and the control it gives the user. With glidewell.io, doctors are able to create the practice workflow that's ideal for their team. They also have the ability to connect directly with Glidewell at any stage of the design process. Even more importantly, glidewell.io is known for the training and support that stand behind the system. For doctors now turning to CAD/CAM systems as a way of safely performing COVID-19–era dentistry, the pandemic has accelerated the timeline for adoption of new technology. That's why the need for user support is essential — and why glidewell.io stands out from the rest.
Training and Support at Your Fingertips
Investment in glidewell.io opens up a world of ongoing help from the experts at Glidewell — and this support is available to users at any stage of the process. On the day the system is installed in the practice, a team of specialists comes along with it and spends the day on-site providing hands-on training to everyone on the team. Users are taught how to design and mill a crown from start to finish with in-person guidance from the trainers.
Once that first-day onboarding is completed, the support doesn't end: Users of glidewell.io can reach out to the company for help at any time, for issues ranging from usage instructions to technical questions to guidance on designing a particular case. Support specialists have the ability to remote in to the user's system to help; cases can also be sent to the lab for completion at any stage. For doctors investing in glidewell.io at a time when there is no longer the luxury of extended learning curves, knowing that a wealth of assistance is a click or call away can be invaluable. Further education is also available to users with a focus on digital technology in COVID-19–era dentistry, including its role in safe treatment protocols.
With all of that said, lingering concerns can remain. Establishment of new processes such as same-day crowns within a practice tends to cause worry among doctors about how the staff will adjust and the workflow will be integrated, no matter how good the training and support may be. Particularly when the time frame is tight, doctors are likely going to worry about how quickly the process of implementing new technology will play out in real life.
Staff Adoption Is Essential — and Achievable
With those concerns in mind, we sat down with Juliana Pham, a dental assistant for Dr. Johnasina Cummings at Cummings Family Dentistry in Huntington, New York. Partly spurred by the interruptions to normal activity brought about by the pandemic, Dr. Cummings invested in glidewell.io as a means of keeping her practice on track and productive in spite of limitations and pandemic-specific safety requirements.
Smile Bulletin: As a member of Dr. Cummings' team, you were present on the day the glidewell.io system was installed and you were among all the staff members who received on-site training, including guidance through an actual crown creation and delivery. Tell us about what that first day was like for you.
Juliana Pham: The first day with the new system was exciting and a little bit nerve-racking. I remember my first time scanning a patient with the iTero® scanner and then sending that scan over to the fastmill.io™ In-Office Mill, hoping that everything was correct and would go well. Thankfully it did, and the patient got an amazing crown on the same day. All of us on the team gathered around to look at that first milled crown in astonishment. As for the training specialists, they were exceptional. They made sure to thoroughly answer any questions we had, and we learned a lot from them.
SB: Was there anything in particular that stood out to you during training as particularly helpful to you in your assistant role?
JP: As an assistant, I found the portion of the training focused on using the iTero and capturing digital scans to be the most useful. The trainers taught us a number of tricks, including a helpful method of rocking the wand back and forth to get into little crevices the scanner missed the first time.
SB: How do you feel about glidewell.io now? Has it been easy to use in your daily workflow?
JP: The easy-to-use interface of the glidewell.io system has really helped me navigate the whole process, even at first when I didn't know quite what I was doing. I've had a few problems I couldn't figure out on my own, but Glidewell has provided amazing support. They even worked with all of us at one point to solve a challenge we were facing.
SB: Have you learned any new skills from using glidewell.io that have been beneficial to how you work? Has the system taught you anything that you feel adds value to your position within the practice?
JP: As I am in the role of dental assistant, I previously never thought too much about how the doctor prepped a tooth, or how the lab designed a crown. Now, after working with glidewell.io, I've seen what goes on behind the process of designing a crown, including how much the prep matters in the design process. Learning those things has made me a lot more interested and invested in the crowns we're delivering to our patients.
SB: What advice do you have for other team members whose practices are purchasing glidewell.io and will be learning how to use it soon?
JP: My advice would be to just go for it. The best way to learn is to do it, which is what the training is for, and that includes you as well as the doctors. It's for everyone. And if you encounter any problems or have any questions, don't be afraid to contact Glidewell's support team. I've had nothing but good experiences with them.
iTero is a registered trademark of Align Technology, Inc.