Fulfilling the Promise of Single-Visit Dentistry with the glidewell.io™ In-Office Solution
At the 2019 Glidewell Symposium in Orlando, Florida, Dr. Cary LaCouture (seventh from right) and his team visited with President and CEO Jim Glidewell, CDT (far left) and Glidewell clinician Dr. Justin Chi (far right). Dr. LaCouture and his team also took part in hands-on fastdesign.io™ training when they attended the symposium.
The promise of single-visit dentistry, much like the paperless office, has been much talked about yet infrequently realized. Cost, support and perhaps, most importantly, concerns about how to implement chairside technologies and workflows have hampered adoption. Too often it was left to those with the time and inclination to master complex design software and unforgiving workflows.
But as we move toward a post-COVID–19 world, single-visit dentistry is no longer just for the "other" practice. Because the advantages to be had over traditional laboratory processes are going to be more important than ever for your patients.
Cary LaCouture, DDS, founder of Burning Tree Family Dentistry (Franktown, Colorado) and Creekside Dental(Parker, Colorado), first explored single-visit dentistry over 15 years ago. More recently, he incorporated the glidewell.io™ In-Office Solution into his practice.
"Our team has come to deeply appreciate the fastmill.io™ in so many ways," he said. "Recently, we were open for emergency dental procedures only, and were able to perform a number of restorative treatments at the initial appointment. Doing so saves us the time and expense of multiple operatory setups, of course. And patients really appreciate the convenience."
He added, "Looking ahead, it's safe to assume those cost and convenience factors will only become more critical. Because an incredibly high number of patients will have faced employment disruptions that will inhibit them from taking multiple days off from work. Fewer visits also mean a reduced risk of exposure for everyone involved."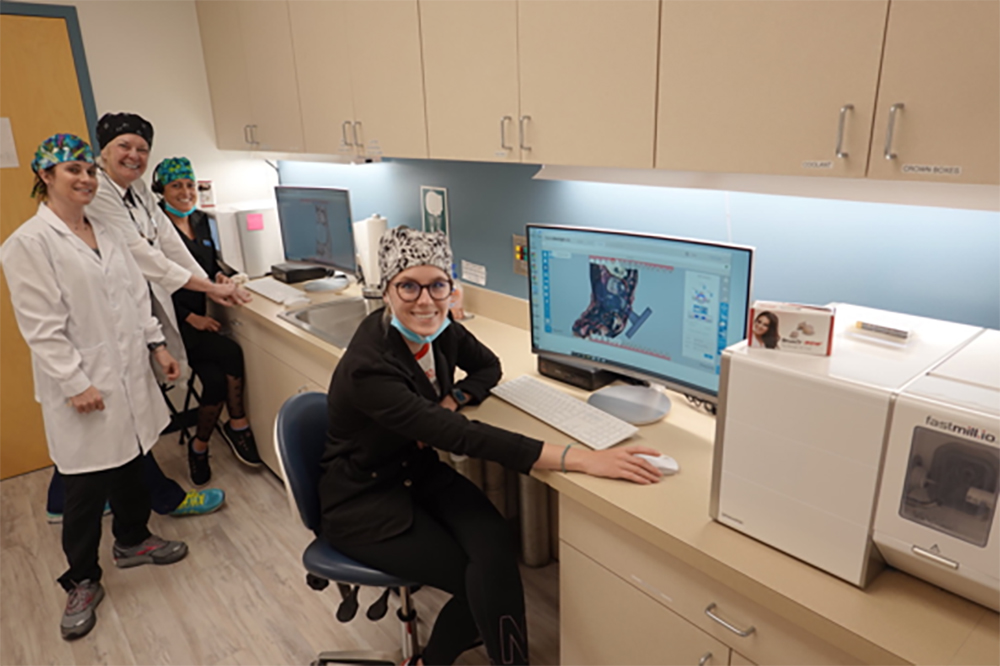 Glidewell provided Dr. LaCouture's team with advanced training in the use of the glidewell.io In-Office Solution. Now, the team members utilize a dedicated lab area to design and mill their single-visit restorations.
Dr. LaCouture's decision to give single-visit dentistry a second try was influenced by three primary considerations.
First, the highly intelligent fastdesign.io Software demystified the restoration design process and made it accessible to both him and his team. Second, his developing relationship with the team at Glidewell gave him confidence that they would readily support him throughout the implementation process. Last — and by no means least — was the unique ability of the fastmill.io to produce fully sintered BruxZir® Zirconia restorations.
And with the release of BruxZir Esthetic NOW Milling Blocks, chairside zirconia restorations are not just for the posterior anymore.
"BruxZir Esthetic NOW offers the same combination of strength and beauty we would receive from the lab," Dr. LaCouture said. "So we're able to confidently provide single-visit zirconia restorations in the smile zone, too."
Since bringing the glidewell.io In-Office Solution to both Burning Tree Family Dentistry and Creekside Dental in 2018, Dr. LaCouture and his team have milled almost 2,000 BruxZir NOW crowns.
He believes empowering and trusting your team is fundamental to the successful adoption of single-visit dentistry. "You don't want a system that requires hours and hours of training or specialized skill to use. The glidewell.io system is intuitive enough for my whole staff to work with, and the support is there whenever needed. Like any other aspect of the practice, it's my team working in unison that makes single-visit dentistry a reality."
"BruxZir NOW is a real game changer, I'm now able to mill premium zirconia restorations in-office, with no oven time or glazing required. Because BruxZir NOW is pre-sintered, an entire, time-intensive step in the CAD/CAM workflow is eliminated. We did our research, and no other chairside system can equal that."
In their use of the glidewell.io In-Office Solution, Dr. LaCouture's team has quickly become proficient at each step of the process, from the scan and design phases, to the milling of restorations. This allows him to focus on the prep and seating of cases, which makes for a more efficient practice — while also providing team members room for professional growth.
"As a dental restorative team, we've embraced a same-appointment workflow," he said. "I don't know that anything has galvanized our team more, as together we strive to deliver a smooth process for each patient. It's fun!"
Dr. LaCouture's team has visited Glidewell for advanced training, which is offered to all new customers approximately three months after their system is installed and they've completed their in-office training. Additionally, the team traveled together to Orlando, Florida, for the 2019 Glidewell Symposium, which included hands-on fastdesign.io training.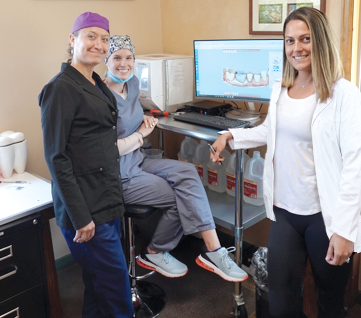 Dr. LaCouture's staff members are committed to the success of their practices and take an active part in the process of fabricating chairside restorations.
And how do patients respond to the new digital processes in the practice?
"Patients are so appreciative of the technology serving them," Dr. LaCouture said. "Each patient typically receives a brief tour of our single-visit 'fastmill' process, and they love it!"
In the words of Brian Whitlock, a recent patient at Burning Tree Family Dentistry: "Awesome team and surprising talent in Franktown! I don't normally write reviews, but Jenn, Liz, Lauren and Dr. LaCouture were fantastic, took me in without an appointment and got me out the same afternoon with a custom-made crown! Highly recommended."
Looking beyond the practice, the extended team includes all of Glidewell's support personnel — installation, training, technical support and lab operations, to name just a few. According to Dr. LaCouture, "It's all about the relationship with and support of the team at the lab, which is fully committed to the practice's success."
Designed and manufactured in the USA using the expertise of Glidewell's extensive R&D and engineering resources, glidewell.io brings the capabilities of the lab to the practice while also providing a seamless link for more complex and time-consuming cases. And as a manufacturer-direct solution, the cost of the glidewell.io In-Office Solution is over $70,000 less than the traditional market leader, and over $20,000 less than other industry options.
In Dr. LaCouture's estimation, "Initial expense is no longer a significant barrier to entry. With attractive financing options and immediate lab savings on every case, Glidewell offers a flexible CAD/CAM solution that can pay for itself quickly and well into the digital future — which appears to be a lot closer than it once did."