Bonding Vivaneer™ BruxZir® Esthetic Veneers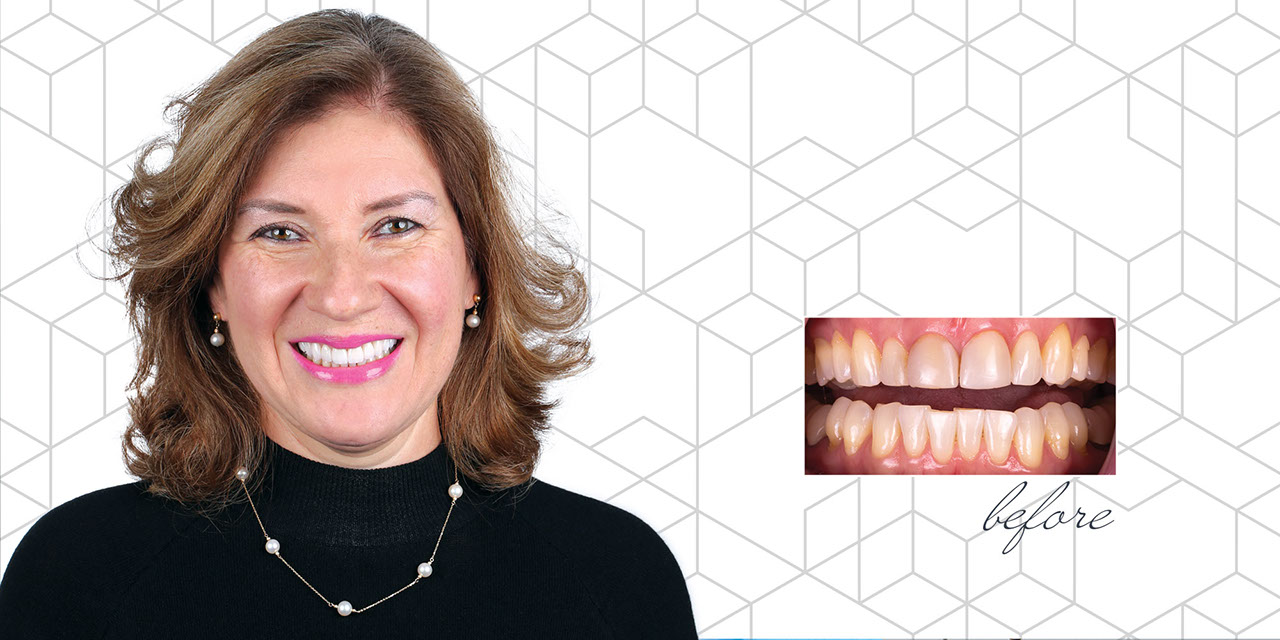 Because of its beauty, natural translucency and high strength, BruxZir® Esthetic Solid Zirconia has recently become a preferred choice for esthetic veneers. However, there is some confusion among clinicians regarding the best method for obtaining a secure bond between zirconia and tooth structure. In order to recommend the most efficient and predictable clinical protocol for bonding Vivaneer™ BruxZir Esthetic Veneers, the scientists at Glidewell Dental conducted extensive research to compare various products and techniques.
The scientists at Glidewell Dental conducted extensive research to compare various products and techniques for bonding Vivaneer BruxZir Esthetic Veneers.
Dr. Shreya Shah is an R&D research associate for Glidewell Dental. She received her Master of Science in dental materials from the University of Alabama at Birmingham after completing her dental studies in India at the Modern Dental College & Research Centre.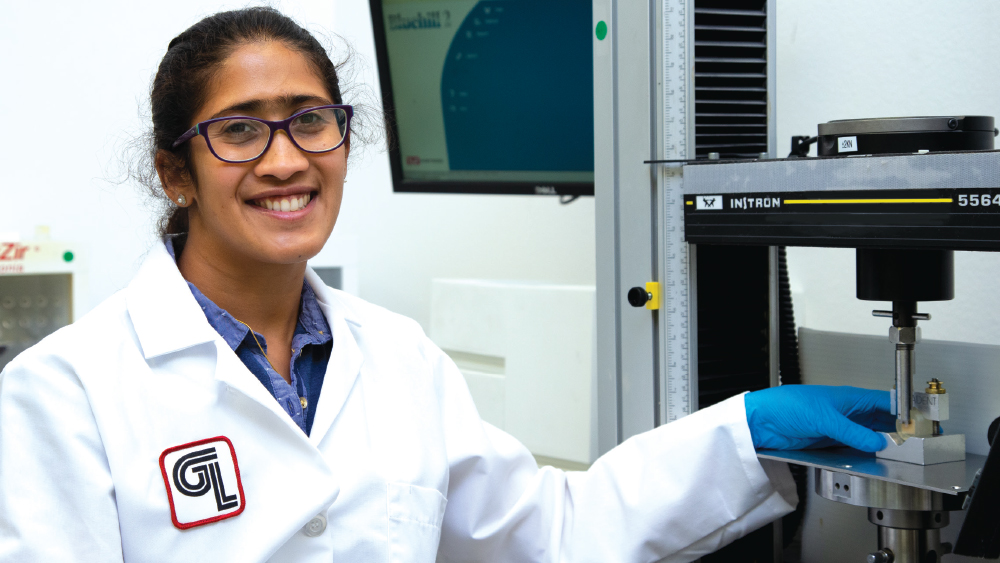 Dr. Shreya Shah is an R&D research associate at Glidewell Dental and has developed a successful bonding protocol for Vivaneer BruxZir Esthetic Veneers.
Dr. Shah has developed a protocol for bonding BruxZir Esthetic zirconia to enamel that allows clinicians to be confident in the delivery of their restorations. The results of this research are presented here.
OPTIMAL BONDING PROTOCOL FOR VIVANEER BRUXZIR ESTHETIC VENEERS
1. When you receive your Vivaneer BruxZir Esthetic Veneers, Glidewell Laboratories will have already sandblasted the zirconia surface.
2. After decontaminating the zirconia surface with Ivoclean (Ivoclar Vivadent; Amherst, N.Y.), treat the zirconia surface with ceramic bonding agent Monobond Plus (Ivoclar Vivadent).
3. Etch the enamel surface with 37.5% phosphoric acid etchant gel (Kerr Corporation; Orange, Calif.) for 15 seconds.
4. Apply tooth bonding agent Adhese® Universal (Ivoclar Vivadent) to the enamel.
5. Cement the veneer with Variolink® Esthetic (Ivoclar Vivadent).
The strength of the bond between zirconia and enamel is determined by a combination of micromechanical retention and chemical bonding. The studies presented on the next page were conducted to measure relative bond strength of bonded BruxZir Esthetic zirconia using two different surface treatments and three different luting agents. This methodology allowed for exploration of which bonding protocol might offer improved bond strength.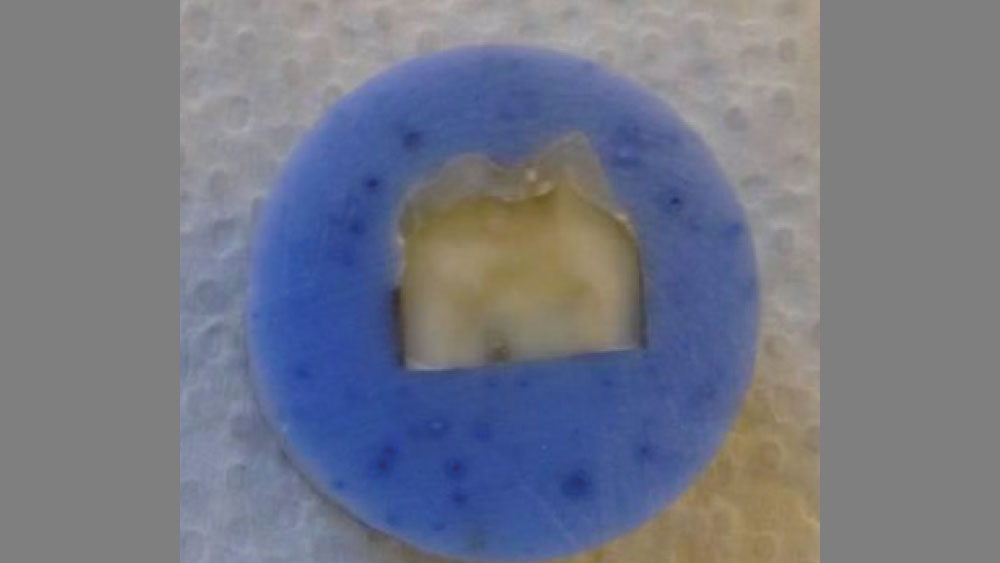 Figure 1: Human enamel samples were collected and prepared by sectioning the roots at the cementoenamel junction and the crown buccolingually. The enamel was etched for 15 seconds using 37.5% phosphoric acid.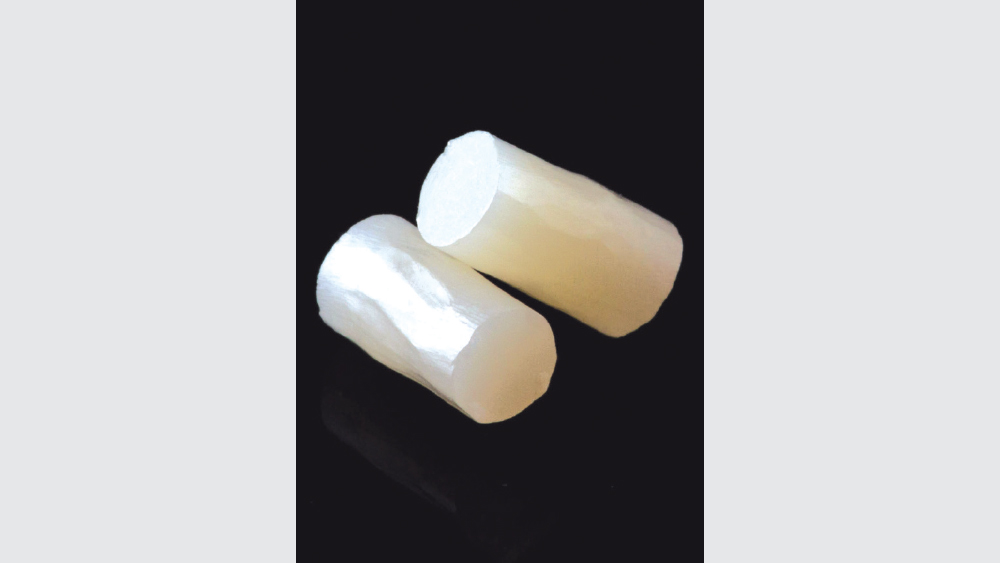 Figure 2: A cylindrical BruxZir Esthetic standoff measuring 2.38 mm x 3.5 mm was designed, milled and sintered for each enamel specimen.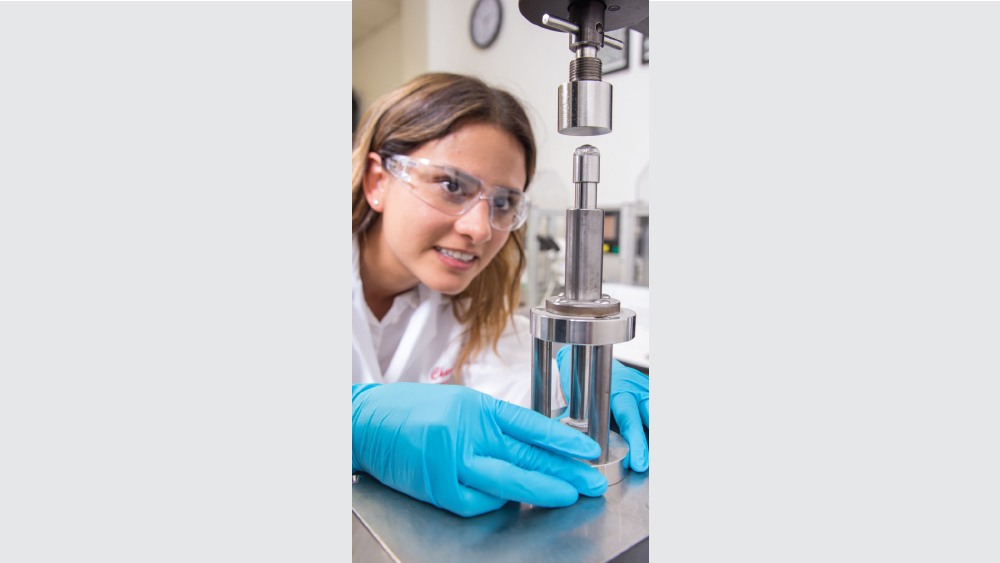 Figure 3: An R&D scientist measures and records the force (N) and stress (MPa) at the time of debonding.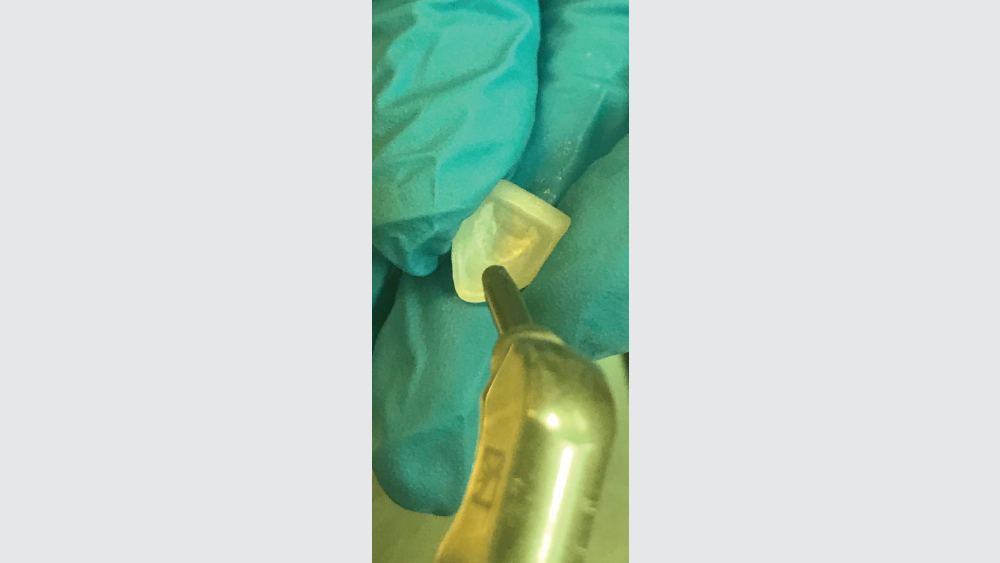 Figure 4: A BruxZir Esthetic veneer receiving CoJet™ Sand (3M™ ESPE™; St. Paul, Minn.) surface treatment. The surface treatments tested included sandblasting the zirconia with two different media:
Glass bead (Z Abrasives; La Mirada, Calif.), 25 μm at 60 psi for 15 seconds — A gentler abrasive media due to its smaller density than alumina particles, glass beads are sometimes used on translucent, esthetic zirconia to create mechanical retention.
CoJet Sand, 30 μm at 60 psi for 15 seconds — CoJet Sand consists of alumina particles coated in silica. As the particles strike the zirconia, the silica coating is deposited into the pits and fissures. The silica then creates a chemical bond with the primer applied to the zirconia and may improve the overall bond strength.
Figure 5: Following sandblasting, the BruxZir Esthetic standoffs were treated with one of three luting agents:
Multilink® Automix (Ivoclar Vivadent)
Variolink Esthetic
RelyX™ Luting Plus Cement (3M ESPE)

The bonding protocol for each luting agent, excluding RelyX, included the use of one of two different ceramic bonding agents:
Monobond Plus
Peak™ SE Primer (Ultradent Products, Inc.; South Jordan, Utah)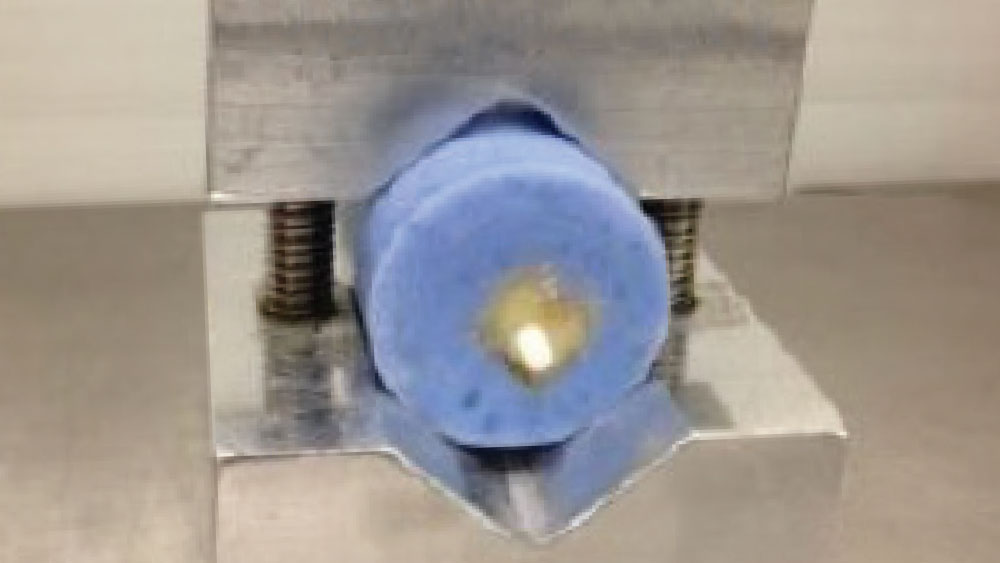 Figure 6: The BruxZir Esthetic zirconia standoffs were then bonded to the enamel and placed in an Instron® Model 5564 testing machine (Instron; Norwood, Mass.) with a load cell of 2,000 N. The standoffs were milled such that an 80 micron gap existed between the sample and the enamel specimen to mimic the space found clinically between the tooth preparation and the restoration.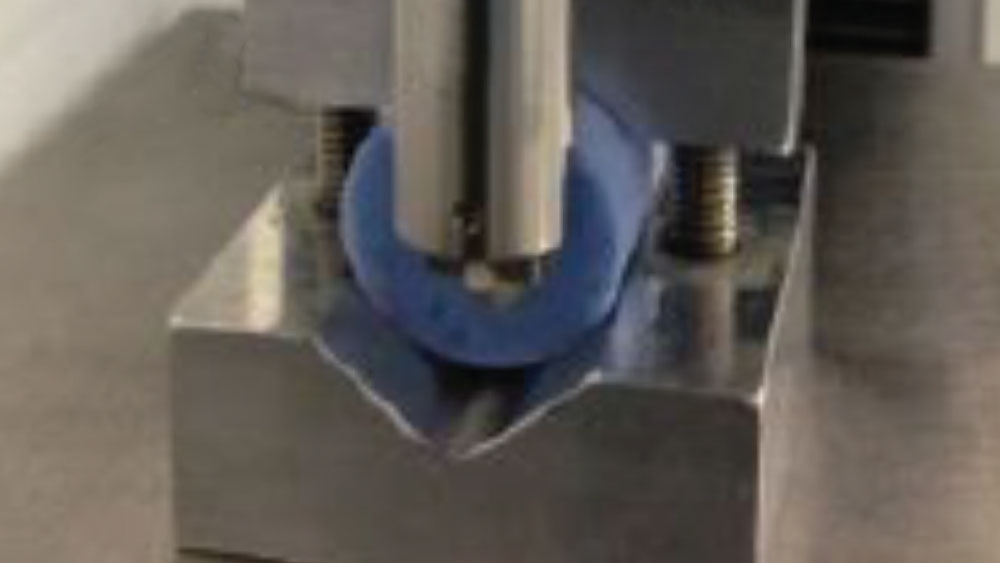 Figure 7: The tests were administered according to ISO standard ISO 29022:2013(E). Shear force was applied at a constant speed of 1 mm per minute until debonding occurred.
1
2
3
4
5
6
7
The results of the test were recorded, including the force (N) and stress (MPa) at the moment of debonding. The mean and standard deviation of the failure load were calculated for each of the surface treatments and luting agents used. After a one-way analysis of variance was calculated, a p-value of 0 was obtained, indicating that there was a statistically significant difference among the bonding sequences tested.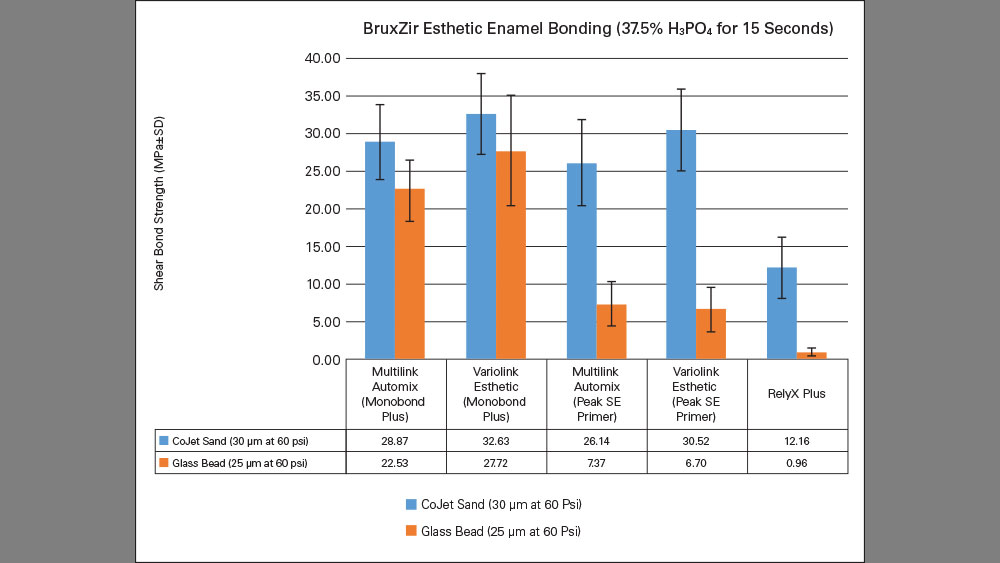 BruxZir Esthetic Veneers are a promising restoration for clinicians who want lifelike esthetics and strength. For practitioners in search of the ideal bonding protocol for each material they use, the results of this study provide a clear path forward. The research indicates that applying a CoJet Sand surface treatment to the veneer followed by Monobond Plus ceramic primer and Variolink Esthetic luting agent yield the strongest, most stable bond.