Social Media and Marketing the Modern Dental Practice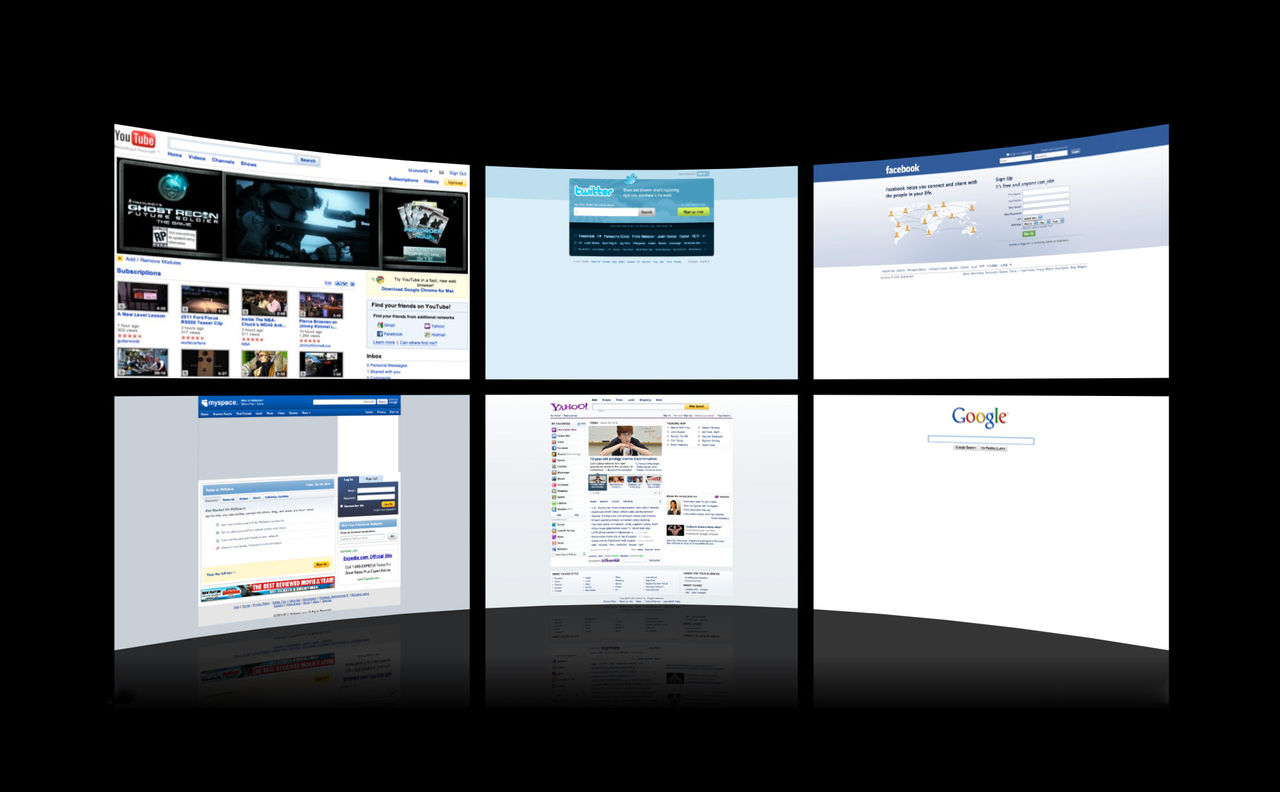 Dr. Michael DiTolla: Glenn, I'd like to welcome you back to the pages of Chairside® to discuss the topic of social media. Each time I speak with you, we're talking about website design or Google AdWords and optimizing search engines.
Today, however, we're focusing our talk on social media and how this new form of communication is impacting dentists. I don't really know how this works for dental offices, even though I can tell you that social media does impact my life. For example, I follow United Airlines on Twitter (@united). I fly 100,000 miles with them every year so I'm interested in what's going on, and just today I got a tweet about a couple of snowstorms in various locations. They said if you're flying there, go online to rebook your tickets. They also do special "Twitter fares," where for a two- or three-hour period they'll have an airfare sale to somewhere I might be traveling (or all of a sudden I'm planning on going). It's neat. Similarly, when I go to book a hotel, I typically go on TripAdvisor before doing so to check it out. Also, I find myself looking up things on Yelp, whether it is a restaurant or my girlfriend looking up hair salons. So, I have begun to realize that I rely on social media a lot in my personal life, but I've wondered how it applies to a dental office. If you want to start taking us through how a dentist can use social media to promote their practice and get in touch with their patients, I would love to hear about it.
Glenn Lombardi: Well, let me start by differentiating social media and traditional marketing: While traditional marketing involves the dentist marketing to patients, social media involves patients marketing to patients. It's interactive, it's exponential, and the reach is phenomenal. It's a very cost-effective medium, and it's a great way to share information and engage with patients while enhancing your brand and improving your reputation.
MD: And that really is profound, isn't it? I've never heard the definition of social media be stated in such basic terms: patients marketing to patients. So instead of the typical advertising relationship that we're all familiar with, it's almost like third-party endorsement, where it's a patient telling another patient about your services. It's like me telling another dentist how much I like my Officite website versus you guys sending a mailer to them. Of course you think you're great. But if I tell another dentist that I think you're great, it takes on another meaning. That's really very profound, isn't it?
GL: It is testimonial driven. Social media is connection. It's building relationships online. For example: Suppose a woman comes into the office for a whitening treatment. She's so pleased with her new smile that she goes home, visits her Facebook page and posts a picture of her new whitened smile to show all of her friends. She's excited, right? That's part of the connection, that's part of sharing. All of her friends are going to see her newly whitened teeth and then comment or write on her wall about how great her teeth look. What's the next question going to be? "Where'd you get the new smile?" That's where the connection begins, that's where the referral begins. And that's the power of a patient testimonial.
Social media is connection. It's building relationships online.
MD: Wow, funny you mention that because last year, I was in a weight loss contest with somebody here at work. I lost 50 pounds and he lost 15 pounds. And I took his money, and that was great, but even more fun — and I didn't even think about it until just now — was, I went to my Facebook page and immediately deleted every profile picture of me with a double chin or where I appeared to be pregnant at certain angles from the side. I got rid of all those and replaced them with the pictures of the new me. I ordered new business cards. And I changed the photograph that I send out in my seminar packets. So, you're right: As soon as that monumental event occurred, I made all of those changes. I didn't have a dentist to thank, but I did have a 99-cent "Lose It" iPhone application to thank. I don't know how many copies of that application I've sold, but I've told everybody about it because it was at the heart of my weight loss.
GL: Referral marketing. Great application.
MD: You've told me before that dentists are actually leading the way in the health profession for having websites. And I think everyone will agree that it's necessary for established practices to have a website. Today we're talking about how social media can enhance that even more. Explain to me how dentists can utilize the power of social media, and what kind of content they can provide to make this happen.
GL: First, you want to set up a social media network with profiles on Facebook and Twitter. Facebook is a great place to start. It's the No. 1 social media website out there, with more than 400 million users. So it's growing quickly, with the fastest growing age group being 35- to 55-year-old females. It's a great targeted market for dentists.
MD: Boy, that's exactly who we're going after in the dental practice, isn't it?
GL: Exactly. You'll want to set up your Facebook page as Fan-based, meaning without friends — strictly a business profile site. There are a number of things you can put on your Facebook site, including logos and photos of your office that are cohesive with the look and feel of your website. You'll also want to add any videos you might have from vendors like Invisalign or Glidewell or any videos you've taken of patient testimonials. Third, you'll want to include content, such as tips for healthy smiles or articles about practicing good oral hygiene. And finally, you should announce any new services or products your practice is offering, such as mouthguards and why this new product is beneficial.
MD: Or anti-snoring appliances would be a great example. It's the No. 1 way new dentists come to us at the laboratory. And what we typically see is: A dentist makes one (and you assume it's either for the dentist or their spouse) and finds out, wow, this really does work. But it never goes anywhere from there and they never send another in because dentists, in the past, didn't feel comfortable telling other patients about it. But you're saying this Facebook page is a great way to let everyone know, "Hey, we now offer these anti-snoring appliances."
GL: That's a great example. Now the dentist can post on Facebook his or her own personal experience that testifies how the appliance helped reduce or eliminate their own snoring. It's a great way to relate with a patient on a personal level. It's a way to build loyalty and trust from your current patients.
MD: And that's a great idea, because I remember when websites first came out, one of the things I would see in terms of video from doctors was the dreaded tour of the office, where it would be the doctor walking around showing the patient the surgical suites and sterilization areas and lab areas. You can just imagine the patient watching the video and saying, "Oh, gross," as they see scalpels lying on a surgical tray. And you got the feeling that this was probably not the best way to do it, but patient testimonials would be. How great would it be to have the doctor or the doctor's wife talk about how he made an anti-snoring appliance for himself and now he doesn't snore anymore. It would make the dentist seem more human and at the same time let a group of fans know about this new service you provide, which you tested on yourself before releasing to them.
GL: Right. And as those fans read and hear and understand what your practice has to offer, they'll talk to their friends who may have similar issues. For instance, if Mary knows about Sue's husband and his snoring problems, she may say, "Check out this Facebook post from my dentist about how to prevent snoring with a new device." Then the simple content shared on Facebook has reached its true viral potential. You've done nothing but post a message to Facebook, which is free, and in turn you are generating a new patient to your practice.
MD: Free: There's a word that dentists love! So we're talking about a different kind of Facebook page. It sounds as though this fan page is different from a personal page.
GL: Yeah, and you might want to have both — one for personal use and one strictly business related. But either way, you definitely want to have a business profile with fans for your practice because this is how you really start to grow your practice and see patients take an interest in what you have to say. These fans could be existing patients, potential patients or even friends of patients, and they'll have the ability to post, comment and interact on your social media pages.
MD: Now it seems pretty simple to pick a local example: Sprinkles Cupcakes in Newport Beach has a ton of fans because people are pretty passionate about their cupcakes. They are fantastic. And every day Sprinkles tweets a secret phrase that, if you go to their store and say it before noon, they give you a free cupcake. But I can see that on their Facebook page it'd be very easy for them to get a lot of fans because of the wide appeal of cupcakes. Now, if you have a dental office with a Facebook profile and a fan page, how do you go about getting fans? That seems like it may be slightly more difficult.
GL: When you first set up your Facebook and Twitter accounts, you'll want to add these social media icons to your website homepage with a direct link back to your social media pages. Then, when patients visit your website, they can click on them and be directed to your Facebook page or follow you on Twitter.
Another way to generate fans is in your office. Whether you post a sign that says you are now on Facebook and Twitter, or you ask your staff to inform patients of your social media presence, simply communicating the message will help attract new people to your pages. And, if you're doing marketing in the neighborhood, whether it is direct mail or ads, put your Facebook and Twitter icons on all of your marketing materials with URLs to your social media pages. People will see these images and know that they can connect with your practice that way.
MD: Now let's assume that after going through dental school I've been beaten down by my dental instructors, I've got low self-esteem. If I have almost no self-esteem, why would anyone want to follow me on Twitter? For a dentist who is sitting in their practice right now saying: "I'm boring. My dental practice is nothing exciting. I'm not doing dentistry to the stars, why would anybody want to follow me on Twitter?" What would you say to a dentist like that?
GL: I would say to the dentist, you have three options: First, if you are comfortable integrating social media into your practice, you should move forward with it and try managing it on your own. Set up your profiles, share information and begin building your fan base and interacting with patients.
Second, if you're not comfortable with social media or don't have time to manage it effectively on your own, you can have someone else manage it for you. Officite can write your content and post it for you — once, twice or even four times a month. It's a great way to outsource that service to a professional who can become your social networking partner and build a strong presence for your practice on Facebook and Twitter. One of the things that Officite offers when we set up your website is to include a blog page, which is an integral part of social networking. This blog feeds your social networks, so all you have to do is post to your blog and then your Twitter account and Facebook page are automatically updated with that same content. This really streamlines the entire management process.
A third way to jumpstart your social networking is to empower someone on your staff to take the lead. There's probably an assistant or office manager who's already interacting on Facebook and Twitter who can create the content and manage the social media sites for you.
It's important for dentists to understand that those who wait to get websites have a much tougher time coming up in the search results than the dentists who have been doing it the past three to five years. The early adopters are now the ones listed high in the search engines. So, as it relates to social media, you don't want to wait five years and be left behind when competitors in your neighborhood are generating new fans to their Facebook pages and attracting new patients.
MD: That's a great point. As you listed off those three options, you squashed every possible objection a dentist could have. Because anytime you go up to a dentist with a new idea, whether it be a new restoration or a new concept like social media, there are going to be objections to change. And you tend to hear the same four or five objections, and I think you just answered all of them. For myself, I was thinking that I don't mind blogging. Then I think about my dad, who's a retired dentist, and he would have said: "Why do I need this? I can't do this. I have nothing to say. I don't like to type." There would have been all kinds of objections. But if you would have said to him, "Look, you can pay and have a professional do it or you can delegate someone on your staff do it," there are enough options so that he could have no further objections. So I don't see any reason why dentists shouldn't be willing to try it.
It's funny you mentioned the blogs because I follow probably seven or eight blogs, only one of them being dental related, and I can see dentists being a little bit nervous about writing a blog or not really wanting to sit down and do it. It is interesting that the blog can update these other forms of social media. So is the blog kind of the centerpiece in this strategy?
GL: Sure, it's the nucleus; it's where it all happens. By writing and feeding all of your messages through a blog, it automatically sets up your Facebook and Twitter page with content. Not to mention that a blog is a great way to reveal your credibility, engage with patients and boost your search ranking. In fact, Google now spiders Twitter and Facebook, and the information on these social networking sites can actually appear in the search results when a relevant search is performed.
In addition to the Facebook and Twitter feeds, you'll notice that reviews about your practice are also visible to people searching for you in the local maps results of Google. For instance, if you type "Dentist, Park Ridge, Ill." into Google, the new local Google Maps results will display what's known as the Google 10-pack: 10 dentists in Park Ridge with phone numbers, web addresses and reviews for each listing. These reviews have become an extremely important factor for dentists in terms of managing their online reputation and earning high rankings in the search results. So it's imperative for dentists to manage their reputation online as it relates to how their practice is portrayed on the internet.
MD: Interesting. So, the online reputation is something that I look at in regards to, as I mentioned before, restaurants on Yelp. And you'll look to see what other people have written about a restaurant. If something has 200 reviews and has a 4.5-star rating, you can be pretty well assured that it's a quality establishment. And if you look through all of those reviews, there'd be plenty of 5-star reviews and a couple of 3-star reviews that brought that down just a little bit, so they didn't have a perfect rating. But I know dentists who have told me, because of a couple random lawsuits that are going on — specifically with Yelp — that they're afraid to be reviewed online. However, it sounds like to stand on the sidelines and to stay away from it doesn't shield you from somebody who didn't have a positive experience. And that one bad review will never be replaced with a good review if you don't encourage it. Explain to our readers a little bit about managing this online reputation.
GL: What you want to do is manage and audit your online reputation. There are a couple ways to do that. The first thing you want to do is simply perform a Google search for your name and practice and see what comes up in the results. Take a look at any reviews posted to find out what patients are saying about the quality of your practice. This can give you basic insight into your current online image.
Second: Sign-up for Google Alerts using your name, your practice and other words or electives specific to you. Then, anytime anything is written about you on the internet, you will get notified by Google via email, telling you where the online source came from and what was written about you.
Third: Manage your online reputation by encouraging positive patient reviews. We recommend that you collect emails as patients come through the office. And people who have a Yahoo or Google email are the ones to ask, "Hey, you had a positive experience. Would you mind giving us a review?" Why is it important to use a Yahoo or Google user? Because they already have logins for these accounts. All they have to do is Google your name, click on your profile in the local business center, click on "Add a Review," type it in — and BAM! You have a review. Even if you get one positive review per week, you will attain 52 positive reviews in just one year's time. If you happen to get one or two negatives, the 50 positive ones will outweigh the one or two bad ones. Not only will a favorable review be influential for prospects deciding whether to visit your practice, but reviews also effect where Google ranks you in the local maps results. The more positive reviews you have, the better the ranking.
MD: Yeah, it'd still be a 99% positive review. You know, it's always been recommended that you ask patients for referrals, to refer other patients. And a lot of dentists struggle with this. Personally, I had to almost become robotic and memorize a line to be able to say to patients: "Hey, John. We're just about done with your appointment today, but I just want to tell you that we love having you here. Whenever you come in, everybody gets excited. You show up on time. You pay your bills on time. You are actually our ideal patient. And I know that birds of a feather flock together, so if you've got any friends or family who need dentistry, we would love to see them." And then you would hand the patient a couple of business cards. You pay the patient a compliment and tell them, you're our dream patient and you're fantastic, we love having you here. If you've got any friends or family who are in need of a dentist, have them stop by and tell us that you sent them and we'll take great care of them.
It's a way to build loyalty and trust from your current patients.
Most dentists you talk to would say: "Ah, I just can't do that! I just can't walk in and have that conversation with a patient. It sounds desperate, it sounds like I'm begging. Maybe someone on my staff could do it." And they probably could, but it's not as powerful. It is a difficult thing to do, but nobody argued that it's a bad idea to pay a compliment to a patient. It's not easy to be a dental patient, but then to ask them for a referral? Otherwise, the patient comes in for his or her appointment and sees the front office receptionist sitting there with 5,000 charts behind the desk. They see four other people in the waiting room, but the patient doesn't know those patients are waiting for the hygienist and not the dentist. To the patient it looks busy in there and it probably never occurs to them, I should make them busier.
It seems like social media is more about the younger patients, so it might be easier to say to them, "Hey, we love having you here and I know you said you like coming. We would love if you could write a positive review for us," or something like that. It seems like that would be a painless thing to ask for in the office versus saying, "Hey, send us more patients."
GL: Exactly. At Officite we actually provide our clients with review cards, where the front office staff can actually hand a card to the patient that describes how to complete a review on Google or Yahoo. It has a simple process laid out. So, when the patient leaves with that card, he or she has a direct roadmap on how to do a review and is more apt to go and make that review happen.
Start with patients you know or that you are confident have been satisfied with your services time and time again. Again, if you can get 10 or 20 reviews, you are ahead of the game. Just start the process and don't worry about setting an unrealistic goal. Get comfortable with the review process, let it work itself out, and your patients will take care of the rest.
MD: You can even tell your patient, "We're having a contest to see how many positive Google reviews we can get."
GL: Exactly. And the names of those who give you a positive review on Google or Yahoo will be put in a drawing for a chance to win some sort of prize or even a special offer for a dental service.
MD: I mentioned earlier that I'm sitting here with my iPhone in my pocket, and it's buzzed a few times. And I don't know whether it's tweets from Lance Armstrong telling me where he's cycling today, but I spend a lot of time getting information — whether it's from Twitter, Yelp, Urbanspoon, Facebook even — on my iPhone. It's become an important device in my life for managing what's going on and how I interact with the world.
When Apple released its 2009 fourth fiscal quarter financial results, it set more records and sold more iPhones then ever before. Just when I think that everyone has an iPhone, Apple goes and makes a record profit. What should dentists be doing to take advantage of the fact that everybody carries a smartphone and stays so closely connected to the world of social media?
When you first set up your Facebook and Twitter accounts, you'll want to add these social media icons to your website homepage with a direct link back to your social media pages.
GL: Number one, their practice website should be iPhone-compatible. This was one of the first things Officite did about a year ago when the iPhone grew in popularity. We made it possible for all of our dentists to have an iPhone-compatible website with easy navigation and quick links to phone numbers, appointment requests and social media sites so that patients on the go would always be able to access their dentist's site. Remember, patients are busy and they want to make one click to get where they're going.
The iPhone is where more than 50% of your information is going to be gathered, reviewed and read, and this includes social media sites. Today you see kids, my 15-year-old included, who are on their iPhones more than the computer because that's how they access their Facebook. And this is a great way to expand your reach to potential patients who may never see your direct mail, ads or even Google searches. As this generation grows up with social media and advanced technology like the iPhone, it's necessary to adapt your strategy to reach out to an entire new patient base that is growing very quickly.
MD: That's a good point, because it's the same way with my daughters — very attached to their devices. In fact, one of the only effective punishments we have left is to turn off the texting and take away the laptops. It is their connection to friends and to the world. And you're right: This is the generation of patients who are coming next.
In general, most of the discretionary choices I make are somehow reviewed on social media before I go out and interact with any given business. It makes total sense to optimize things for the iPhone — it is unique and it has broad appeal. As an information portal, it makes a lot of sense.
GL: Four or five years ago we all started booking travel, buying books and other consumer products online — and that drove companies' behavior to sell online. And the same goes today with the growing popularity of the iPhone.
When you go to check an alert for a flight, you're doing it on your iPhone at the airport. You're not pulling out your computer anymore. When you search for a restaurant, you're pulling out your iPhone. When I drove over here from my hotel, I got the directions on my iPhone. That's the way I'm interacting with the world, that's what's changing. So when people look for a dentist, they want to be able to look on their iPhone as well. It's all about taking control of who you are and how people gather information about your practice.
MD: Another area I'm interested in hearing about is YouTube. You briefly mentioned it earlier and I guess it's something that would be considered a social media site, but we've produced many clinical education programs here at the lab and we've put them out on iTunes. We notice they are immediately downloaded, but we've also found out they've ended up on YouTube, not by our doing! So we've started to put them on YouTube ourselves to see how many views we are getting on these clinical education programs. Not just here in the U.S., but worldwide — I'm huge in Moldova. I don't even know where that is, but if I went there I'd be given a key to the country because a lot of dentists there have watched these videos. So it's gotten easier. We use HD cameras in the operatory for filming; we've also got some cheaper handheld cameras. And then you get down to the flip cameras, or even the iPhone having a video camera, but I wonder: Do you have many of your dental clients doing videos and posting these? Whether it's before-and-after shots or something else, is that considered social media, too?
GL: Yes, and what that does is increase your case acceptance and expand your reach to patients searching for specific patient education videos. You can post your video to your YouTube account, and then link it to your Facebook and Twitter accounts. This is a great way to tie all of your networks together while providing a visual interpretation of a service, product or even a patient testimonial.
MD: Even something as simple as bleaching before-and-after pictures, which I think many dentists take for granted now. It works so well and it works so often that patients aren't even offered it anymore. I don't agree with that thinking because it seems like almost every Google search that I do, when the results pop up, there is always an ad that says: "Slaughter your yellow teeth! Murder your yellow teeth!" It's an obviously Photoshopped before-and-after: someone with teeth the color of cheddar cheese now has bone white teeth in the after. And any dentist looking at the before-and-after would say it looks fake or glow in the dark. These companies don't have unlimited funds and they wouldn't advertise if it wasn't selling. Every time I see one of these ads, it reiterates to me that bleaching is still something that's very important to the patient. It's possibly the most basic, most conservative, certainly the most affordable esthetic procedure that we have, and I think dentists sometimes go out and get fixated on the "almighty" veneers or the crown and they forget about lowly bleaching — which, for the average American, is the esthetic change that they're looking for. So I know that a before-and-after shot of bleaching and a little slide show on YouTube would be very effective, as it would be on a Facebook fan page, with a little testimonial. This seems like a very effective way to communicate with your patients and show them something that really 80% of them could benefit from.
GL: Yes, exactly. So whether you produce that video yourself in the office using a patient — which always has a positive effect — or you get a video from a dental manufacturer like Glidewell that provides free patient education, putting a video on your website and social media pages is only going to enhance awareness about the services you offer. So, you're right — a high percentage of your patients would probably benefit from a certain treatment and continually educating and informing patients about these procedures via your social media channels could eventually convince them to come in for the bleaching treatment. You could even tweet to your followers that you're offering a special on tooth whitening, but it has to be Thursday afternoon. That might be a way to enhance and grow your revenue while filling chairtime.
MD: That's obviously what United Airlines is doing when they decide to tweet that they're having a fare sale between L.A. and Hawaii for the next three hours. They've noticed inventories are low. And after three hours, they'll tweet back and say, OK, it's over. So they must have filled that inventory. Do you have some dentists doing that, filling some excess inventory that way?
GL: We do, because dentists always know when their slow period is going to be. Whether it's around the holidays or at the beginning of summer, dentists can plan their social media strategy in advance for the month's business will be slow in order to increase the chances of filling chairtime. This might involve preparing blog posts, tweets or Facebook posts to inform patients that they're having a special offer on cleanings or that a new procedure is available.
MD: When we talk about blogging for the practice, part of it certainly could be video blogging, correct?
GL: Yes, and I definitely recommend supporting text in your blog with a video.
MD: From a patient perspective, it seems like a video blog would be very compelling. It's almost like a behind-the-scenes look at what happens or what's available or what could happen in a dental office. I don't think "Extreme Makeover" or "The Swan" would have been as successful as they were if they didn't include some kind of glimpse behind the scenes of what happens. So I think it's one thing to blog and write about it but another thing if there's a 60-second video showing some before-and-after pictures of the past week or the past month or something like that. I can see patients really taking an interest and wanting to watch that and learn about it.
GL: Sure, a monthly blog with some video is always going to be a hit. I mean, when you go to ESPN.com, the Greatest Sports Item is a video now. As consumers, we are drawn to visuals. So the same should be true of dentists. Whether you build the video yourself or obtain a video from a vendor, posting it on your blog can generate a lot of interest. It grabs a patient's attention and says, "Look, we have a new video of a patient receiving whitening or a new animation about anti-snoring devices." That is going to create interest as long as it's kept brief and compelling, and hopefully increase your number of appointment requests.
MD: That's a good idea. We, even as a laboratory, have products that dentists probably aren't even aware of. There are products that I didn't pay attention to until I needed them in my personal life. For example, my son plays ice hockey now, and you've got to wear a custom-made mouthguard. We made him one recently that looks nicer than the one that the players for the Anaheim Ducks wear, and it's their colors and their logo. Now, every kid on the team wants one. Dentists always ask me, "Well, how much money do you really make on this?" It's not so much getting the child in for the two alginates for the $200 mouthguard; it's more about getting Mom, the 35- to 50-year-old mom, into the practice to meet everyone. She sees that you treat the child well. And then, "By the way, Mom, I don't know if you're interested, but we're doing a bleaching special through the end of this month." It's products like this that dentists traditionally don't think of as restorative dentistry, a short little blurb about this custom-made athletic mouthguard for kids playing basketball or baseball or hockey. I mean, what a great way to get some new families into your office that you may not have met. And now they're able to become ambassadors for the practice. They tell everyone: "We got a great new custom mouthguard. Now my kid's the envy of everybody on the team."
GL: Absolutely. Not only do you get one more family in the door with a new innovative marketing tool, but you may also get the whole sports team in your office. Again, that's another way to market your practice. It's always important to consider marketing services to your community, such as a local sports team, to help bring in new patients.
MD: As always, Glenn, after speaking with you today I walk away with a greater appreciation for the power of the internet and what marketing the modern dental practice is really all about. One of the things that really impresses me is, unlike the days of full-page Yellow Page ads at $1,400 per month (and you weren't sure exactly how effective it was), most of this is free. You mentioned the word "free" once or twice during this interview and talked about how the updates you're able to do via the social media sites, which are free once they're set up. That's pretty impressive. Marketing the modern dental practice looks clean, and a lot less embarrassing at times, because we can use video and photographs in a more authentic way to market the dental practice. The internet, which some dentists may view as a necessary evil, really seems to be becoming more classy. You've opened my eyes once again today to what social media can do for a dental practice, as well.
GL: Dentists should not be intimidated by social networking. In fact, they should embrace it as an integral part of their online marketing strategy. A simple blog on your website synced to your Facebook, Twitter and YouTube accounts can significantly increase your website traffic, improve your search ranking, enhance your online reputation and, ultimately, attract new patients to your office. With anything related to social media, it's patients marketing to patients, a powerful thing called referral marketing. So make sure you don't overtly try to sell or market. Just be personal and learn to actively engage with your patients.
MD: Well, I'm relatively lazy, so I gave you all my words and images and had you put my website together, which I love and others love. For the other lazy dentists reading this, what's the best way for them to get in touch with you and get started with Officite?
GL: They can go to officite.com. Or dentists can call 888-282-9751 to talk to one of our social media experts, who can walk them through the process of setting up a social network and blog. If they choose, we can manage the entire process for them, as well as monitor their online reputation. Plus, we can even help with the online review process by providing our reputation marketing kit, which gives them everything they need in the office to generate positive reviews and manage their online reputation.
MD: I always tell people that this is an exciting time to be a dentist. And you've got me convinced that this is an exciting time to be marketing a dental practice, as well. Thank you for your time, Glenn. I really appreciate it.
For more information about the services offered by Officite, call 888-282-9751 or visit officite.com. Contact Glenn Lombardi at GLombardi@officite.com.