Customer Service & Technical Advising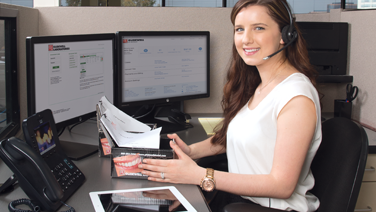 Glidewell is a large mail-order laboratory that nevertheless believes in the importance of personal relationships, maintained through advanced communications and the unwavering commitment of our Customer Service and Technical Advisor teams. We remain adaptable, embracing and pioneering new technologies that favor dentists and their patients, even if it means making adjustments to our bottom line or devising expanded service offerings. We process thousands of units each day, yet haven't lost the artist's touch wherever it is needed. Our Customer Service Representatives and Technical Advisors serve as our liaisons between the customer and the lab, performing a variety of general office tasks that include administrative and department support duties, providing assistance to all customer requests, and promoting the company's products and services. Success in this department relies on prompt, effective communication with customers, colleagues, dental technicians and managers, as well as in-depth knowledge of the technical aspects of all Glidewell products and services. Our Technical Advisors use their extensive technical knowledge to evaluate customer cases and advise doctors on which product is best for their particular case. By soliciting, listening to, and reporting on customer needs and feedback, and always striving to exceed customer expectations, these invaluable team members help our company build customer confidence and commitment, ensuring customer retention and satisfaction.
Join us Today! We're Hiring!