Maintenance & Construction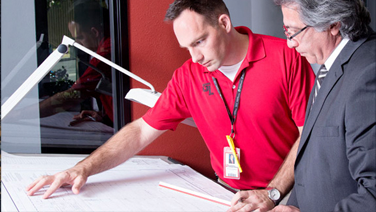 As an international family of labs that specializes in crown & bridge, ceramic, removable full and partial dentures, dental implants, and full-cast restorations, what allows Glidewell to be so expansive? Over the past five decades, we've learned that the key to keeping prices low is to reduce costs wherever possible. Through vertical integration — that is, by controlling everything in-house — we eliminate vendor markups that would otherwise get passed on to dentists and their patients. Our maintenance and construction teams have an important place in this vertical integration structure. These teams are composed of workers who are experienced in various construction trades, including carpentry, electrical, painting, drywall, plumbing, metal construction and hardware installation, HVAC and refrigeration, and mechanical maintenance. Members of the Maintenance/Facilities department perform remodels and repairs, including constructing, installing and demolishing walls, workstations, cabinets, drawers, countertops and doors within the company's buildings and workshop. Reliability, dependability, timeliness, accuracy, flexibility, and problem-solving ability are highly valued within this department.
Join us Today! We're Hiring!