Employee Spotlight: 'Chairside Live' Host Megan Strong
Since childhood, Megan Strong has dreamed of becoming a talk show host. While the other kids were outside playing hide-and-seek, Megan was inside in front of the camera, filming a mock talk show. That dream continued as she grew older, so she decided to pursue a degree in broadcast journalism at California State University, Fullerton. After graduation, Megan traveled to Kenya on a mission trip, where she gathered stories to share when she returned to the U.S.
Once back in the states, Megan began working as a copywriter, when she was contacted by a recruiter at Glidewell Dental about an opening in its Marketing department. Upon joining the company in 2011, Megan started out writing a variety of content, including press releases, brochures and articles for Chairside® magazine. The position turned out to be a good fit. But six months into her new role, Megan was approached about an exciting opportunity — a brand-new web series that the company wanted to launch.
CHAIRSIDE MAGAZINE: How did you go from working behind the desk as a copywriter to being in front of the camera as a host of the Glidewell Dental web series "Chairside Live"?
MEGAN STRONG: After I started working at Glidewell, Dr. Michael DiTolla, the former director of clinical education and research, approached me and said he wanted to launch a dental talk show. He asked if I wanted to cohost it with him. I said: "Of course. Absolutely!" I was thrilled at the idea of hosting a talk show because I've had a longtime desire to do TV projects. I just never imagined that working at a dental company would lead to an opportunity to pursue a childhood dream. That was six months into working here. Now, nearly seven years later, I'm still at it.
CM: How was the concept for "Chairside Live" developed?
MS: Everything we do here at Glidewell goes back to educating dentists, with the goal of helping them provide patients with easier access to more affordable dentistry. We wanted to develop a show that was informative, and at the same time, we wanted to create content that was engaging. So when we launched "Chairside Live" in 2011, it was a combination of information and entertainment. We considered it an "infotainment" show. Since then, "Chairside Live" has evolved to where it is today.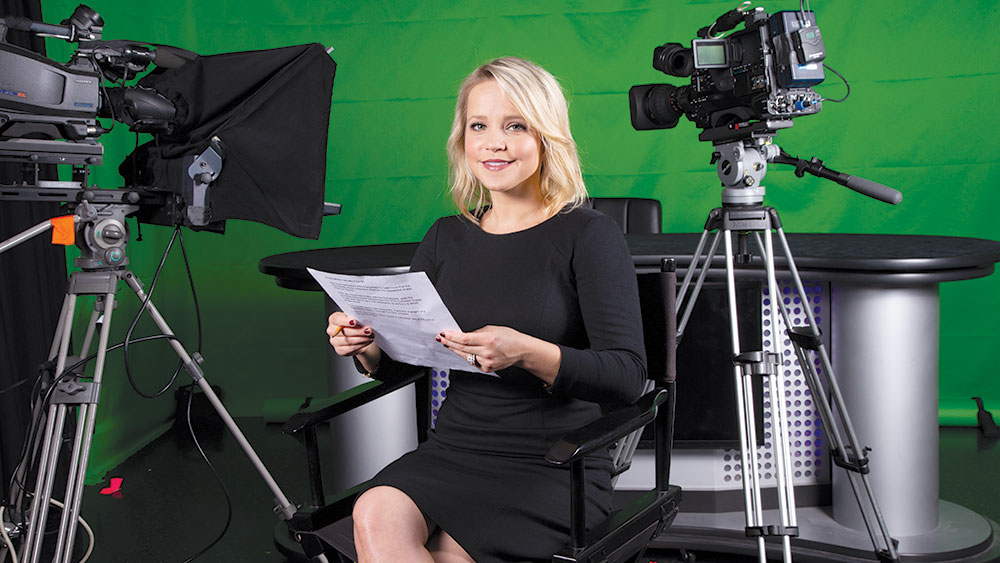 CM: What's your favorite part about the work you do?
MS: Every time I'm on camera, I learn something new. I always have a different project to work on. Also, I love the fact that I get to write my own scripts. I enjoy having creative control with the content that we develop. But when it comes down to it, the aspect I love the most about what I do is connecting with people and bringing valuable content into their lives.
CM: What's been your most memorable experience so far?
MS: It has to be the Glidewell Dental Symposium. It's such a high-energy event. It is fun to see so many doctors come together to learn and engage. Also, I love meeting our viewers and hearing them say, "That show you did on the 3-unit bridge was extremely helpful!" For me, those are my memorable moments. Whenever a doctor says that "Chairside Live" has helped them, I love it! You can't beat that. We spend so much time behind the scenes crafting these shows that it is very rewarding when you find out people are not only watching, but are also learning valuable information that improves their practice. You couldn't ask for anything more than that.
It is very rewarding when you find out people are not only watching, but are also learning valuable information that improves their practice.
CM: Besides "Chairside Live," do you work on other projects at Glidewell?
MS: I work on internal corporate videos as well. For example, when new employees start at Glidewell Dental, they go through new hire orientation and watch videos to educate them about working at the company. I host all of those training and safety videos. Also, when the company has a big announcement, I am usually the spokesperson for that content. I also work behind the scenes coaching our interviewees, making them comfortable for the camera. Basically, I'm usually involved in some aspect of anything that deals with video production. Also, I have had the opportunity to work on both of the Glidewell Dental symposiums, which have been our biggest events as a company to date.
CM: What has been your role with the Glidewell Dental Symposium?
MS: I'm involved with the symposium from the planning phase to execution. A lot of work goes into getting the event ready. We just got back and we're already preparing for next year's symposium. It involves nearly every team and department at the company. Before the symposium, I create videos to promote the event and additional content that will be broadcast during the symposium, like our interview on artificial intelligence. Also, I help develop the game plan on what content we want to shoot while we're at the event. Then once the symposium is underway, I'm there interacting with dentists and interviewing presenters about their message and how it impacts doctors.
CM: You've had the opportunity to be involved in several areas of Glidewell and have seen the company from different perspectives. What's it like behind the scenes? What do you feel doctors should know about Glidewell Dental?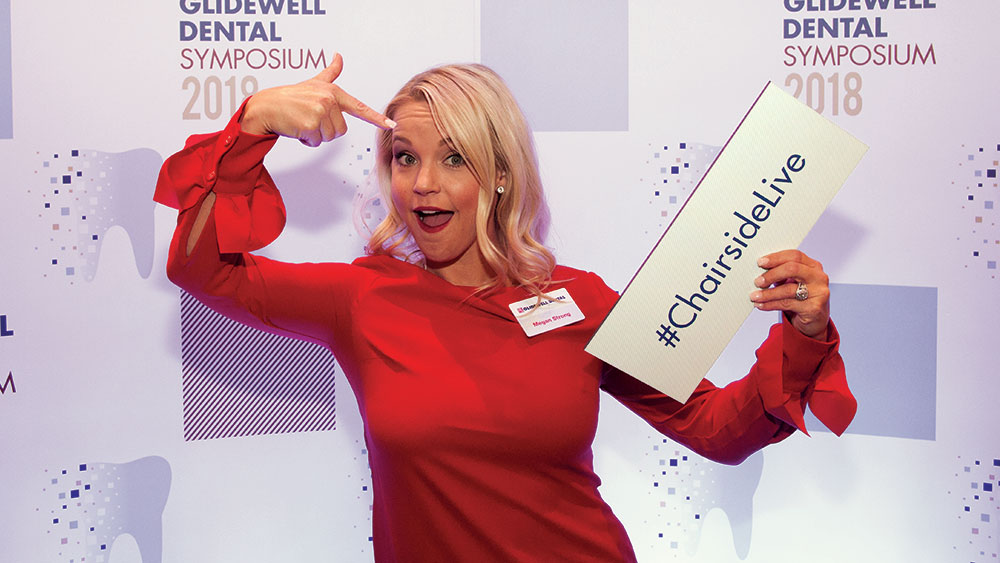 MS: Everything we do as a company, from technology to education, is to improve the doctors' practices, and in turn, impact the lives of patients. Furthermore, if I were doing business with a company, I would want to know that the company not only treated its customers well but its employees too. Therefore, I would say another important thing to know is that you're working with a company that cares about its people. Glidewell has developed a lot of programs to benefit employees. We have an onsite wellness center with affordable healthcare because Mr. Glidewell wants employees to be healthy and enjoy an active lifestyle. We have a 24-hour onsite gym and there are fun company events throughout the year like barbeques and picnics. Mr. Glidewell provides all of these fringe benefits because he genuinely cares for every employee who works here.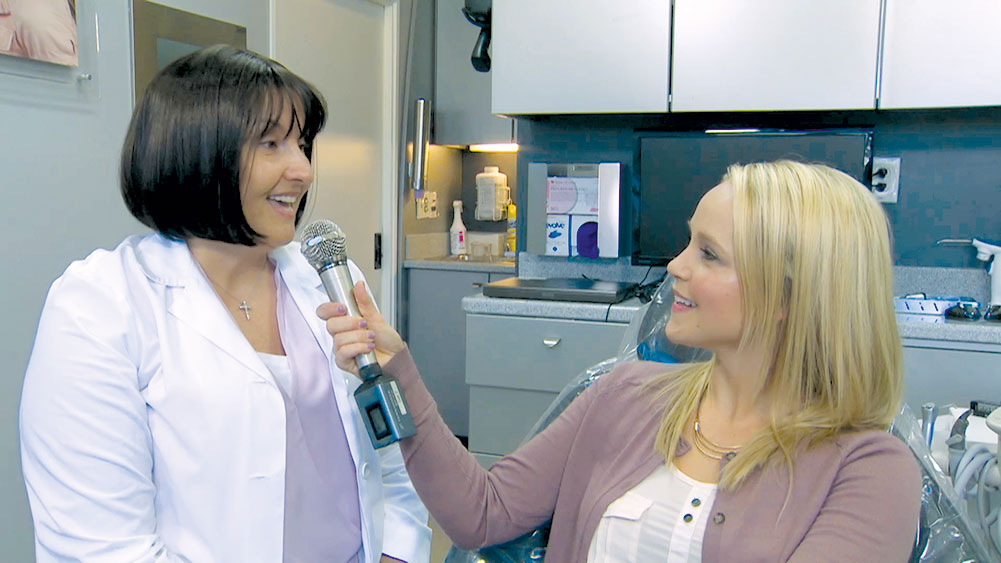 In the operatory at Glidewell Dental, Megan interviews Dr. Anamaria Muresan for a segment of "Chairside Live."
CM: You've worked at Glidewell for seven years — what's motivated you to continue with the company thus far?
MS: Seven years and counting! I appreciate the fact that at Glidewell there's always room for growth. I don't like to feel stagnant in a position and I know that the leadership at Glidewell is really big on vertical integration, promoting from within and providing new opportunities to employees. Since starting here, I've transitioned from copywriting, to hosting "Chairside Live," to corporate branding. It's exciting to know that I don't have to stay where I am. When I come up with a creative idea, I'm heard and it's implemented. Even if a project doesn't turn out the way we envisioned, management is willing to allow us to try new things. Simply knowing that my ideas are valued and that I can keep moving upward is very satisfying.
CM: Most of our readers know you by watching "Chairside Live" and have learned a lot about you through the years. What do most people not know about you?
MS: I love to run! It's where I can zone out. I enjoy running half marathons and I'm a huge foodie. I also speak Spanish and enjoy traveling. But it's kind of hard to travel as much when you have small kids who are four and two. Also, I have a YouTube channel called "She Talks." You can watch my episodes there or on Instagram TV @she.talks_. Basically, it's a lifestyle show that covers a range of topics. I don't know what's going to happen with it, but I'm enjoying every minute! At the core of it all, I love being a voice for people, whether it's related to dentistry, food or tips on motherhood.
CM: What's in store for "Chairside Live"? What can doctors expect when they tune in?
MS: As "Chairside Live" moves forward, we will continue providing cutting-edge clinical content and making dentistry more approachable. As the host, I want to present the information our doctors are learning and show how it can help other dentists. Everything that we do in the operatory is for the purpose of research and development — to find new products, to create new processes and to discover new materials that will benefit the clinician. With "Chairside Live", I want to invite people into Glidewell and introduce them to the various ways that we can support their work. I want the show to be a bridge between our company and the community. Part of my goal with "Chairside Live" is to personalize Glidewell and let our customers know they are working with family.
CM: Thank you for your time, Megan. We appreciate you sharing your story with us.
MS: My pleasure.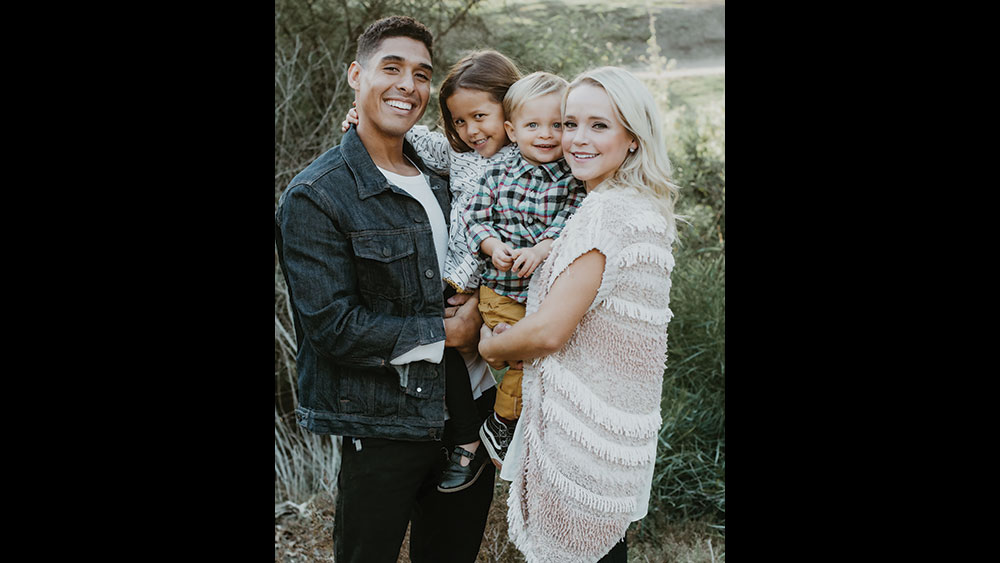 During her leisure time, Megan enjoys family outings with her husband and two children.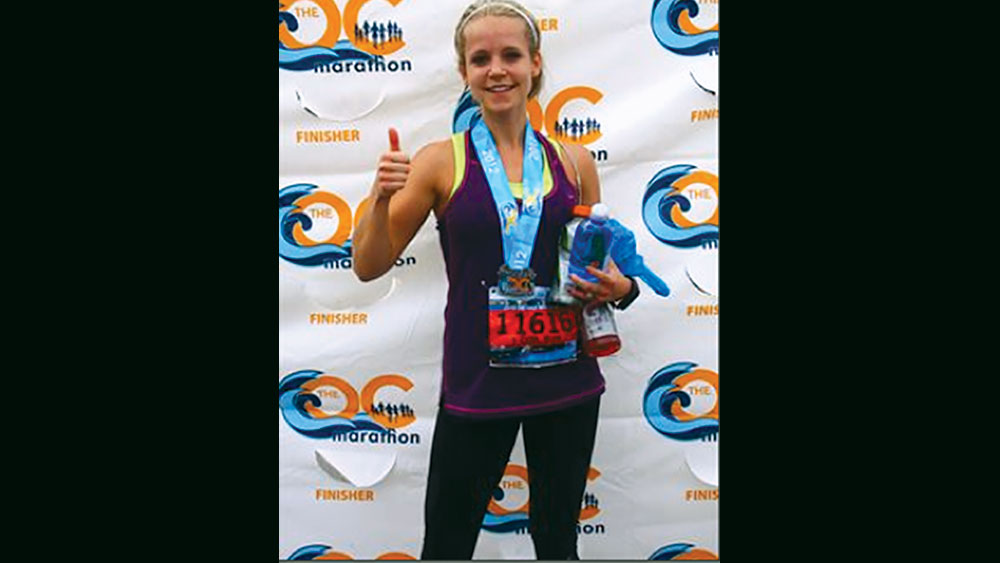 Running is one of Megan's favorite pastimes. She recently finished the OC Marathon.