Glidewell Dental Symposium 2018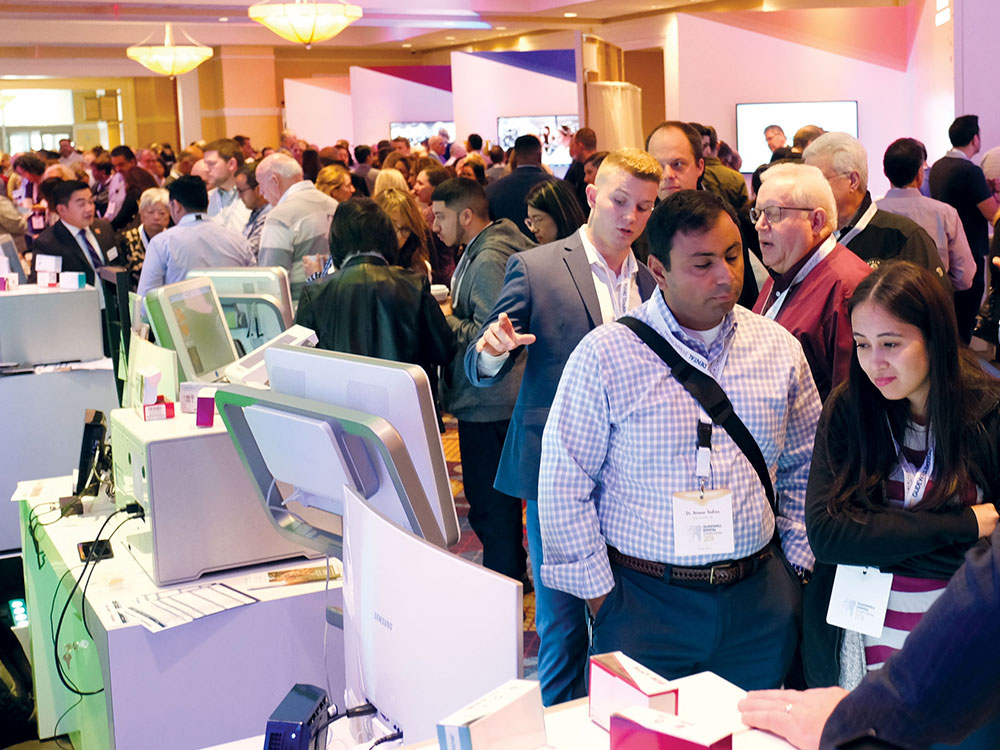 World-Class Continuing Education Event Highlights Dental Practice Growth Opportunities
The second annual Glidewell Dental Symposium attracted doctors nationwide for a first day of fast-paced lectures and a second day of focused, hands-on workshops. The sold-out event, held October 19–20, 2018, at the Gaylord National Resort & Convention Center in National Harbor, Maryland, explored numerous tools and techniques for clinical and business success for general dentists.
"The success of the Glidewell Symposium is an incredible indicator of the rapidly changing dental landscape," said Dr. Neil Park, scientific chair for the symposium and Glidewell Dental vice president of clinical affairs. "The event more than doubled in size from last year, and the enthusiasm during the symposium, from doctors who came in from all over the country, made for an unprecedented weekend of education and networking. It's clear that the strong desire of dentists to embrace technology and expand the services they offer their patients is stimulating demand for this type of event."
Lectures and workshops covered the emerging science, technology and clinical methodologies being applied in the field of dentistry, and emphasized everything from effective treatment planning, to implant and restorative solutions, to optimized results achieved with next-generation, in-office milling.
"We are so grateful to all the doctors in attendance, and their pursuit to advance patient treatment," Dr. Park said. "As we look ahead, we are excited to expand opportunities to help doctors grow their practice, and to make the 2019 Glidewell Dental Symposium even bigger and better."
Visit glidewellsymposium.com for information about the 2019 Glidewell Symposium.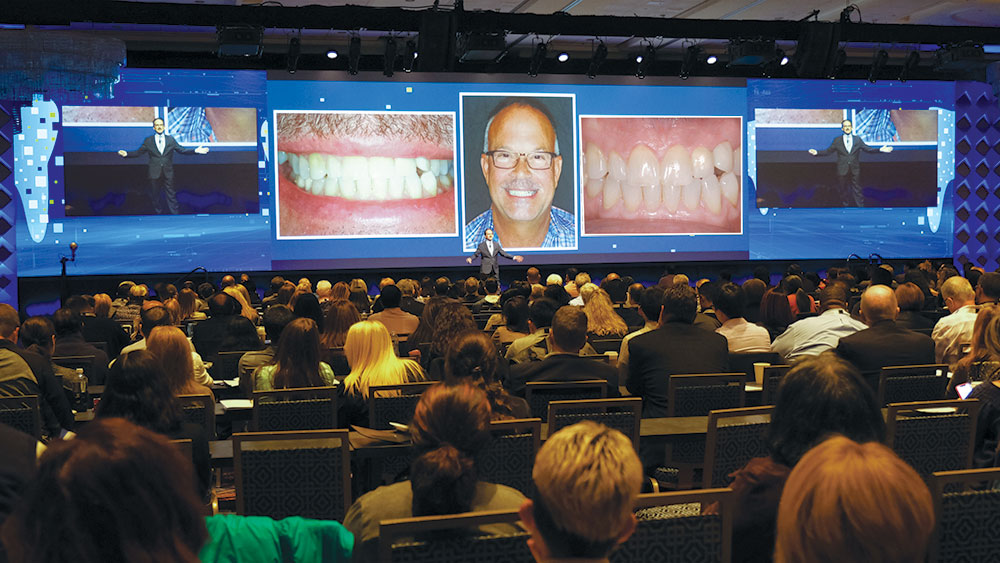 On day one of the 2018 Glidewell Dental Symposium, doctors gathered from around the country for a full day of informative lectures presented on virtually all aspects of dentistry. Dr. David Hochberg engaged the crowd with his presentation, "Implant Success in Anterior Cases."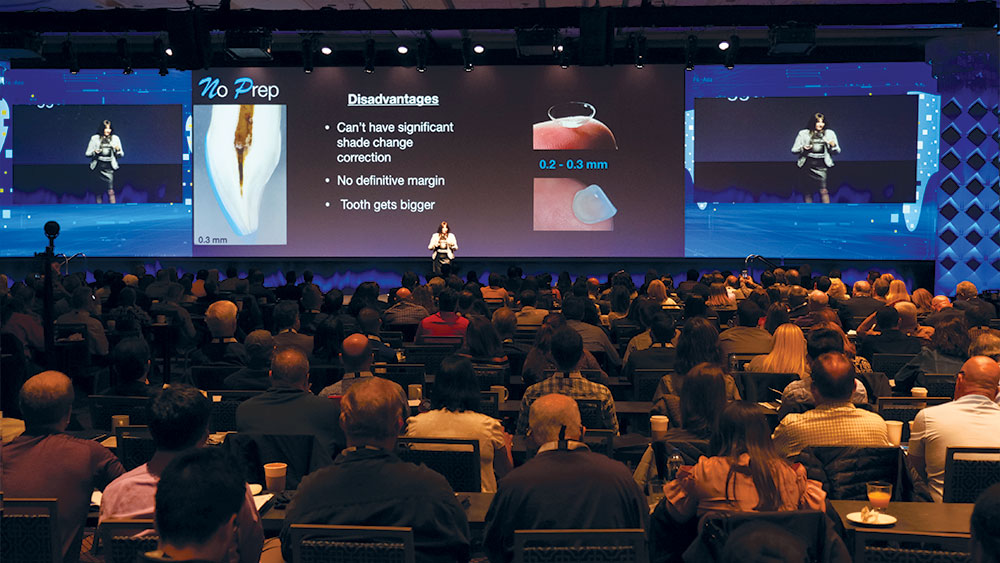 During the session, "Veneers: Prep or No Prep?" with Dr. Anamaria Muresan, attendees learned the procedures for maximizing the results of their veneer cases.
Dr. Justin Chi explained innovative scientific research and clinical applications in his presentation, "Esthetic Dentistry: Latest Advancements in Materials and Techniques."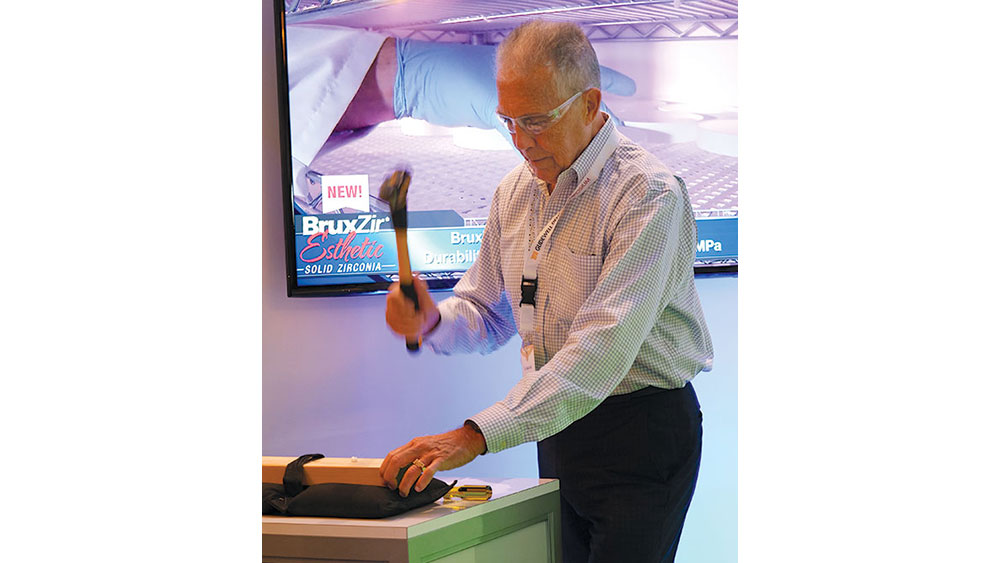 The symposium exhibit hall presented many interactive demonstrations. For example, doctors lined up to perform the "Hammer Test," an attendee favorite, in which BruxZir® Solid Zirconia proved to be chip-proof and virtually unbreakable.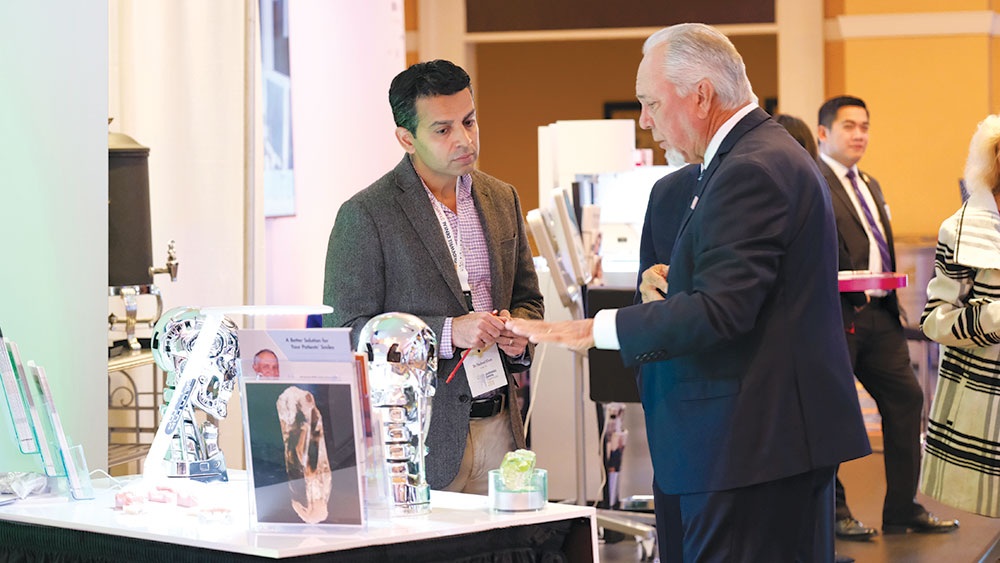 An attendee (left) met with Jim Glidewell, president and CEO of Glidewell Dental (right), as he described the unique characteristics of BruxZir Esthetic, and the rigorous research and development processes that have advanced the material to the next level.
Dr. Randolph Resnik introduced doctors to the Misch classification system for bone density in the workshop, "Maximizing Implant Stability in Compromised Bone." Doctors participated in interactive exercises by placing implants in models of varying densities.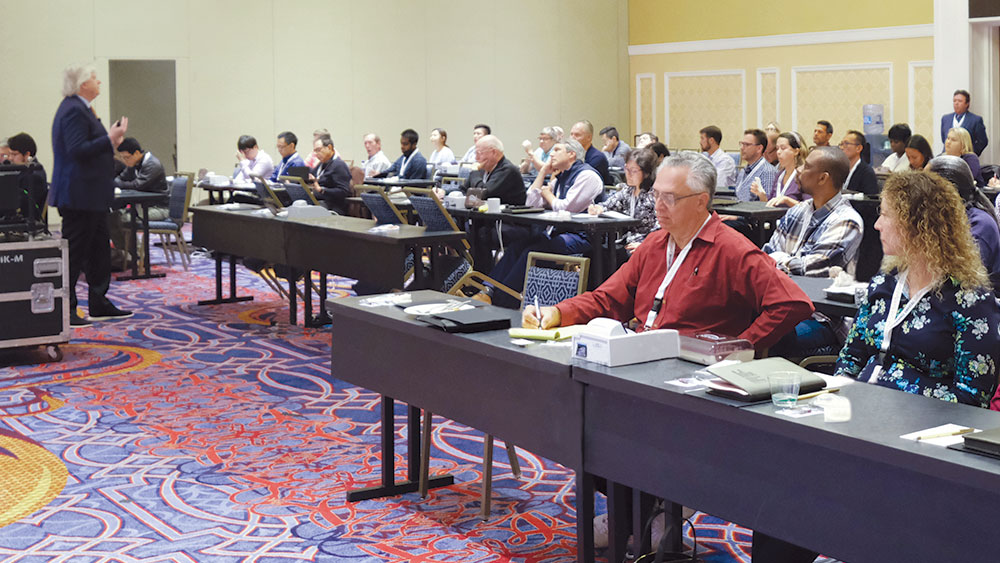 On day two of the symposium, doctors filled the seats of 12 simultaneous hands-on workshops. Pictured, attendees participated in the session, "Atraumatic Extraction, Socket Preservation and Surgical Placement of Implants," taught by Drs. Timothy Kosinski, Juan Cardenas and David Hochberg.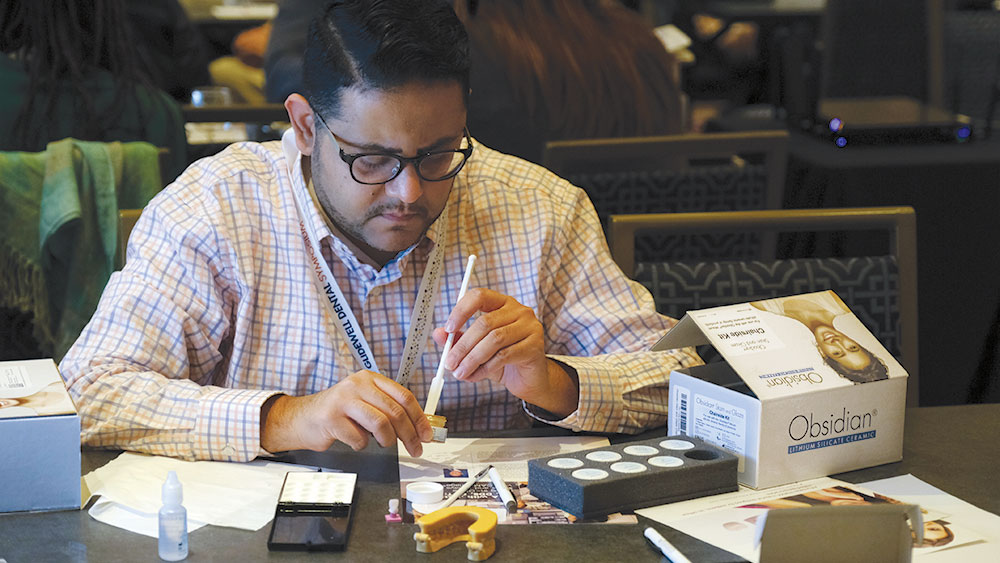 Attendees practiced staining and glazing techniques learned during the workshop, "Advanced Techniques for the glidewell.io™ In-Office Solution: Going to the Next Level," taught by Dr. Justin Chi.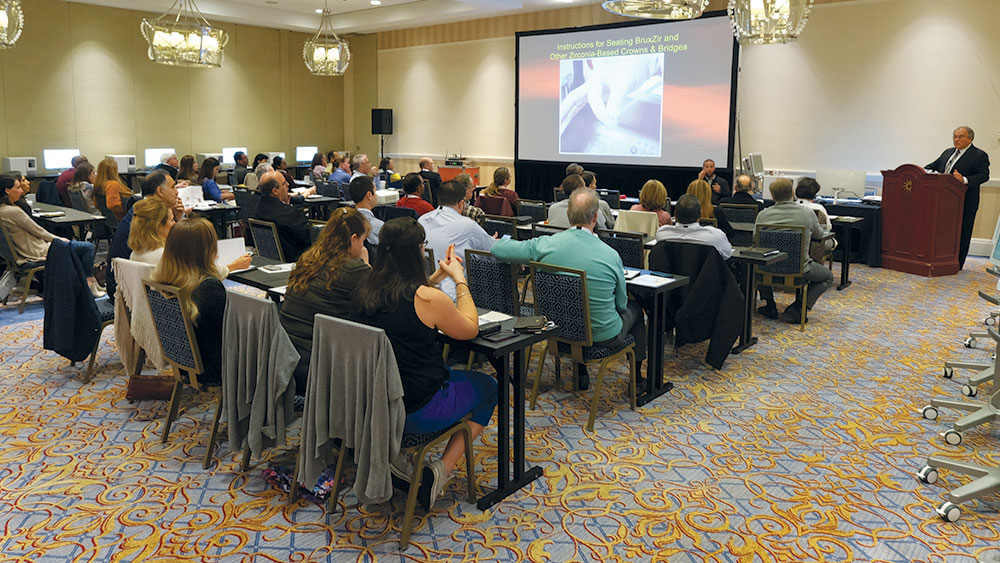 In the session, "Digital Dentistry: Scanning, Designing and Milling," presented by Drs. Perry and Ryan Jones, attendees learned time-saving techniques for an in-office digital workflow. Doctors gained hands-on experience taking digital impressions, designing digital crowns, and more.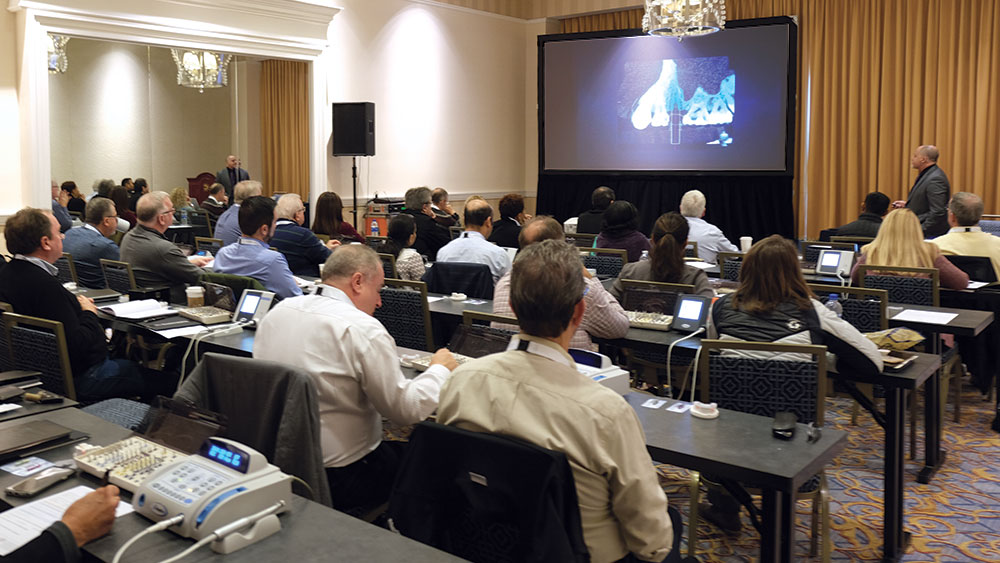 Dr. Charles Schlesinger taught clinical procedures in the workshop, "Digitally Guided Implant Placement." Participants learned treatment planning techniques and used a surgical guide to place implants in models.
Slide 1
Slide 2
Slide 3
Slide 4
Slide 5
Slide 6
Slide 7
Slide 8
Slide 9
Slide 10