Education Corner: Dentistry Making News Around the Globe
NEW PROGRAM LAUNCHES FOR WOMEN IN DENTISTRY
Glidewell Dental has launched a leadership program called Guiding Leaders, which will provide practical training to women dentists across the nation to augment their leadership skills as they become influential voices in dentistry. The yearlong program combines monthly in-person and online courses that will cover a range of topics, including public speaking, team building and professional development. Guiding Leaders is designed to create an environment where women are empowered to succeed at the highest levels while giving them opportunities to expand their professional network and mentor newer colleagues in coming years.
For more information about Guiding Leaders, contact guidingleaders@glidewelldental.com.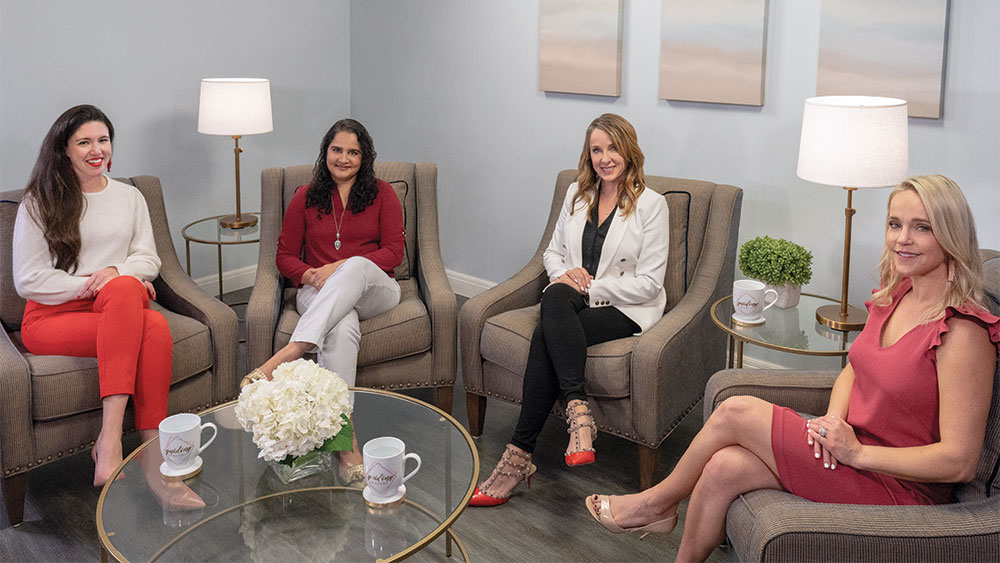 Pictured (from right to left), "Chairside Live" Host Megan Strong conducts a roundtable discussion with Glidewell Dental Executive Vice President Stephenie Goddard, who is the visionary of Guiding Leaders. She's joined by Clinical Affairs Manager Dr. Mayuri Kerr and Glidewell Fellow Dr. Taylor Manalili to talk about the new program for women in dentistry.
DR. HAHN TRAINS DENTISTS IN COLOMBIA
Dr. Jack Hahn, a pioneer in the field of implant dentistry, made a visit to Bucaramanga and Bogota, Colombia, where he conducted four educational programs for dental professionals. Dr. Hahn, who has more than 45 years of experience as a leader in implant dentistry, educated dentists at Javeriana University and El Bosque University, providing them with hands-on training in advanced implant techniques and protocols. During the presentations, Dr. Hahn explained how he developed the Hahn™ Tapered Implant (Glidewell Direct; Irvine, Calif.) and why his latest design, which is manufactured and distributed through Glidewell Direct in the U.S., is his best implant system to date. Dr. Hahn lectured on the advantages of the system, which provides a safe, simple and predictable means for doctors to meet the demands of modern implant dentistry.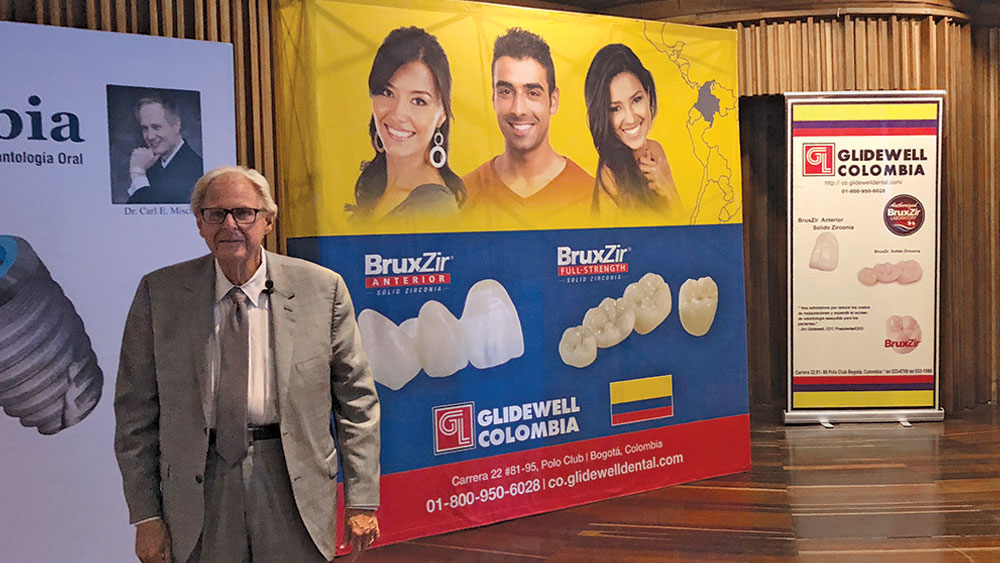 Dr. Jack Hahn, renowned implant practitioner and design innovator, made a four-day visit to Colombia, where he provided educational training for dental professionals.
NEW GLIDEWELL INTERNATIONAL TECHNOLOGY CENTER OPENS IN LATIN AMERICA
Glidewell Dental has launched its newest Glidewell International Technology Center in Costa Rica to provide continuing education to dental professionals on all phases of implant and restorative dentistry. Located near Cartago, the new state-of-the-art facility consists of a first-class educational center and a surgical operatory. As part of the inaugural event, Dr. Jamie Serrano of Colombia, who speaks internationally on implantology, endodontics and oral rehabilitation, conducted a one-day course where he provided training to nearly 50 dentists and demonstrated proper placement of the Hahn Tapered Implant on a live patient. The Costa Rican facility will continue hosting national and international speakers and will operate like the other Glidewell technology centers located in Irvine, California, and Louisville, Kentucky. It will offer continuing education courses on a range of dental topics — all supporting doctors in Latin America with world-class clinical instruction.
GLIDEWELL HOSTS KEY DENTAL LEADERS AT SUMMER CAMP 2018
A select group of influential leaders in dentistry attended two days of meetings at the Glidewell Dental Summer Camp 2018, held at the Glidewell International Technology Center located in Irvine, California. The program covered a broad spectrum of topics that ranged from the use of artificial intelligence in dentistry to the latest CAD/CAM developments. The clinicians also received training to develop skills in giving powerful public presentations. The event was designed to equip attendees with well-rounded instruction ahead of the second annual Glidewell Dental Symposium, where they conducted presentations and hands-on workshops for more than 700 doctors.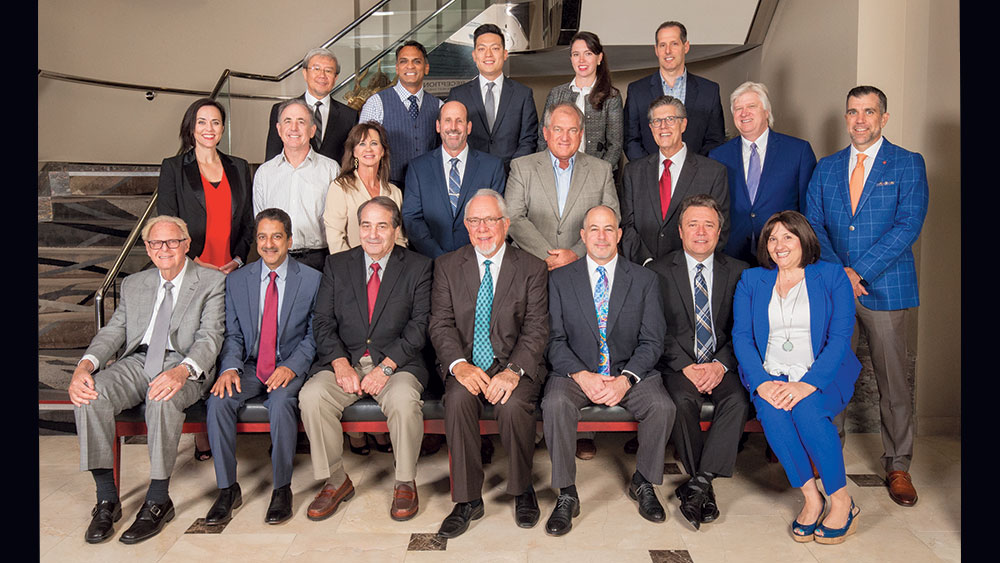 Distinguished leaders in dentistry met at Glidewell Dental headquarters with President and CEO Jim Glidewell, CDT, as part of a two-day event that provided broad training related to the latest developments in clinical technology.
THE MISCH INSTITUTE ANNOUNCES RETURN OF LIVE SURGERY COURSES
The Misch International Implant Institute, which is widely recognized as the leading educational institution in the field of implant dentistry, has relaunched its live hands-on surgery and prosthetics courses. The Misch Institute resumed the courses in November and will continue offering them through 2019 in May and October. Each two-day course is conducted at a state-of-the-art facility in New Jersey, and will allow participants to perform surgical and prosthetic procedures on multiple patients with the supervision and assistance of Misch Institute faculty. Doctors will work one-on-one alongside instructors to receive training in implant placement, extractions, sinus grafting, and much more. For additional information, visit misch.com.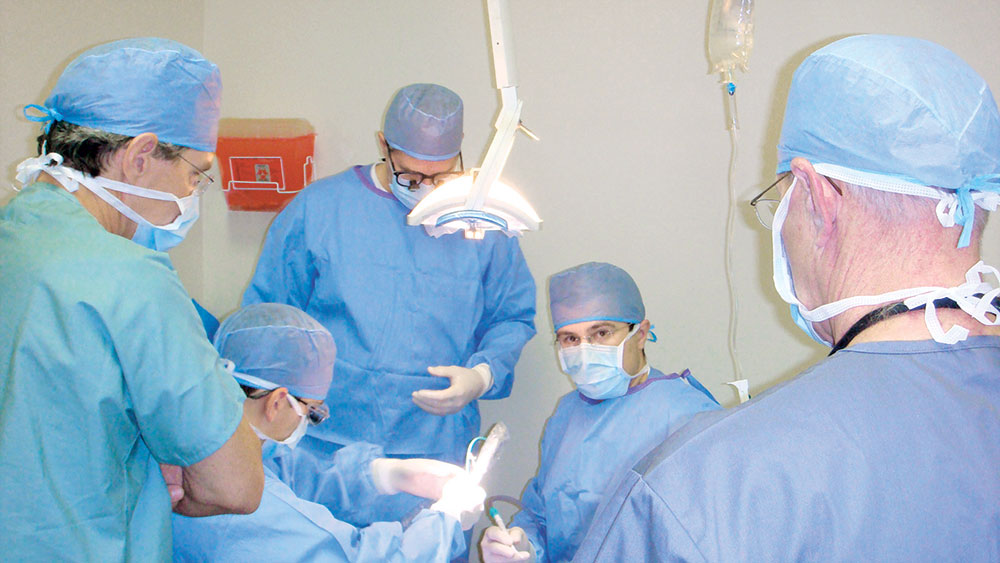 Dentists receive hands-on training during a live surgery course offered by the Misch Institute.
THE AMERICAN ACADEMY OF CLEAR ALIGNERS CONFERENCE
The American Academy of Clear Aligners hosted its annual conference in Las Vegas to provide dentists with the latest information on clear aligner therapy. More than 1,000 dental professionals received continuing education from influential speakers in dentistry, including Dr. Justin Chi, director of clinical technologies at Glidewell Dental. Dr. Chi conducted two breakout sessions discussing the in-office CAD/CAM restorative workflow of the glidewell.io™ In-Office Solution, which covered all phases including acquiring digital impressions with the iTero Element® Intraoral Scanner, designing restorations with fastdesign.io™ Software, and milling crowns with the fastmill.io™ In-Office Unit.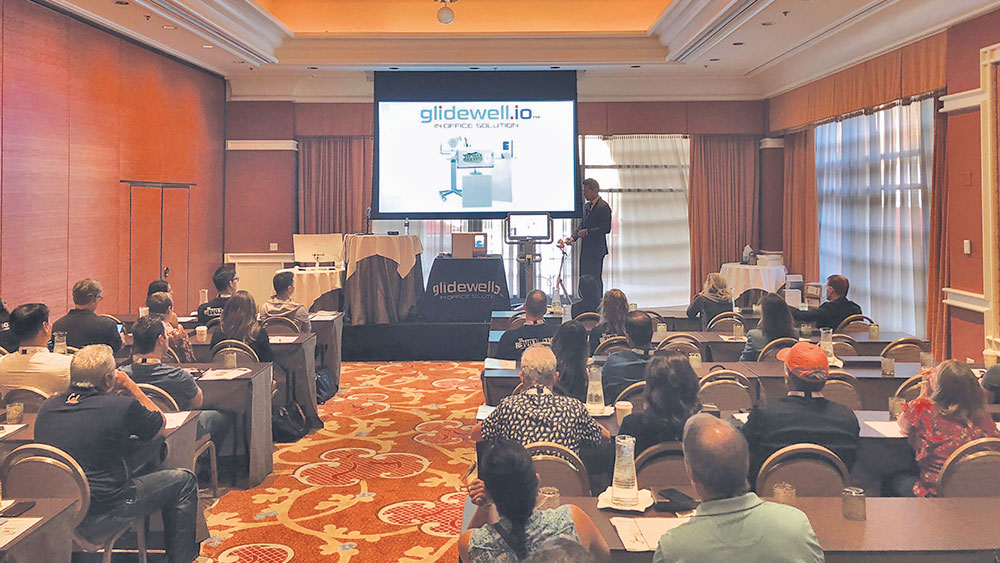 Dr. Justin Chi conducted two dental lectures on chairside crown fabrication at the American Academy of Clear Aligners Convention.
RENOWNED GERMAN DENTIST PRESENTS ON THE BRUXZIR® FULL-ARCH IMPLANT PEOATHESIS AT DGOI
At the 13th International Winter Symposium hosted by the German Society of Oral Implantology (DGOI), Dr. Melanie Grebe, a prominent German dentist, delivered a lecture on full-arch implant treatment. Dr. Grebe presented on the drastically improved results that are now available to edentulous patients due to advancements in dental technology and restorative materials. She explained how the BruxZir® Full-Arch Implant Prosthesis is capable of providing lifelike esthetics and maximum strength to restore form and function to edentulous individuals. In her report, Dr. Grebe discussed the benefits of digital treatment planning, why she utilizes surgical guides for about 90 percent of her implant cases, and how full-arch BruxZir restorations are transforming the lives of her edentulous patients.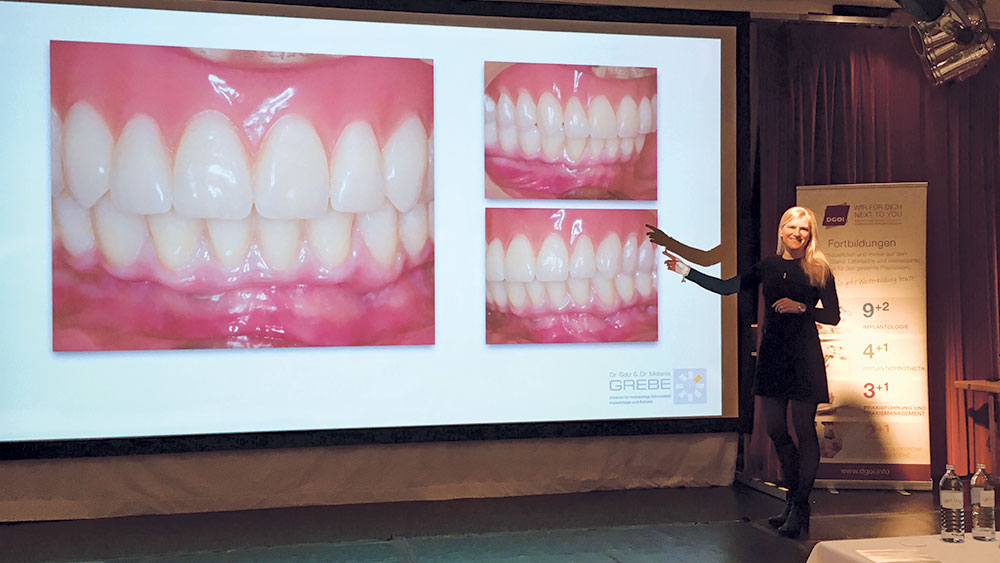 During the DGOI Winter Symposium in Vorarlberg, Austria, an annual implantology event for dental professionals, Dr. Melanie Grebe showed how a BruxZir® Full-Arch Implant Prosthesis restored the oral health of a patient who was struggling with a poorly fitting lower denture.