COVID-19 and a New Standard in Digital Dentistry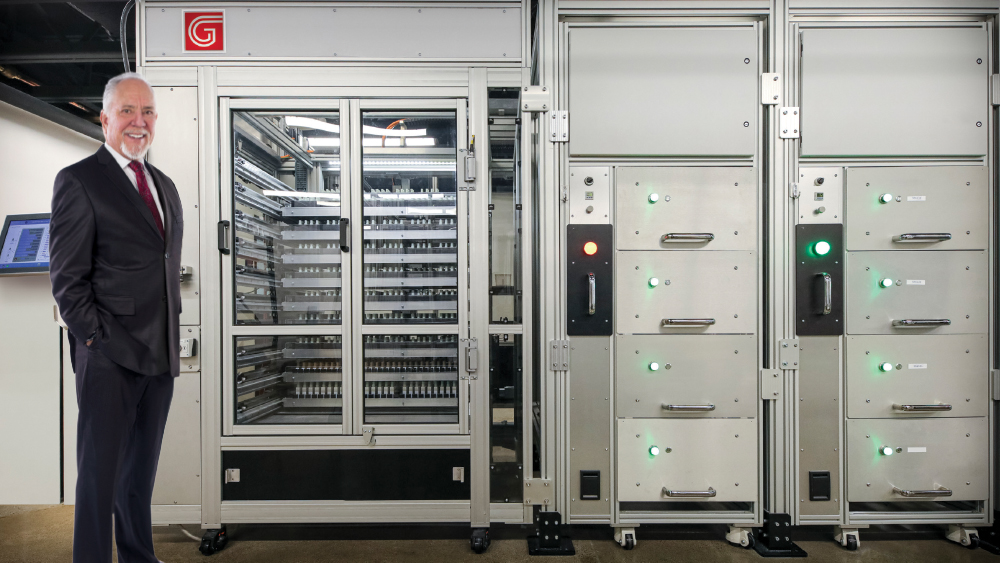 For 50 years, I've worked to enhance the quality and reduce the cost of tools, materials, and techniques available to dentists. The goal? To make it easier for patients to accept treatment, and for practices to thrive.
During that half-century, I've witnessed good times and bad — public health scares, natural disasters, war, terrorism, economic recession. What have all of these disruptions had in common? They've pushed us to change. To adapt and evolve. Because any organism that cannot reach equilibrium with its environment is destined to fail.
The coronavirus pandemic has proven to be another such event. Altering the world around us. Causing us to reconsider what we know and how others view us. Challenging us to establish a new "normal" in how we work, if we want to be successful.
In the post-COVID–19 world, dentists will require assurances of safety for their staff and patients. To minimize interactions, treatment solutions will need to be straightforward and predictable. More than ever, restorations and preventive appliances will have to be accurate, to minimize chairside adjustment. Practices will want steady cash flow in order to operate with freedom and flexibility, which will require rapid turnaround of lab services. Efficiency in all aspects of treatment and operations will be critical.
These are likely among the goals of a dentist's practice in the best of times. In times like these, with so little margin for error, they become necessary.
To assist dentists in these areas, Glidewell is making it easier than ever to realize the benefits of a digital workflow. With Glidewell Intelligent Manufacturing (IM), we can digitize physical impressions through specialized micro-CT scanning technology, and replace the traditional plaster model process with our virtual plaster experience (VPX) in a highly precise software environment. We then design the restoration with the aid of proprietary artificial intelligence, and submit the digital file to a computerized production facility that is less susceptible to the limitations or variations of human handling. In the end, restorations are produced faster, more consistently, and without the natural error stack-up that plagues conventional laboratory processes.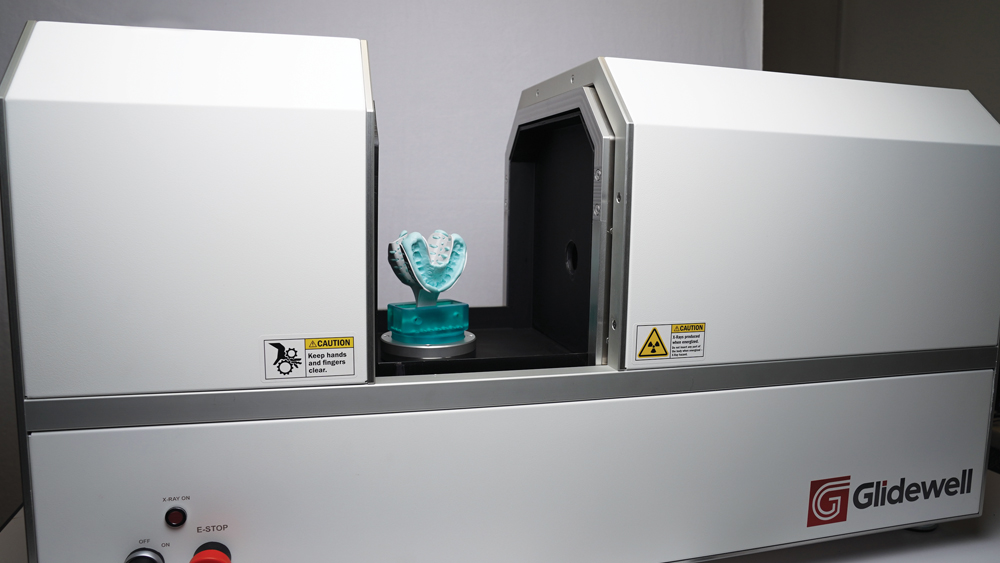 And digital file storage means we no longer need to retain physical impressions or study models, so potentially pathogenic surfaces and cross-contamination are all but eliminated.
Since digitization takes place in the lab, no capital equipment purchases or workflow alterations are required of the dentist. Clinicians can simply impress as they normally would, ship to Glidewell, and expect to receive their final restoration in as little as three to five days. With cases completed sooner, payment or reimbursement can be processed faster — of benefit to maintaining a healthy practice.
For clinicians seeking more personal control of their digital dentistry workflow, we proudly offer the glidewell.io™ In-Office Solution. This versatile system provides the simplest way to scan, mill and deliver chairside restorations in a single visit — or seamlessly connect to digital production experts at Glidewell for assistance with more complex cases. It's a "do it yourself" lab in the comfort of the office, with built-in flexibility and support at any stage of the CAD/CAM process, and with significant savings opportunities for the everyday restorative work at the heart of a dentist's practice.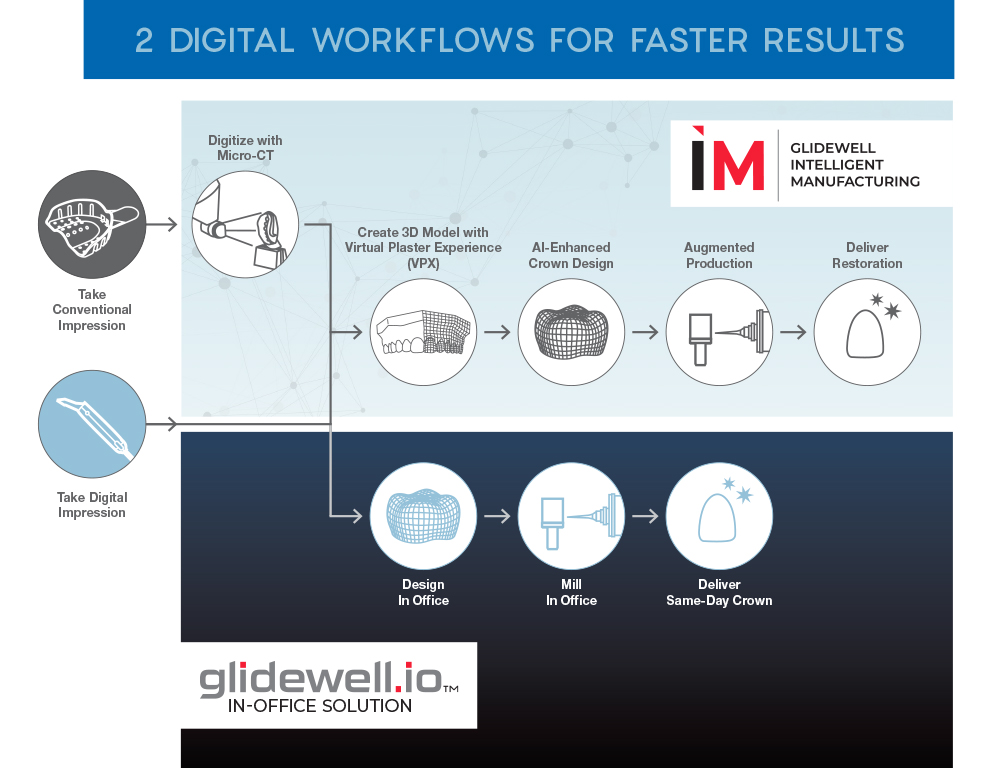 Digital workflows provide faster, more consistent results.
For Glidewell IM, there are no additional steps for dentists. Clinicians can simply impress as they normally would, ship to Glidewell, and expect to receive their final restoration in as little as three to five days.
For dentists who use the glidewell.io In-Office Solution, the process of restoring a smile can be condensed to a single visit. Simply scan, mill and deliver chairside restorations, all in one appointment.
These technologies have been in development for years, and weren't specifically designed to address concerns raised by the COVID-19 crisis. But, as fate would have it, they're ideally suited to helping dentists practice safely, efficiently and profitably in these uncertain times — and with clear competitive advantages going forward.
Times of strife can also be times of growth, revealing opportunities we might not have seen otherwise. At Glidewell, we've always strived to provide the best possible solutions for today while also developing even better solutions for tomorrow. For every innovation, there is a point of adoption in which promise meets reality, and a new standard is set. When it comes to digital dentistry, we believe this is that moment.
And when we look back, we'll wonder how we ever practiced restorative dentistry any other way.