A New Approach to Increasing Implant Case Acceptance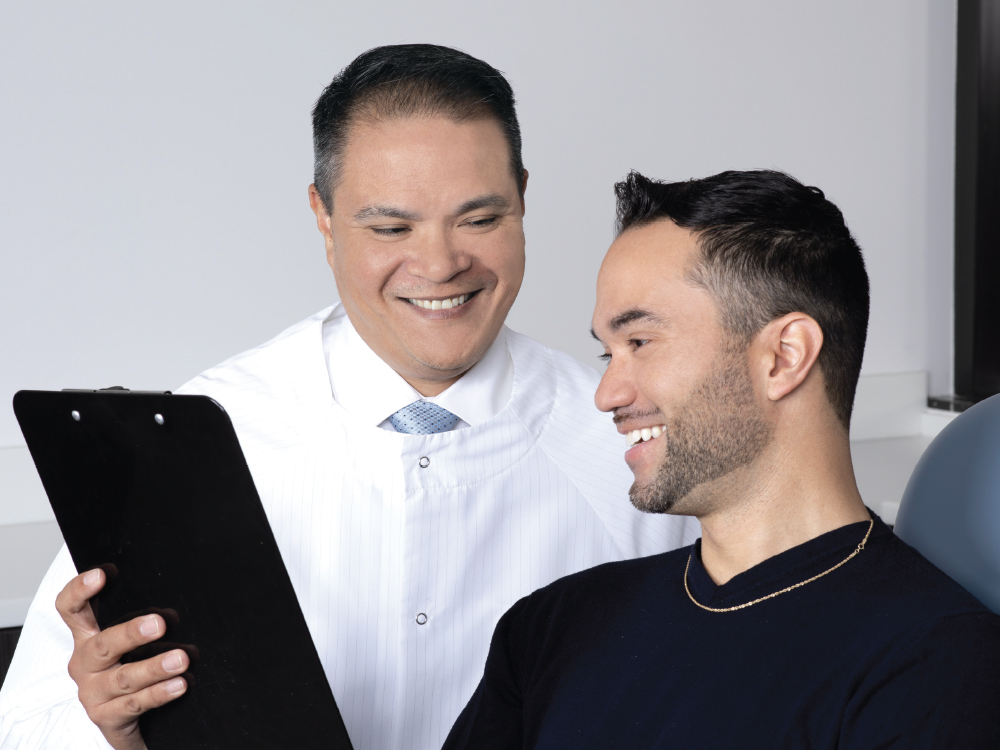 Presenting a dental implant treatment plan that demands higher fees requires a dif­ferent case presentation model than usual. The traditional model of telling patients what they need, explaining the cost, and expecting them to accept treatment is normally enough to garner case acceptance, since the majority of general dental proce­dures are single-tooth treatment. However, as successful as that model may be with a single-tooth case, it will be less effective with implant dentistry due to the perceived com­plexity and the overall cost. Therefore, implant case presentations need to be reimagined as less of a presentation and more of a conversation.
This new and more effective approach to implant case presentation will immediately increase the level of case acceptance. It takes more time and focus on the potential implant patient, but the rewards of increased case acceptance, practice production and profitability all warrant mastering this technique.
HOW TO HAVE A CASE CONVERSATION
Keep in mind that dentists receive little, if any, training on presenting treatment to patients in dental school or even in most continuing education programs. The traditional habits of case presen­tation learned ad hoc early in practice often stick with dentists throughout their careers. So, how do we trans­form from case presentation to case conversation?
Here are five steps to consider in converting from a traditional case presentation model to a case conver­sation model for implant dentistry:
1. Build a powerful relationship.
The first step in having a case conversation is to focus on build­ing a strong relationship. Doctors and staff members who can build great relationships will be highly successful in generating case acceptance, which benefits both patients and the practice. It all begins by asking questions. At Levin Group, we have a concept called The Golden 10, which means that you do not examine a patient until you know 10 personal things about them. A simple interview­ing technique of asking questions and getting to know patients on a deeper level will automatically build powerful relationships that lead to higher case acceptance.
Each question might be based on something the patient has shared with you, leading to the next ques­tion. Then, you can deepen your personal knowledge of the patient by saying something like, "Tell me more about that." You never know where this question might take you.
SAMPLE QUESTIONS TO BUILD RELATIONSHIPS
Where are you from?
What type of work do you do?
How many kids do you have?
How old are your kids?
Do you have any pets?
What are your hobbies?
Where do you like to travel?
This first step may be the hardest for dentists to master because it requires taking a few minutes on the front end to just sit down in a relaxed setting and get to know a patient by asking questions. But the deeper the relationship you build, the more likely the patient will accept the dental implant recommendation. This process also leads to one of the mantras we hope that you will adopt: Make your patients your friends. People like their friends, trust their friends and buy from their friends. That is what comes from building strong and deep relationships.
2. Find out why the patient might want dental implants.
Ask patients why they are interested in dental implants, and once you hear an answer, stay with that objective. Some people want function, others want esthetics, and others are interested in over­all health. If you can identify the main reason a patient would like to have dental implants versus other types of treatment, then you will tap into the psychological motivation. The orientation of the conversation should center around the patient's main objective.
Think through your potential answers to patients' questions ahead of time. What would you say to a patient who can benefit functionally from dental implants but only really cares about the esthetic results? The answer is not to spend endless time explaining how implant dentistry will improve function, help them keep their teeth for a lifetime and improve their systemic health. The focus is simply to tell them that they will look better, end up with a beautiful smile and be more attractive. You can go further by explaining that people react posi­tively to other people's smiles. Some dentists may feel remiss by not going through the check­list of everything dental implants can do for a patient, but keep in mind that many patients do not care, and those other items on the checklist become a distraction. It is worth taking the time to really understand why a patient might want dental implants and then addressing that patient in a highly customized, one-on-one manner relative to that main objective.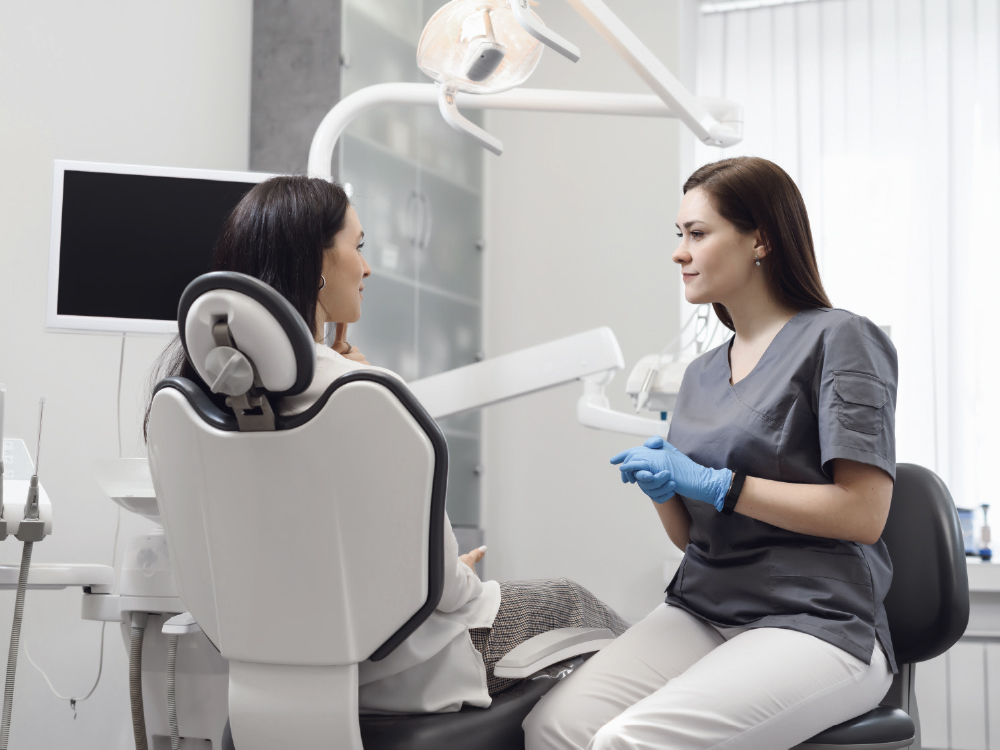 Asking questions, making eye contact and having good body language are all important when having a conversation with your patient.
3. Listen at least 50% of the time.
In traditional case presentation, you do most of the talking. In this new approach, the patient is highly engaged. A mathematical approach to the concept of having a conversation is not to do more than 50% of the talking. Asking questions, as noted above, gives the patient an opportunity to talk, which is highly desirable. Not only do we want patients to talk about themselves as we get to know them and build a relation­ship, but we want to leave time for patients to ask questions and make comments by participating in the conversation about implant dentistry. In most cases, if you let patients do 50% of the talking, which is the backbone of having a great conversation, patients will often lead themselves to case acceptance on their own. And this can happen long before fees are even discussed.
WHEN LISTENING, DON'T FORGET BODY LANGUAGE
Sit at eye level with the patient — makes the patient feel equal
Make eye contact — shows attentiveness
Keep arms and legs uncrossed — shows warmth
Maintain good posture — shows interest
Lean forward — creates positive energy
4. Ask every patient for commitment.
Dentists must become more honest with their patients. In this case, honesty is not refer­ring to integrity or telling the truth. Honesty is about not holding back. Every dentist would like to look at a patient toward the end of a case presentation and ask if the patient is going to accept treatment; however, we often feel that doing this is pushy or impolite. But there is a straightforward, polite way to ask this question, and it actually helps patients advance their think­ing toward a decision. Simply ask, "Mrs. Jones, would you like to have this done?"
This one question helps many patients revert from wanting to go home and think about it to making their decision in the practice. It can lead to an affirmative answer, rejection, questions or objections. Hearing a "yes" or a "no" right away is good because an answer saves time going forward. Asking questions and stating objections is a patient's way of working toward case acceptance. If you answer the questions and objections properly, with true compassion, it almost always leads to case acceptance. 
5. Review all financial options.
Whether it is a dentist or a finan­cial coordinator who covers the financial options, patients should be aware of all the options that are available. Many practices use an approach of presenting one option at a time. For example, they first try to have the patient pay with cash or check and maybe receive a small discount. If the patient rejects that, they will move on to credit cards. If the patient still rejects that, they move on to short-term payment plans during the treatment process. Finally, the office will offer patient financ­ing, which many practices would like to avoid due to having to pay the financing company's fee. This "parsing it out" approach to offering financial options is no longer effective. It is essential that patients know all financial options upfront so that they can decide about implant treatment affordability. Many patients are not aware that the practice has available financing and often reject treatment because they don't think they can afford it. In many instances, the availability of interest-free financing is one of the most important options for patients, as it minimizes the financial burden of paying for treatment all at once. Not cover­ing all the financial options upfront, especially the inclusion of patient financing, is a critical mistake made by many practices.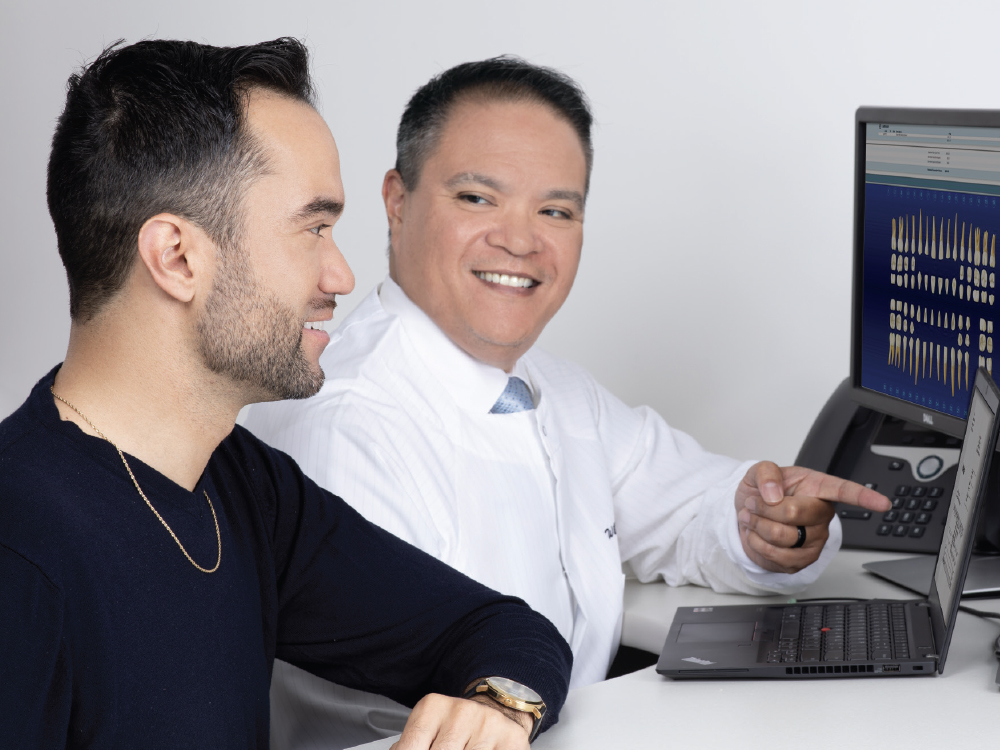 Going over all of the financial options available will help encourage patients to make an immediate decision.
Implant dentistry requires a different process for many patients to accept treatment. Potential implant patients are more concerned about the complex­ity, discomfort, time and expense. Using the new case conversation model employing the suggested prin­ciples will help any practice to increase implant case acceptance significantly and quickly. Implant dentistry may be one of the finest ways to improve the quality of life of a patient. The more patients who accept treatment, the more opportunities practices will have to make a difference in those patients' lives.
To learn more practice management techniques from Dr. Levin, take a free on-demand CE course at glidewell.com/freeCE.