Education Corner: Making Great Strides in Clinical Education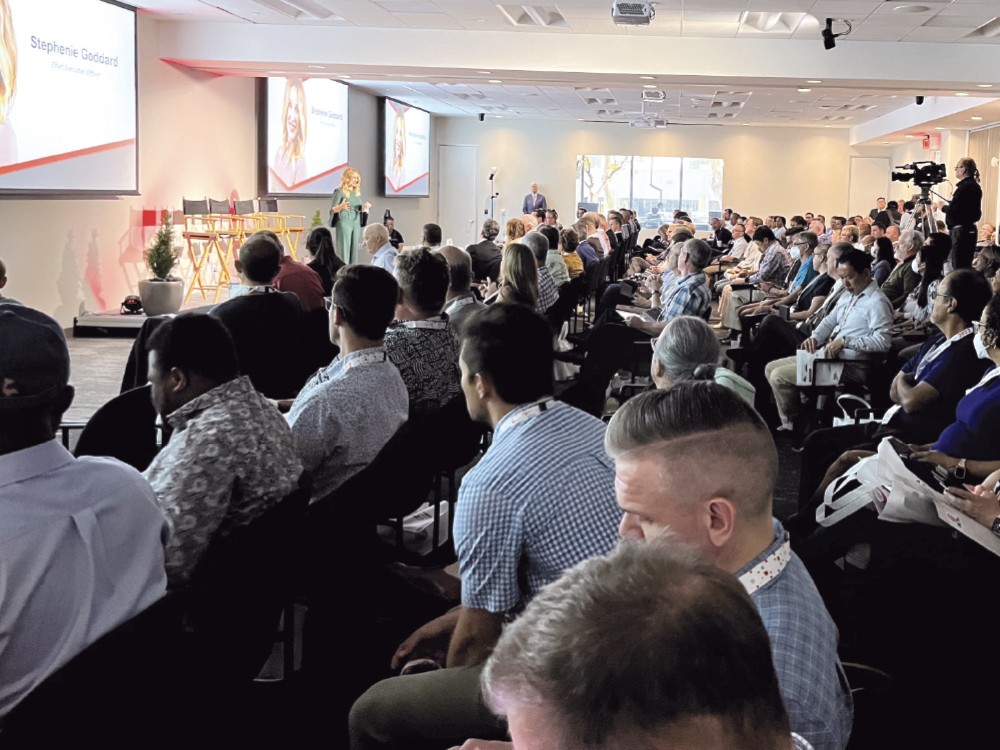 GRAND OPENING OF GLIDEWELL CLINICAL EDUCATION CENTER
Glidewell recently opened the new flagship Glidewell Clinical Education Center. Located in Irvine, California, the state-of-the-art facility features spacious meeting areas, modern amenities, and fully equipped operatories and surgical suites for live surgical and restorative demonstrations. Located within the Glidewell campus, the 10,360-square-foot center was built from the ground up to host an array of continuing education programs, including hands-on workshops, lectures and symposia.
"Glidewell Clinical Education was established in 2011, and our programs have assisted tens of thousands of dental professionals," said Dr. Neil Park, vice president of clinical affairs at Glidewell. "With more dentists seeking in-person training than ever before, we recognized that in order to serve more dentists, we needed to expand our facility. With our new education center, we're happy to be able to host an array of affordable, practical, cutting-edge CE programs on implant dentistry, restorative dentistry, dental sleep medicine, and more. Each course aims to help dentists become more confident and successful in their everyday practice."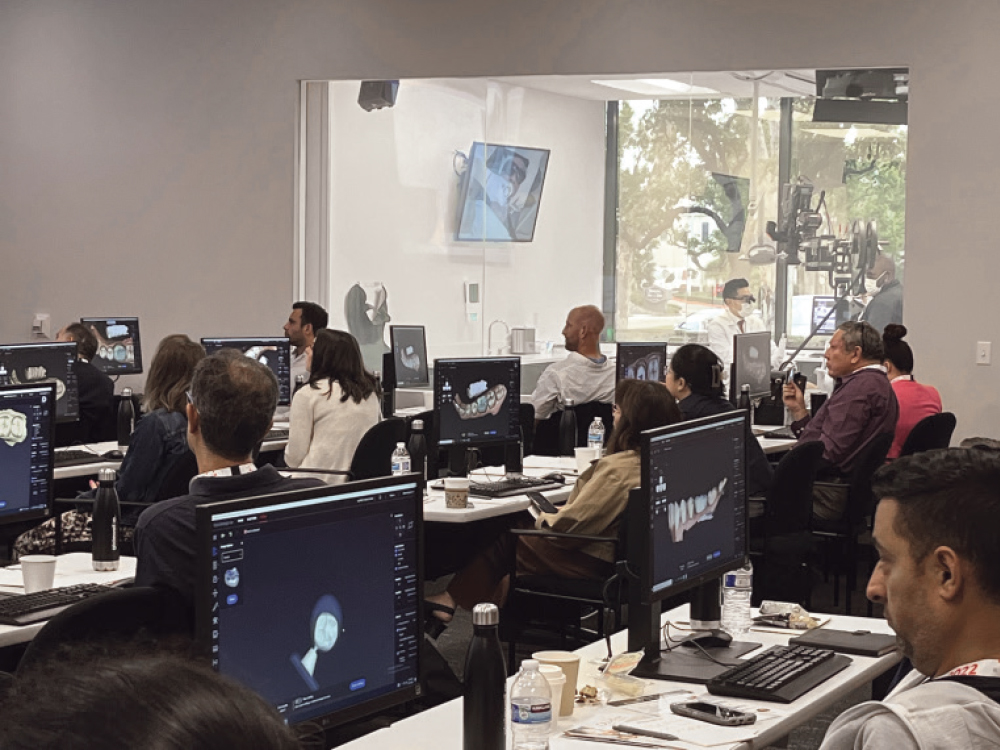 The flagship Glidewell Clinical Education Center features fully equipped operatories and surgical suites for live demonstrations.
 
In June 2022, the center opened by hosting the Glidewell Symposium "Implants: The Next Level." The event provided two days of clinical and business education in implant dentistry, with presentations on nearly 20 topics covering the surgical and restorative phases of implant therapy. Participants earned nine CE credits, learning from top educators in the field, such as Drs. Timothy Kosinski, Randolph Resnik, Jack Hahn and Roger Levin.
The education center offers live courses and events throughout the year, with curriculum crafted to provide fresh information for clinicians at any stage of their careers — from dentists just starting out to those more experienced in the field.
TWO ONLINE PROGRAMS BRING CLINICAL EDUCATION TO YOUR FINGERTIPS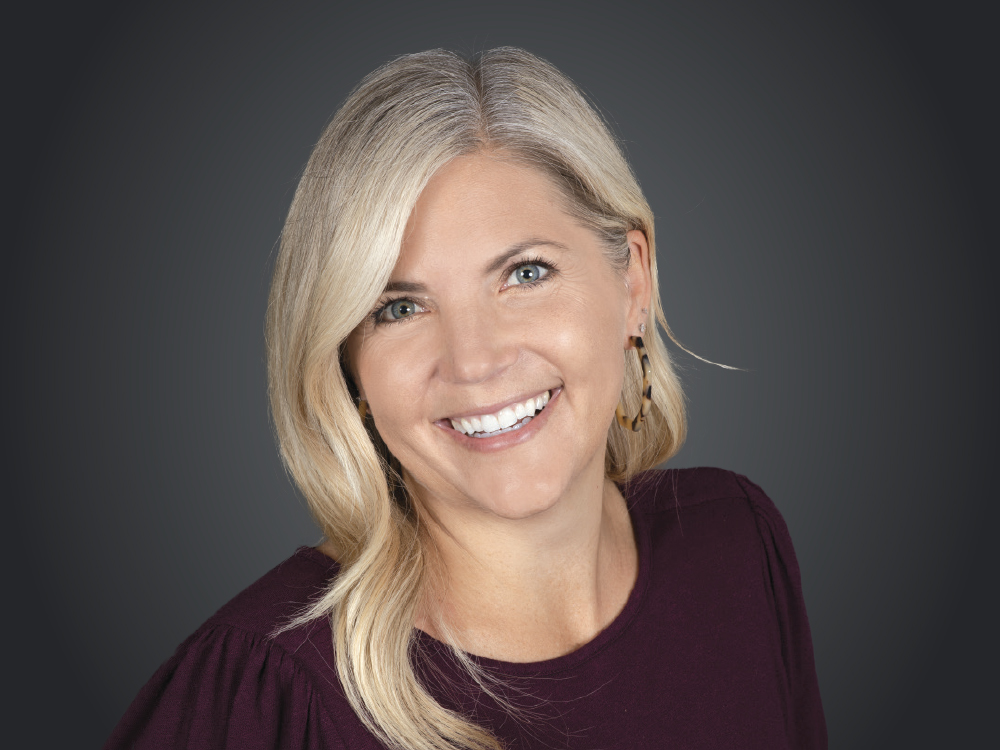 Nikole Smith, RDA
Program Manager, Online Training
 
With more than 65,000 on-demand courses recently completed, the online training site glidewell.com/FreeCE is a popular resource for clinicians seeking dental education. To help ensure participants get the most out of their educational experience, Glidewell has welcomed a new member to the team. Nikole Smith joined Glidewell in May 2022 as program manager for online training. She has over 11 years of experience working as a dental hygienist and has held a position as an adjunct faculty member for a local college dental hygiene program.
"My goal is to present high-quality education with a range of compelling educational topics so that when a dentist or auxiliary is looking for continuing education courses, our platform is the first place they visit," said Smith. "We have some exciting courses in the works for online education, and I believe visitors are sure to find something interesting and compelling on almost any subject."
Glidewell is developing new video courses aimed at helping dentists succeed in their practice. Highlights include:
A three-part series on temporomandibular joint (TMJ) disorders by Dr. Jamison Spencer. This series starts with a review of anatomy, which is the foundation for the remaining courses. Topics include examination, diagnosis and the three most common TMJ disorders. The last video in this series describes common TMJ problems and what to do about them.
"Grafting Materials: Understanding Your Options" by Dr. Charles Schlesinger. This course demystifies the differences among graft materials, such as allografts, alloplasts, xenografts and autogenous bone. The specifics of each option are discussed, and examples of their use are shown. This course also covers the indications for each type of material.
"Mastering the Single-Tooth Implant" by Dr. David Hochberg. This course thoroughly reviews principles for atraumatic extraction, socket grafting, implant positioning and placement. Participants will learn how to design the optimal occlusal scheme for single tooth implants as well as streamline the treatment sequence for predictable results in fit, form and function.
"We have 71 online courses available now," said Smith. "Our most popular course this year is 'Veneer Preparation and Temporization' by Dr. Steven Barrett. Other popular topics include implant placement, extraction, grafting, implant-supported dentures, esthetic dentistry, and medical evaluations for the implant patient or medically compromised patient."
Glidewell Online Study Club
Launched in 2020, the Glidewell Online Study Club presents clinical and practice management webinars with the busy clinician in mind. Each week, practitioners can earn CE credit from the comfort and convenience of their home or office. To date, Glidewell has provided over 140 live weekly webinars.
"There have been over 100,000 total attendees at our Glidewell Online Study Club," said Smith. "The most popular webinars have covered sleep dentistry, implant surgery, implant overdentures, occlusion and CBCT findings.
"The entire year is booked with exciting topics!" said Smith. "I always read through attendee comments on our surveys, and I am listening to what participants have to say and fine-tuning our programs to deliver the best experience possible."
Stay tuned for upcoming webinar topics on management of implant complications, esthetics, oral appliance therapy, antibiotic use with dental implants, fixed implant cases, and much more.
NEW GLIDEWELL.IO™ TRAINING CENTER OPENS IN SOCAL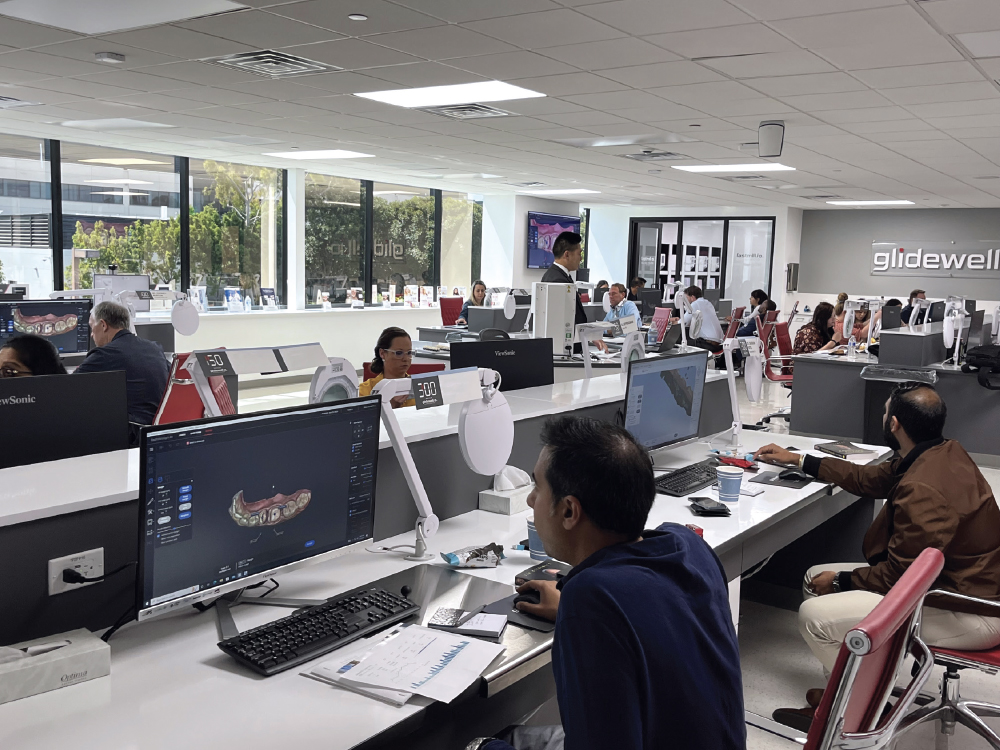 In June 2022, Glidewell opened its dedicated, hands-on training facility for glidewell.io™ owners who are ready to advance their in-office CAD/CAM skills. The glidewell.io Training Center, which is located on the Glidewell campus in Irvine, California, is designed to host up to 40 people, with 20 hands-on stations shared by a doctor and team member. Each station comes with a full design station that is paired with a fastmill.io™ In-Office Mill that is housed in the adjacent Milling Center. Additionally, the training center includes an operatory for clinical demonstrations.
"Our new training center represents the commitment we have made to minimize the learning curve and make CAD/CAM dentistry accessible to more and more practices," said Eric Relyea, senior director of product and brand management at Glidewell. "When dentists choose the glidewell.io In-Office Solution, they choose to simplify and control the restorative process using the only system that mills fully sintered zirconia. This decision also connects clinicians with our dedicated direct customer service and support teams, making this the most accessible digital chairside solution on the market."
The training center hosts its full-day Advanced Techniques session, which is included with every purchase of the glidewell.io In-Office Solution, as well as its Level 2 Advanced Courses covering topics such as anterior cases, multi-unit cases (including bridges) and screw-retained crowns. For example, the Anterior Series Course provides attendees with tools and techniques to successfully complete a variety of anterior cases following an easy step-by-step process. The course is recommended for existing glidewell.io customers wishing to acquire skills for meeting esthetic challenges. Courses are typically held over two days and include 12 CE credits.
The training center also hosts hands-on workshops of "IOX: The glidewell.io Experience Event," Glidewell's digital dentistry-focused symposium. This CE event gathers glidewell.io users and others who are interested in CAD/CAM dentistry for two days of forward-thinking presentations, hands-on training beyond the advanced courses, and networking opportunities among the glidewell.io community.