Improving the Quality of Dental Restorations with Artificial Intelligence and Deep Learning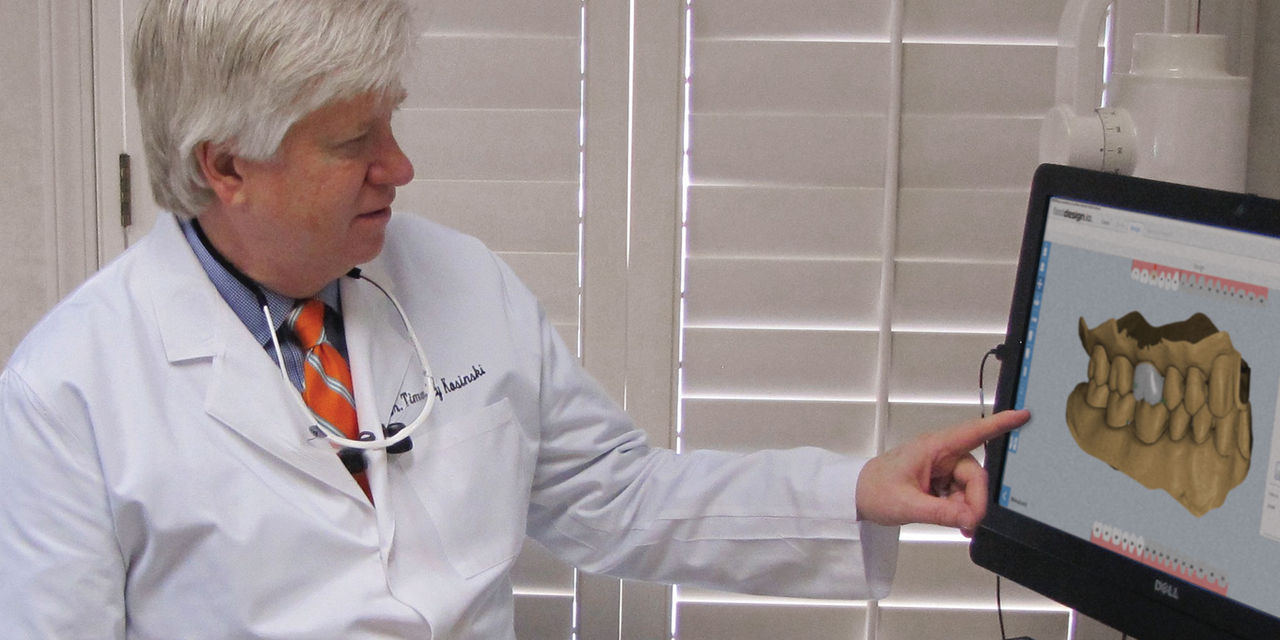 Patients demand high-quality and realistic esthetics with every restoration they receive. Now, to meet and even exceed patients' expectations, dentists can tap into artificial intelligence (AI), a branch of computer science that uses deep neural networks to analyze, assess and learn from data, in order to improve accuracy and make predictions, often far surpassing results generated by humans. AI is spearheaded not only by tech and internet companies like IBM and Google, but also by Glidewell Dental, the leading technology company in the dental industry. Today, Glidewell Dental is utilizing this innovative technology to improve the quality of the restorations we prescribe to our patients.
"Artificial intelligence is one of the most profound technologies impacting our world," said Glidewell Dental President and CEO, Jim Glidewell, CDT. "Take, for example, self-driving vehicles, which deliver a person door-to-door without ever having to put a foot on the pedal. An autonomous vehicle can drive through intersections while accounting for the many variables that take place on the drive, such as pedestrians or bicyclists present on the route. Advanced software algorithms can predict the behaviors of people and the nuances of road situations based on the millions of miles of driving experience compiled into the computer database over time, which is used to teach or train the cars to navigate safely and accurately.
"Self-driving cars are a result of artificial intelligence and deep learning," said Jim Glidewell. "It makes sense to apply this futuristic technology to dentistry and put a vast amount of intelligence into the design of our restorations in order to deliver the most consistent crowns possible."
Sergei Azernikov (center), Glidewell Dental machine-learning team lead, collaborates with Chih-Chun Lin (left), CAD software engineer, and David Nguyen (right), research and production manager, at the Glidewell Dental R&D center in Irvine, California.
In the past, to design a CAD/CAM crown, the technician would begin by using one standard template chosen from a limited library. But because there are many variables in teeth, the challenge was in producing each new crown to suit the needs of the individual patient, with a narrow scope of information available to create the design.
Researchers at Glidewell Dental recognized that if they could capture all the important data that is implicitly in each doctor-accepted crown — and store the information and constantly add to it, so that a growing number of successful crowns are the basis for design — it could improve the precision, functionality and accuracy of restorations. The concept for AI-produced restoration design was born, and today, Glidewell Laboratories uses this sophisticated approach to crown fabrication, a groundbreaking strategy resulting from rigorous scientific and technology R&D.
When a case is sent to Glidewell Laboratories for fabrication, an ideal crown design is determined with the help of artificial intelligence. Shown, for tooth #19, a CAD crown design was created from the digital impression file sent to the lab via an intraoral scanner.
Glidewell Dental began its development of AI-produced crown design in 2015, when the company shifted from its traditional manufacturing model to a modern, data-driven infrastructure, employing machine-learning engineers, data scientists and software developers, many from the CAD/CAM field. It was necessary for the team to pioneer machine learning and build the framework from the ground up for the lab, and Glidewell collaborated with UC Berkeley, one of the leading universities and teams in the domain, to solve the challenges of adapting AI to dentistry.
The digital crown design was finalized and milled in the laboratory out of BruxZir® Full-Strength Solid Zirconia. Seating of the final crown demonstrated precise fit, with optimal occlusion, contacts and margins.
Today, machine-learning R&D at Glidewell Dental is led by Sergei Azernikov, Ph.D., whose background is in computational geometry algorithms. Under his guidance, dental CAD technology has taken the form of a large and complex journey — to transfer impression and design information digitally, and then record and store it in a manner that's convenient and efficient to traverse.
"Moving to the cloud was the first step in creating our all-digital workflow," said Azernikov. "The cloud allows us to compile and store case data in a central location. To date, we have aggregated more than 3 million cases into the cloud, and this, along with data on natural tooth anatomy, provides the basis for training deep neural networks that leverage practically unlimited computing power available."
Available as part of the glidewell.io In-Office Solution, the fastdesign.io Software uses AI to streamline the chairside crown design process. By accessing data from millions of cases completed at Glidewell Laboratories, a crown design proposal is generated to suit the patient's clinical situation and dental anatomy.
The significant advantage of AI is its ability to analyze and learn from the millions of doctor-approved crowns in the database — with cases continuously added to the cloud every day. To learn from the successful crown designs, the computer assesses how each high-performance restoration is made to achieve optimal function, based on the ideal occlusion, contacts and margins suited for each case.
The significant advantage of AI is its ability to analyze and learn from the millions of doctor-approved crowns in the database — with cases continuously added to the cloud every day.
Shown, the design for tooth #14 was generated for a single-appointment crown. The crown proposal was derived with AI guidance from the intraoral scan taken chairside.
Esthetics are also measured by evaluating the potentially limitless volume of data available on dental anatomy. This is in contrast to designing from a standard template. With a standard template, an experienced doctor would immediately recognize the result as artificial-looking because, although the template is made from an anatomical model of the tooth, traditional CAD libraries do not account for the broad scope of variations inherent in customized cases. AI algorithms assess the variations available in the database, producing realistic esthetics for crowns that blend in with existing dentition. This is particularly important for anterior teeth, where patients are especially concerned about esthetics. The collection of this vast information is leveraged to produce a high-quality, functional and esthetic crown design for the given clinical situation.
"Three years ago, we were analyzing patient data and were able to train the network to recognize teeth with high precision," said Azernikov. "Today, we are using generative approaches to fully automate the creation of high-quality designs. This is unprecedented in the CAD/CAM manufacturing of restorations."
The accepted crown design was fabricated from a BruxZir NOW milling block.
FROM THE LAB TO THE DENTAL OFFICE
Today, crowns prescribed for patients benefit from extensive restorative technology research. When a case is sent to Glidewell Laboratories for fabrication, either digitally via an intraoral scanner or as a conventional impression that's scanned at the lab, advanced laboratory software receives the digital impression file. This software turns that impression file into a request, which is sent to the cloud for analysis. The software automatically labels the tooth, inserting the tooth ID, and checks for any discrepancies that might need verification. Based on complex algorithms, through AI guidance an ideal crown proposal is generated from the database of digital crown designs, natural tooth anatomy and biological data. From there, a lab technician verifies the design and makes any necessary adjustments before it's sent for milling.
A version of this high-tech software was developed for doctors to utilize, streamlining the quality and efficiency of same-appointment crowns milled in the office. The fastdesign.io™ Software is built into the glidewell.io™ In-Office Solution (Glidewell Direct; Irvine, Calif.). Just like the software used in the laboratory, based on extensive R&D efforts, it effectively turns a digital scan into a request that is sent to the cloud, enabling doctors to utilize AI guidance to propose crowns for single-visit milling. The doctor can then accept the crown proposal with or without adjustments before milling the restoration.
In the same appointment, the lab-quality crown was seated. With the help of AI, the restoration achieved optimal function, providing predictable same-day restorative treatment.
With Glidewell continuing to put more intelligence behind the system, the requirement for doctors to oversee design will be reduced. As we sprint toward the future, AI technology will allow for a fully automated approach, so that doctors can take an intraoral scan, and upon completion, the final design will automatically be generated for approval, ready to be milled for the patient. This has the potential to allow for even greater time savings, accuracy and freedom in single-appointment, in-office technology.
Artificial intelligence is helping to improve the consistency, functionality and esthetics of the crowns we prescribe for our patients. Glidewell Dental has implemented AI in its laboratory processes and in its fastdesign.io Software, which is now available to dentists who seek to offer same appointment crowns.
Research is underway in the process of generating crowns that are fully AI-produced, without the need for any modification. For example, this crown design was produced automatically by generative adversarial networks (GANs), without any adjustment. In order to verify fit, the sectional model was 3-D printed and the physical crown was milled out of BruxZir Full-Strength Solid Zirconia. Tests have shown excellent fit of the produced crowns onto the models.
Azernikov discusses AI-produced restorations with conference attendees at the NVIDIA GPU Technology Conference in Silicon Valley in 2017. He shared his research findings on stage with the presentation, "How GPUs and Deep Learning Help to Make Dental Care More Affordable."
"This field is still emerging, and we are just scratching the surface," said Jim Glidewell. "As we look to the future, AI will play a significant role in making restorative dentistry more affordable and predictable. When processes are more efficient and quality is more consistent, it leads to faster treatment and better crowns. It's exciting to think of the possibilities."
Jim Glidewell has expressed that more research is key in using the AI tool to its fullest potential, and R&D is underway to heighten its capabilities. Seeing how far the technology has come in just a few years, it's evident that AI will define how we can efficiently operate our practice, and how our profession can treat patients using the most effective, state-of-the-art restorative technology available.