Interview with Patricia H. Swanson, DDS, FACP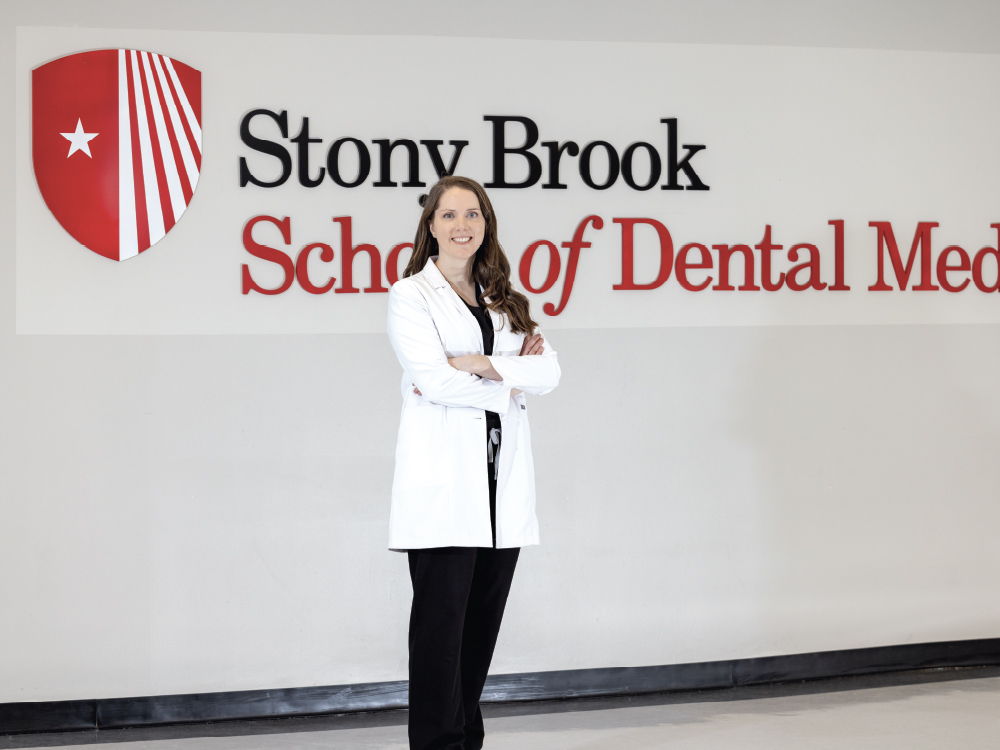 Dr. Patricia Swanson earned her DDS from the University at Buffalo, then went on to Stony Brook University School of Dental Medicine, where she received her specialty certificate in prosthodontics. Dr. Swanson is a diplomate of the American Board of Prosthodontics and currently serves as the director of predoctoral prosthodontics at Stony Brook University. She was recently named "Junior Educator of the Year" by the American College of Prosthodontists and received the Charles Craig Teaching Award from Omicron Kappa Upsilon. In this interview, we discuss the ongoing changes in dentistry and how dental education is adapting.
DR. NEIL PARK: So, why dentistry?
DR. PATRICIA SWANSON: I always knew I wanted to do healthcare, but I didn't always know it would be dentistry. After I finished my undergrad and shadowed some physicians, I decided against medicine. I wasn't really sure what I was going to do. I was working as a caterer and events planner when my dentist told me to come in and shadow him. I didn't think I was going to like it. On that day, the dentist put in an implant crown on tooth #8, and the patient loved their new smile. I was sold! And that's how I started my path in dentistry.
NP: And what drew you to prosthodontics?
PS: During my third year in dental school, I realized how much I enjoyed being a part of patients' smile makeovers from start to finish. I loved developing relationships with my patients and helping them on their smile journey. And I just love a good "before and after" photo! That's when I knew I wanted to work in prosthodontics.
NP: Prosthodontics is a different kind of specialty because it's also a form of primary dental care.
PS: Yes. The thing that attracted me to prosthodontics is the problem-solving aspect of it. You can't ever be bored as a prosthodontist because you get to work on the more challenging cases. Prosthodontists have to always think outside the box and approach things from a different perspective.
NP: And why did you choose Stony Brook for your residency?
PS: I liked Stony Brook because it is one of the few paid prosthodontic programs out there. Even though it's a small program, many of the faculty members trained at different facilities, so students can learn from different perspectives. Long Island also has a unique socioeconomic diversity, so I was able to help patients with a variety of treatment needs, whether it was fixed partial dentures, removable partial dentures or full-mouth rehabilitations supported by implants.
NP: Do you find that the general population knows what a prosthodontist is?
PS: Definitely not. A lot of times, people think I'm mispronouncing "orthodontist." People even ask me if I work on dinosaurs.
NP: And do you?
PS: I haven't yet! I think we're the only dental specialty that has an Awareness Week. But once you're in dentistry, you realize the value of a prosthodontist.
NP: The nature of prosthodontics has changed dramatically. When I started in dentistry there were prosthodontic programs shutting down. I think dental implants changed that, making prosthodontics more of a surgical specialty.
PS: Definitely. When I started my residency, not all programs were required to place implants, but now it is a requirement.
NP: I noticed that your department is called the "Department of Prosthodontics and Digital Technology." Why was the name changed?
PS: Yes, the simplicity and accessibility of digital technology is growing at an exponential rate. This makes care more affordable, easier for the dentist to manage and more comfortable for the patient. We think digital technology is crucial for the advancement of prosthodontics.
NP: Agreed. Technology is now simplifying things, not making them more complicated. And digital dentistry is leading the growth in dentistry. In fact, at Glidewell, we just celebrated an important milestone: 51% of all fixed cases are coming to the lab digitally.
PS: That's an important milestone! I myself never thought I'd be so invested in digital advancements as I am today.
NP: Throughout my career, I've noticed that prosthodontists are overrepresented in academia. More of the deans I know come from prosthodontics than any other specialty. Why do you think that is?
PS: I think it goes back to the problem-solving issue. Determining how to teach students everything they need know about dentistry in four years is one of the biggest puzzles out there. I always thought I would go into private practice for a few years and then maybe later switch to teaching. But while I was in residency, this position of predoctoral director opened. I had such excellent mentors throughout my education, so I knew it was time for me to pay it forward and help share what I was taught with my own students.
NP: Because you attended this school, you probably have a lot of insight into what educational approaches work best.
PS: Yes, it's like having insider information. I can more quickly identify and address any core issues in the program. Because I teach both the classroom courses and the clinic courses, I can see if my instruction is working in real time. This allows me to tweak my courses accordingly.
NP: And how have you tweaked the curriculum? Have there been significant changes in the last few years?
PS: The expansion of digital dentistry is the biggest change. And because of advancements in digital technology, there has been huge growth in dental materials — mostly cements and restorative materials.
NP: Have you removed any topics from the curriculum to make room for digital dentistry? Do your students still wax-up crowns, or do you believe that's old technology?
PS: Our students still wax-up crowns, along with learning digital wax-ups. We did remove casting a crown and replaced it with the digital process of designing, milling and finishing a monolithic restoration. But since I've been here, we've mainly been adding information to the curriculum, like instruction on additional digital scanners. We've also updated all of the computers in our simulation lab so every student can design and scan.
NP: Are you teaching them the analog methods first and then the digital methods?
PS: Initially, I thought I had to teach the analog methods first so students could better understand the foundations. Now, I believe it's best to do the opposite. It's more effective to teach students the digital technology first so they can more easily visualize the outcome. It's much easier to teach students about undercuts on a crown prep when a computer is highlighting it in a different color than it is for them to learn it on a small plastic tooth.
NP: So, you find that digital scanning accelerates their skills in tooth preparation?
PS: You know how some people say the camera adds 10 pounds to your face? Well, a similar concept is true of your margin. If you have a rough margin and you blow it up on the computer, you're going to see just how rough that margin is. If you have a small undercut, you can see it up close on the screen.
NP: Digital technology really does allow us to examine our cases more closely. Are there any drawbacks to that?
PS: Sometimes, setting the teeth with digital technology can cause problems. The programs are too smart, and they often autocorrect the occlusion for the students. I think there's something to be understood about how one tooth can affect the rest of the dentition when you're setting denture teeth.
NP: After a case has been digitally designed, how do your students select the appropriate restorative material?
PS: It all depends on the patient. The students are trained to look at the patient's occlusion, wear on the opposing teeth and the translucency of the incisal edges of adjacent teeth. For most posterior restorations, the students use a ceramic material, whether it's zirconia or a glass ceramic. I use both zirconia and lithium silicate consistently because I can expect excellent esthetics and strength with very minimal chipping. They're easily my most frequently prescribed crown materials.
It's more effective to teach students the digital technology first so they can more easily visualize the outcome.
NP: We've talked about some significant changes in the curriculum. Do these changes cause the curriculum to be better aligned with students' expectations for their future careers?
PS: Definitely. A student 10 years ago might have been interested in a general exposure to digital dentistry, but likely didn't feel the need to master it for their career. Today's students are so comfortable with technology. They have a genuine interest in learning and mastering digital dentistry — and they're good at it.
NP: Overall, do you think this path at Stony Brook prepares them for a successful career in dentistry?
PS: Yes. Students are getting more hands-on experience than ever. When I look at our students and how much their curriculum has expanded, I see that we've drastically increased our implantology curriculum. The students are really involved in the planning phase and the restoration of implants.
NP: Do you see any gaps in their training?
PS: There is only so much you can squeeze into dental curriculum during a four-year period. More complex treatments — that might take several years to complete — are obviously difficult for dental students to complete during their four years here, which is why I am a big proponent of residency programs.
Another area I notice that new graduates across the country are struggling with is practice management. Students aren't as hungry for that information when they're in school because they feel that doesn't apply to them yet, but then they quickly seek it after graduation. I wish students would focus on those courses more while still in school.
NP: And where can graduates get this training when they realize its value? Do you recommend any specific continuing education (CE) programs?
PS: There are so many great options for CE. I would encourage graduates to start with courses that are inexpensive so they can first figure out which areas they need the most help in. I personally love the free Glidewell Online Study Club webinars on Friday mornings.
NP: And we love having you! You have been a great contributor to so many of our programs, including the Glidewell Online Study Club, Chairside® magazine and our symposia. Let's finish with some of your big-picture thoughts on dentistry. How would you describe the future of dentistry?
PS: I think that dentistry was the same way for a very long time, and now it just keeps on changing. And if you're not going to be willing to change with it, you're going to be left behind. The changes in digital technology are accelerating. The ability to do 3D facial scanning and morph that in with your intraoral scanning and digital facebows is revolutionary. There are more and more ways to integrate digital technology into your practice.
I think that dentistry was the same way for a very long time, and now it just keeps on changing.
NP: And how about the future of dental education?
PS: With all of these new dental schools that are opening, I think that students are becoming more informed consumers. Social media allows them to be connected to each other and know what's going on at other schools. I hope that will drive these schools to focus more on students' education than financial motivations.
NP: That's always an important focus. And what is your outlook for prosthodontics? What do you see?
PS: I think implantology will continue to be integral to prosthodontics. There was concern that our interest in implants was encroaching on other dental specialties. But there is no shortage of patients in need of dentistry. As long as we continue to put those patients first, do our research, and accept the importance of digital dentistry, we can do anything.