The Implant-Retained Mandibular Overdenture (1 CEU)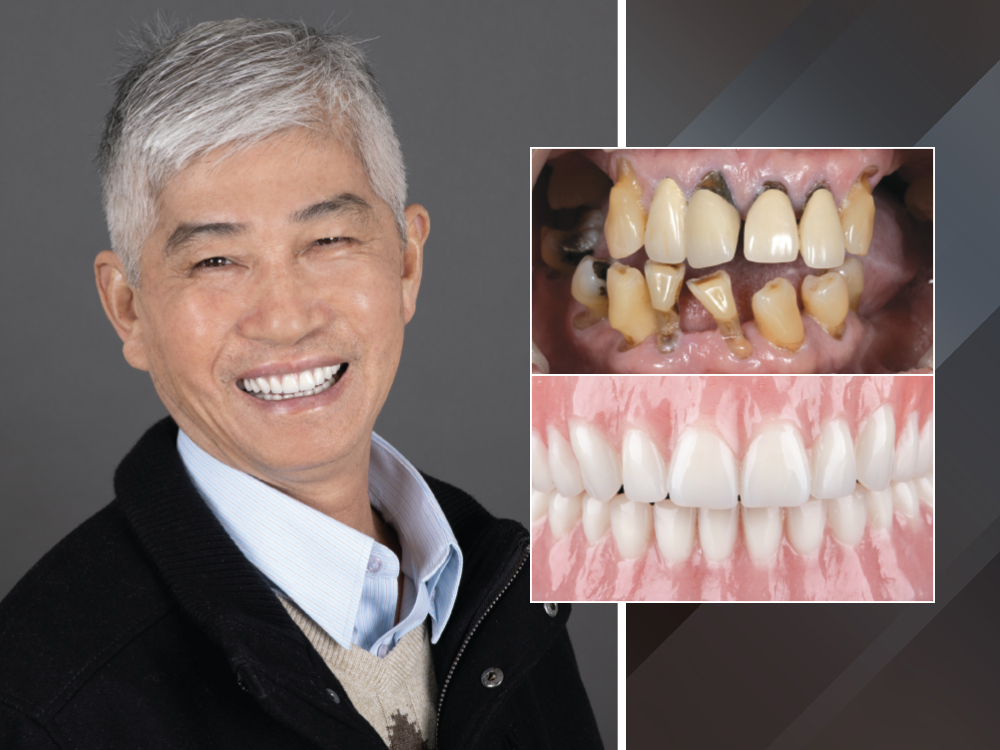 Removable dentures have been the standard prosthesis for edentulous arches, relying on surface area, suction and muscle control to remain in place. On the maxillary arch, this is typically not an issue; however, on the mandible, it is a different story. Mandibular removable dentures tend to lack stability and retention, which results in discomfort and diminished function. Instead, we can utilize implant-supported dentures with as few as two or three implants to improve the quality of life for denture wearers by increasing stability and retention for a more secure fit and improved function.
The number of dental implants required for a stable mandibular overdenture depends on several factors, including the quality and quantity of bone, the prosthetic design, available restorative space, opposing dentition, and the patient's dexterity. And, of course, the associated costs are an important consideration. In general, a minimum of two implants placed in the mandible can significantly improve the patient's masticatory function and overall retention of the denture.
The patient presented with terminal dentition, looking to improve his overall dental esthetics and function. When evaluating a patient, it is important to keep in mind the effects of edentulism, including bone loss, nutritional challenges and an overall compromised quality of life.1 Keeping this in mind, we discussed options including removable dentures, implant-supported fixed restorations and implant-retained removable overdentures.
After weighing the options, the patient and I decided on a treatment plan using a Simply Natural™ Handcrafted Denture (Glidewell; Newport Beach, Calif.) for the maxillary arch with a three-implant-retained Locator® Overdenture (available through Glidewell) for the mandible.
Working with Glidewell's Digital Treatment Planning (DTP) service, we took a top-down approach by first establishing the desired esthetic outcome. Along with the intraoral scan and CBCT image, a full-face-smile photograph helps establish a midline and visualize the ideal smile line. This allowed Glidewell to not only fabricate the dentures accurately, but also construct the surgical guide needed for optimal implant placement in the lower arch.
A minimum of two implants placed in the mandible can significantly improve the patient's masticatory function and overall retention of the denture.
Working with the Removable and DTP departments at Glidewell, we took a top-down approach by first determining the esthetic and functional outcome I wanted to achieve.
Utilizing a guided surgery approach ensures parallel implant placement that significantly reduces wear to the restorative components.
Edentulous patients often seek removable dentures as the final solution, especially when they reach an age where ease-of-use becomes their priority. Implant-retained overdentures are an effective alternative to the frequent problems caused by removable mandibular dentures. Through collaboration with the Removable and DTP teams at Glidewell, we were able to utilize a surgical guide for increased accuracy, reduced surgical time, improved patient comfort, and enhanced esthetic and functional predictability.
Locator is a registered trademark of ZEST IP Holdings, LLC.
Carpentieri JR, Tarnow DP. The mandibular two-implant overdenture: First-choice standard of care for the edentulous patient. Montage Media Corporation; 2007.
Kheur M, Lakha T, Mühlemann S, Hämmerle C, Haider A, Qamri B, Kheur S. Evaluation of oral health related quality of life and patient satisfaction in three implant retained mandibular overdentures: A randomized cross-over clinical trial. Int J Prosthodont. 2022 Dec 6.
Emami E, Alesawy A, de Grandmont P, Cerutti-Kopplin D, Kodama N, Menassa M, Rompré P, Durand R. A within-subject clinical trial on the conversion of mandibular two-implant to three-implant overdenture: Patient-centered outcomes and willingness to pay. Clin Oral Implants Res. 2019 Mar;30(3):218-28.