Zirconia Update 2023: What You Need to Know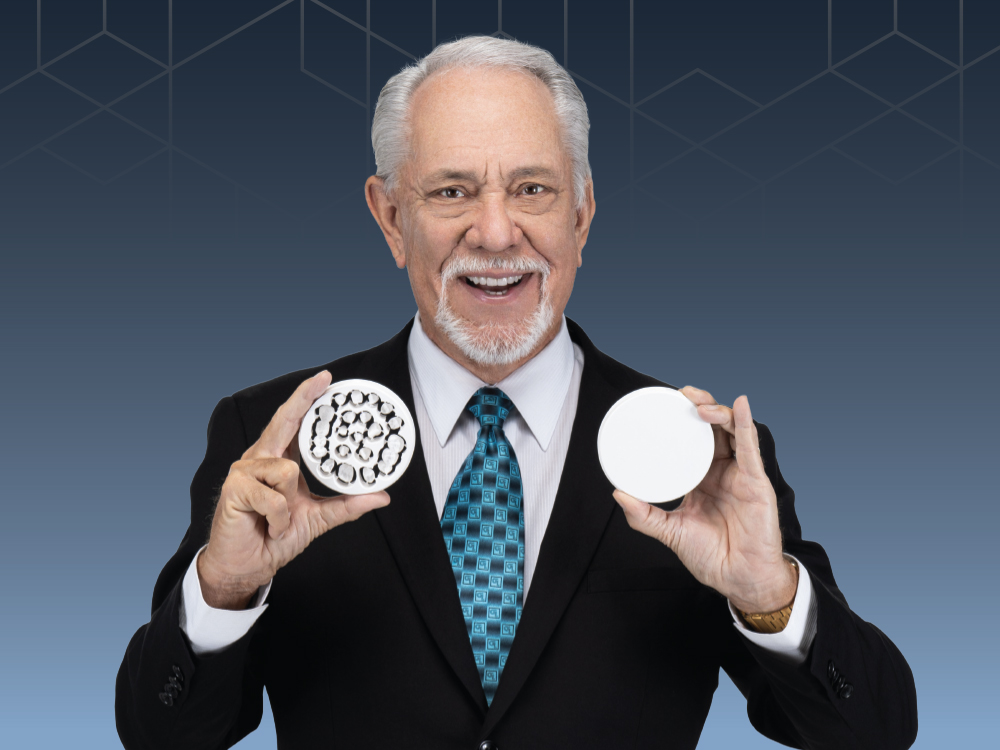 It's been nearly 15 years since monolithic zirconia restorations became commonly available to dentists in the U.S. Now that the material has gone from a relative unknown to one of the most used treatment solutions, we wanted to recap the latest research as well as give insight into the state of monolithic zirconia in 2023.
WHAT'S THE STATE OF MONOLITHIC ZIRCONIA TODAY?
At Glidewell, since BruxZir® Zirconia, our proprietary version of monolithic zirconia, first launched in 2009, more than 28 million units have been prescribed by dentists globally. We're extremely gratified by dentists' rapid adoption of the material, and we're especially satisfied that the material has exceeded expectations in so many of those cases. Today, BruxZir Zirconia makes up more than 70% of the fixed restorative units fabricated at Glidewell — a feat that speaks to how dentists have come to trust and rely on the material above many other solutions.
BruxZir Zirconia was originally intended to be a solution for strength-demanding posterior cases — those that traditionally required full-cast or PFM restorations. The goal of the material was to create a "white gold," a tooth-colored option that performed similarly to time-tested full-cast options while simultaneously removing the need for metal in the mouth. As more dentists began using monolithic zirconia, it inspired our R&D department to continually develop improved iterations of the material. Where the original BruxZir Zirconia had a somewhat bright white appearance, once the R&D team modified it with added colorants, dopants and other ingredients, the more recent versions offer an appearance closer to that of natural dentition (Figs. 1a, 1b).
But over time, clinicians began prescribing the material in the anterior as well. In response, one major focus for our R&D department has been to make BruxZir Zirconia even more lifelike. The result is two distinct formulations of monolithic zirconia: BruxZir Full-Strength and BruxZir Esthetic. The full-strength version is designed to stand up to the toughest forces of the mouth, while the esthetic version offers a more true-to-life appearance with somewhat less toughness. Both formulations are still significantly stronger than the other tooth-colored options available on the market today. Of the more than 60,000 BruxZir Zirconia units fabricated weekly at Glidewell, 80% are the full-strength version and 20% are the esthetic version.
WHAT'S THE KEY DIFFERENCE BETWEEN ZIRCONIA OPTIONS?
The primary difference between BruxZir Full-Strength and BruxZir Esthetic is the amount of yttrium oxide (yttria) that's present in their respective formulations. Yttria serves as a stabilizing component for the zirconia powder and is a core component in all zirconia brands on the market today. The bulk of the performance and appearance characteristics of a specific zirconia formulation are derived from this initial ingredient mix. In brief, as yttria is added to the mix, strength decreases and translucency increases (Fig. 2).
In real-world terms, BruxZir Full-Strength has less yttria and is stronger than BruxZir Esthetic. And in turn, BruxZir Esthetic has more yttria and is more translucent and more lifelike in appearance than BruxZir Full-Strength. It is important to note that while BruxZir Esthetic is less strong than BruxZir Full-Strength, both materials still significantly outclass other non-zirconia ceramic solutions, like lithium disilicate, feldspathic porcelain or other bilayered ceramics (Fig. 3). The superior strength of monolithic zirconia affords a wider range of uses.
WHAT CLINICAL SCENARIOS ARE BEST FOR EACH MATERIAL?
BruxZir Full-Strength Zirconia is an extremely versatile solution. Virtually any clinical situation that demands a tough, lasting material can be satisfied by BruxZir Full-Strength — even those that only allow for minimal space, as BruxZir Full-Strength requires only 0.5 mm of reduction. It can be used for crowns, bridges up to 16 units, veneers, inlays and onlays, screw-retained implant crowns & bridges, and full-arch implant prostheses. 
BruxZir Esthetic offers a significantly more lifelike option while still bringing about notable strength (Fig. 4). Glidewell customers are using it throughout the anterior, especially in cases where the patient has preexisting zirconia restorations in the posterior. When compared to other tooth-colored options, BruxZir Esthetic matches much more naturally with other zirconia. Also, BruxZir Esthetic is ideal when optimal appearance is a priority, as the full-strength variety would likely not satisfy that need. The material is great for anterior and posterior single-unit crowns, anterior bridges up to 6 units, posterior bridges up to 4 units, veneers, inlays and onlays, screw-retained implant crowns & bridges, and full-arch implant prostheses.
WHAT DOES THE RESEARCH SAY ABOUT MONOLITHIC ZIRCONIA?
The independent Gordon J. Christensen Clinicians Report® has conducted in-depth clinical evaluations on monolithic zirconia for more than a decade (Fig. 5). In September 2020, CR Report published the results of its 10-year clinical study and concluded that the original BruxZir Full-Strength Zirconia demonstrated excellent durability, exhibited zero terminal fractures and provided the margin of safety needed to survive common clinical abuses. Compared to the 15 other zirconia brands being followed by the organization at the time, which represented various zirconia formulations from around the world, the original BruxZir Zirconia was the only material that had zero fractures and 100% survival for the full 10-year period.
More recently, in November 2022, the independent Clinicians Report published an update on its ongoing clinical study of monolithic zirconia that included data about the more translucent versions, including BruxZir Esthetic. In the 5-year period of study for BruxZir Esthetic, the material showed a 93% survival rate. Interestingly, the more translucent zirconia materials as a whole demonstrated more wear on the opposing dentition than their full-strength counterparts. Still, the Clinicians Report ultimately concluded that both the full strength and esthetic varieties are needed to fulfill the full range of patient desires. When patients demand the highest levels of esthetics, the translucency and coloration of BruxZir Esthetic help the practitioner meet those needs without substantially decreasing the overall function of the restoration.
Monolithic zirconia has become a key treatment option for countless dentists across the U.S. Its performance is proven by independent researchers and everyday clinicians alike. And, thanks to continued advancements, today there are multiple trusted varieties that empower dentists to use zirconia virtually anywhere in the mouth. Where the full-cast crown and PFM dominated dentistry for decades, we are now firmly in the era of zirconia.
1. Randi W, Randi A, Hill T. (2017). Evaluation of biaxial flexural strength and fracture toughness of a zirconia-reinforced dental ceramic. 47th Annual Session of the American College of Prosthodontists. Available from: highlights.ivoclarvivadent.com/dentist/en/ips-e.max-cad 
2. Giordano RA 2nd, Pelletier L, Campbell S, Pober R. Flexural strength of an infused ceramic, glass ceramic, and feldspathic porcelain. J Prosthet Dent. 1995 May;73(5):411-8.