Explore the 4 Pillars of Glidewell Clinical Education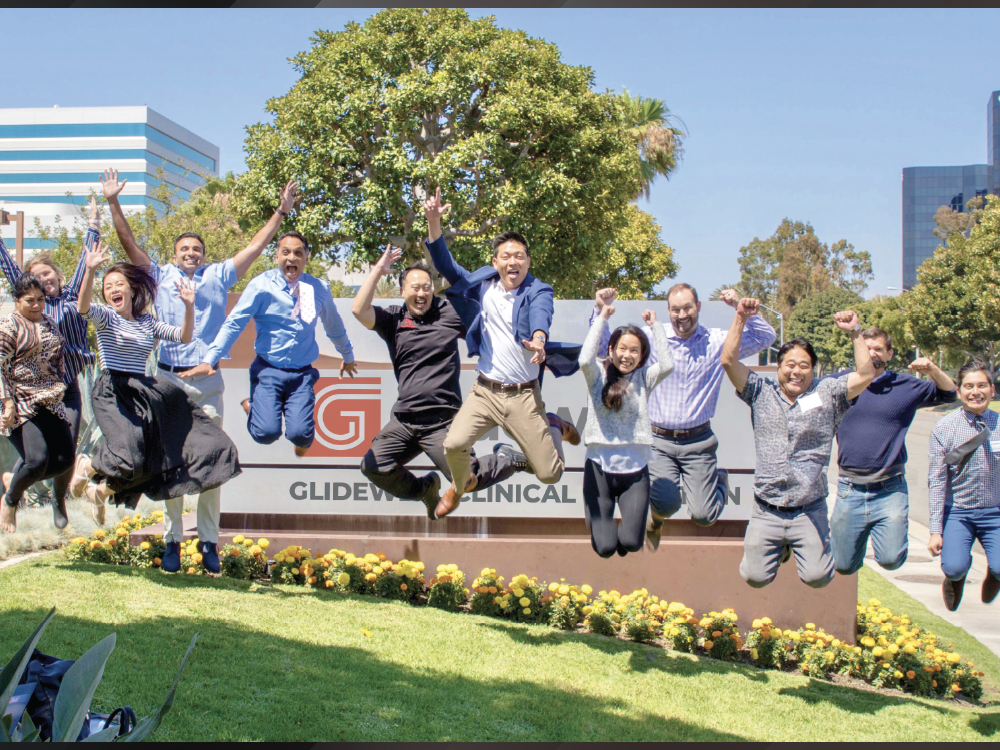 The mission of the dental profession remains unchanged: Put patients first, deliver quality care and transform lives. To help you best serve your patients and stay apprised of relevant information, Glidewell Clinical Education encompasses four pillars of training, structured to provide valuable learning opportunities using both online platforms and in-person programs.
CHAIRSIDE® MAGAZINE: CLINICAL AND BUSINESS ARTICLES
Featuring expanded coverage of implant, restorative and esthetic dentistry, Chairside® magazine shares knowledge to make practicing dentistry easier, faster and more efficient. The publication represents one of the simplest ways for clinicians to stay informed about innovations that improve the quality and efficiency of care. Recurring features include exclusive interviews with prominent dental experts, clinical tutorials and practice management advice. The magazine is available digitally as well as in print, and many articles provide the additional benefit of free continuing education credits. Readers can bookmark their favorite digital articles or keep the print version handy as a clinical resource for step-by-step protocols used in their daily practice. For more information or to view the latest issue, visit chairsidemagazine.com.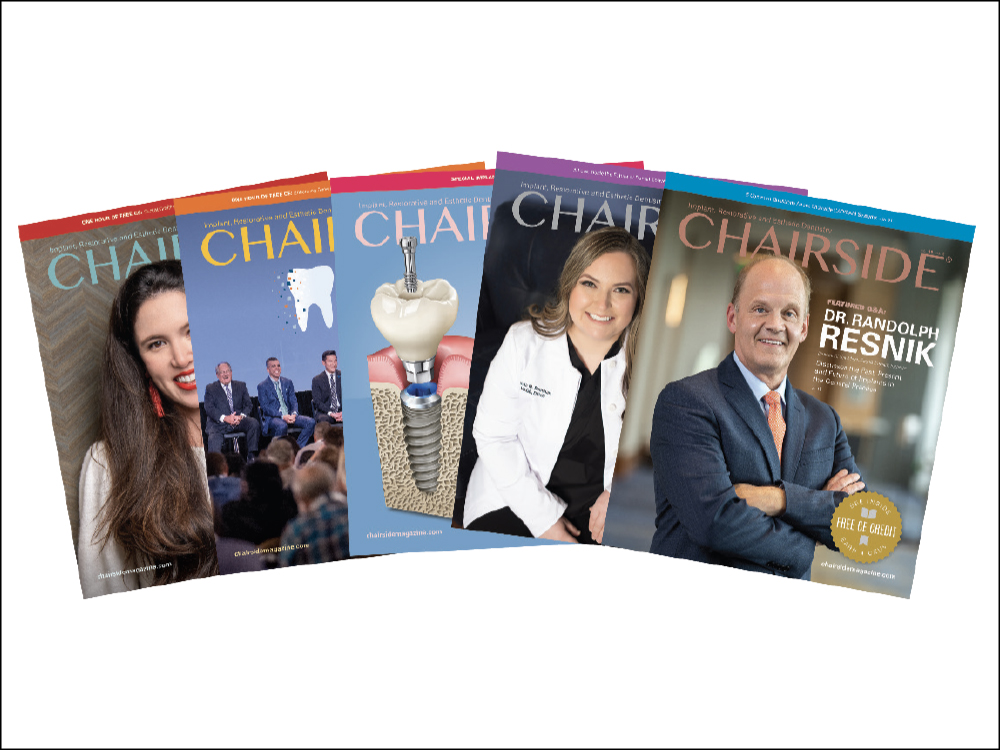 Chairside magazine explores the latest advancements in implant, restorative and esthetic dentistry.
glidewell.com/FreeCE ONLINE TRAINING SITE
Dentists seeking on-demand education can choose from an extensive collection of free, online CE courses on nearly every topic in general dentistry, such as restorative techniques, in-office milling, dental sleep medicine, implant dentistry and practice management. Glidewell's world-class online training site features an innovative, user-friendly platform designed to support proven methods of clinical education. Online instruction has been a powerful form of continuing education for dentists, and Glidewell's on-demand program has rapidly grown to more than 75 course offerings, with new courses added to the curriculum each week. To view all available courses or register, visit glidewell.com/FreeCE.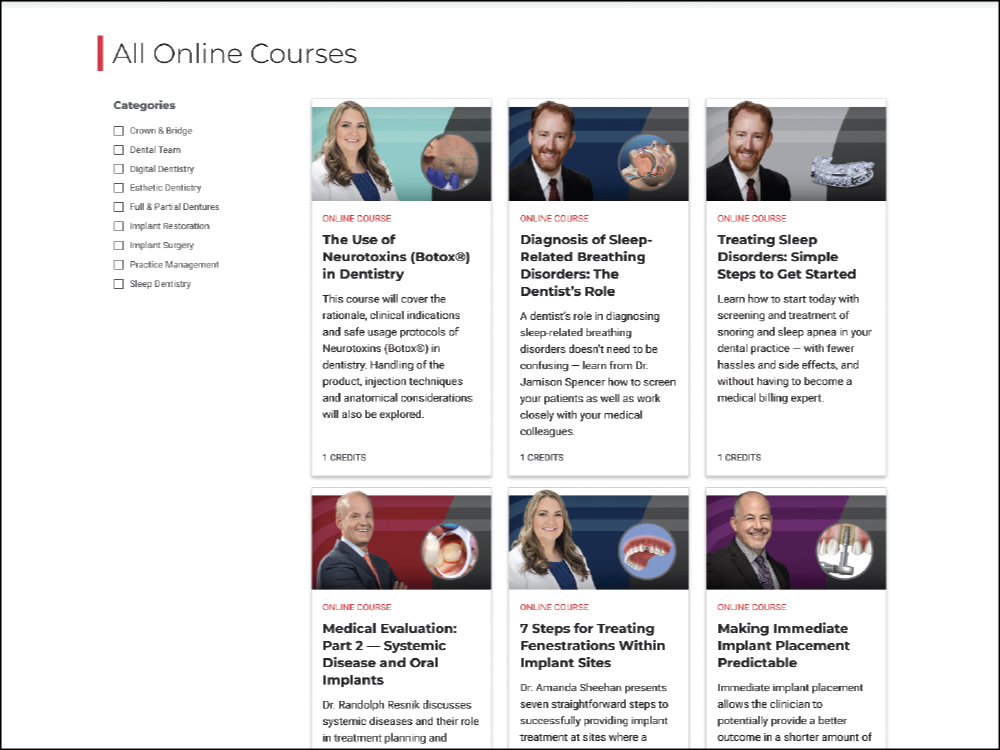 The comprehensive, online training site offers more than 75 free, on-demand courses, providing valuable instruction at any time of the day or night. Visit glidewell.com/FreeCE to access the full collection and earn free CEUs.
FRIDAY WEBINAR: GLIDEWELL ONLINE STUDY CLUB
Dentists can earn free CEUs every Friday through the popular Glidewell Online Study Club, which has hosted more than 100 webinars since its inception in May 2020. Through this program, attendees learn from clinical experts and connect with thousands of other dentists via live and interactive webinars. Each week's webinar begins with an update from the Business Advisory Panel, a group of legal, accounting and practice management experts dedicated to providing you with the management advice you need to keep your practice growing profitably. Following the panel discussion, each session provides clinical instruction to help attendees become stronger practitioners. Attendees can join from a PC, Mac, iPad, iPhone or Android device. No prerequisites or other requirements are needed to attend live online webinars. In addition, webinars are archived, so they may be viewed at any time. Visit glidewell.com/webinar for more information or to register.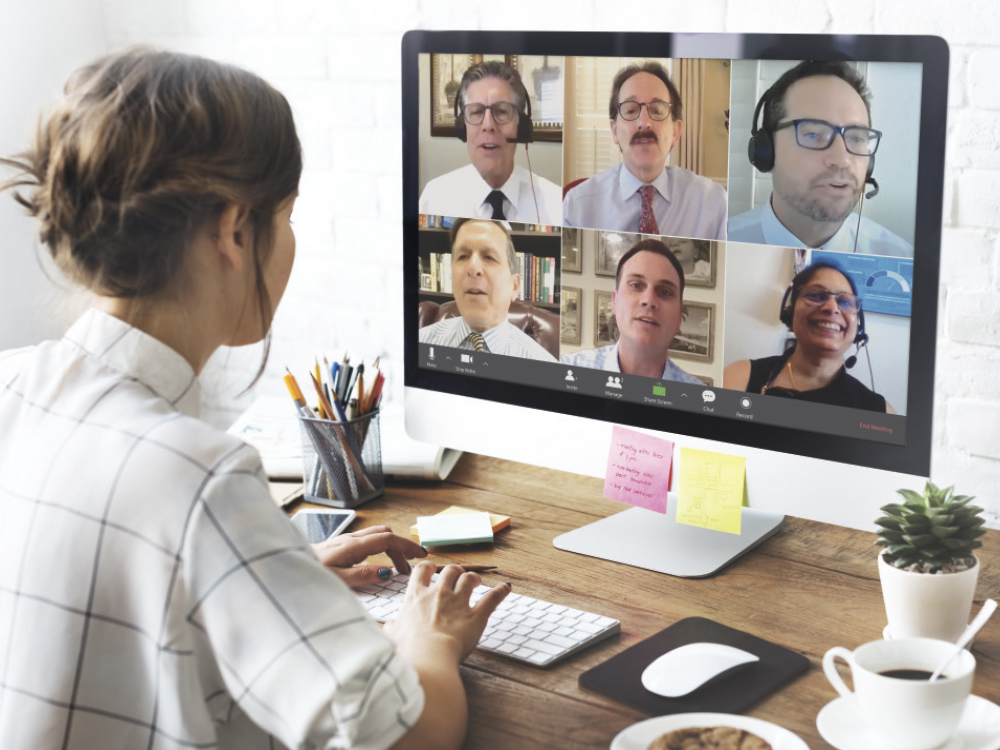 HANDS-ON COURSES AT GLIDEWELL CLINICAL EDUCATION CENTERS
Live CE programs cover all aspects of modern implant and restorative dentistry, with hands-on courses and in-depth lectures carefully crafted to help you become more confident and successful in your practice. Choose from over 200 hours of CE courses taught by practicing clinicians and thought leaders. The curriculum is designed to bring more affordable, effective and innovative methods of treatment to doctors, to help rebuild smiles and enhance the quality of life for patients in need.
As both an ADA CERP-recognized provider and AGD PACE program provider, Glidewell offers courses at its flagship West Coast training center in Irvine, California, as well as its premier, 40-seat classroom auditorium in Louisville, Kentucky, which serves dental professionals in Midwest and East Coast areas. For more information or to enroll in a course, visit glidewellcecenter.com.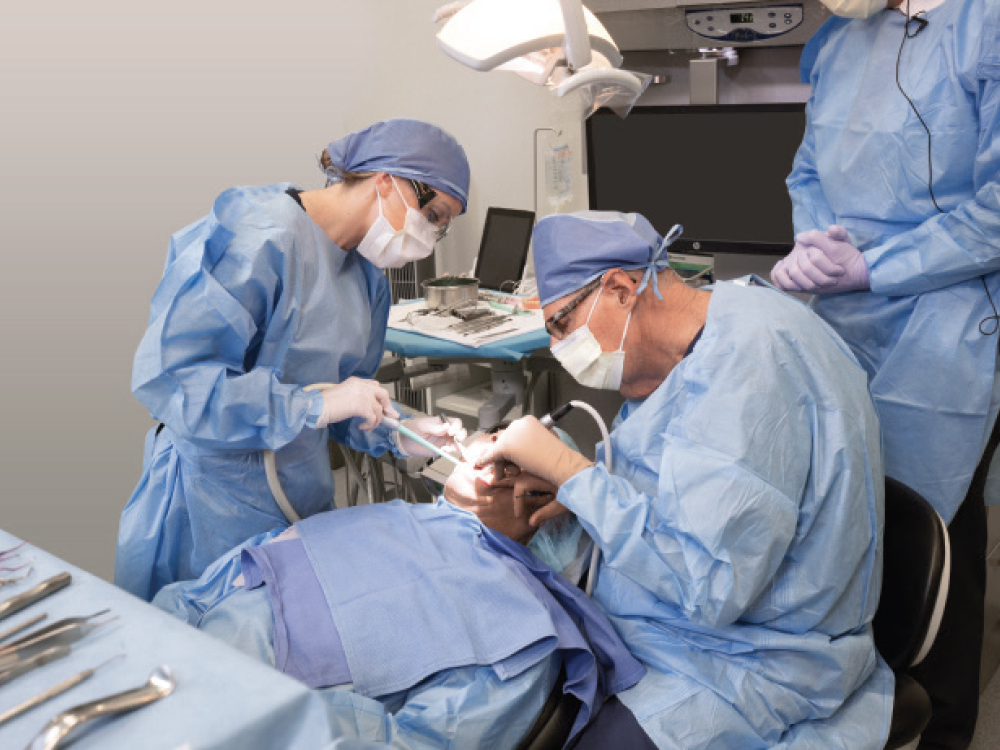 Established in 2011, Glidewell's flagship, state-of-the-art training, education and demonstration center features a fully equipped operatory and surgical suite that is utilized for live surgical and prosthetic demonstrations.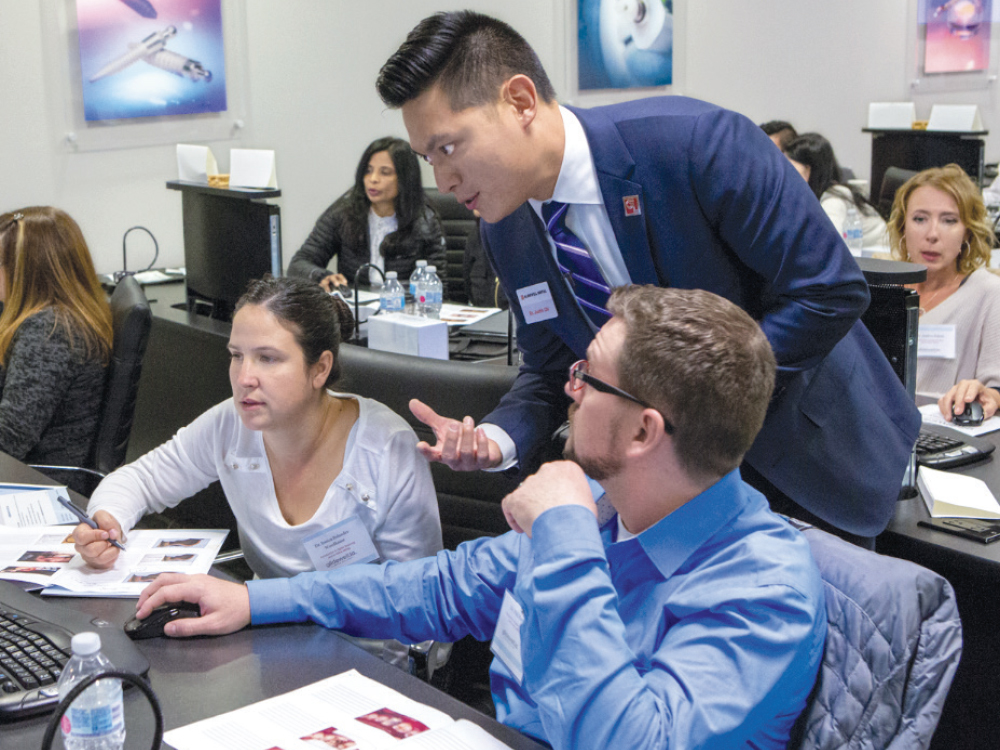 Course attendees can benefit from hands-on instruction on a wide range of topics, including implants, bone grafting, esthetics, dental photography, digital dentistry, and more.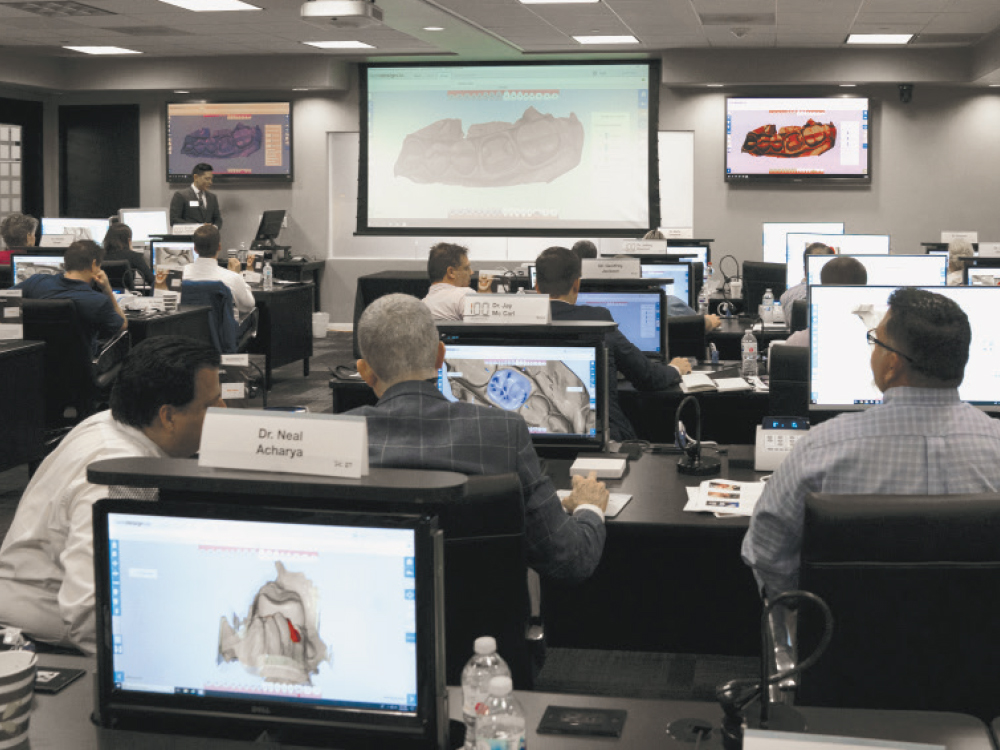 With premier training centers in Irvine, California, and Louisville, Kentucky, Glidewell Clinical Education presents lectures, workshops and live-patient demonstrations aimed at offering practical answers to everyday clinical challenges.
Glidewell Clinical Education encompasses four pillars of training, structured to provide valuable learning opportunities using both online platforms and in-person programs. Whether you're looking for step-by-step clinical articles, free online CE courses and webinars, or impactful hands-on training, there's always fresh information available to help you quickly take your skills — and your practice — to the next level.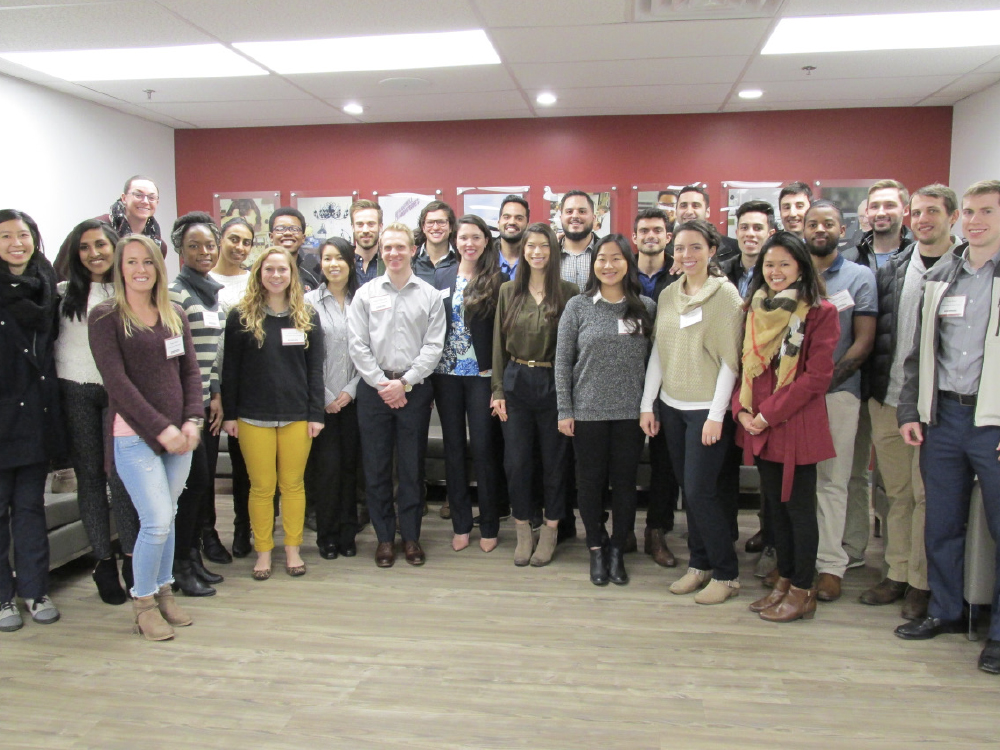 After participating in a live Glidewell CE program, 97% of attendees recommend a Glidewell course and 74% of course attendees enjoy immediate benefits in their practice.1
Photos were taken prior to COVID-19. Current safety protocols are in place for each course.